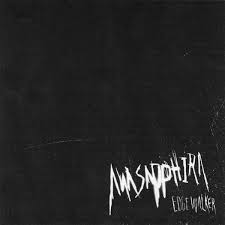 Formed in 2008, New Hampshire based metal outfit, Ana Sapphira, brings us their debut LP, Edge Walker. Having opened for many national touring acts including War of Ages, Wolves at the Gate, August Burns Red and Impending Doom, the group will mark it's sixth year of playing together in 2015. The band has a sound likely to appeal to listeners across a wide spectrum heavy music styles. There are elements of straight ahead metal, metalcore, hardcore, and even grunge. 
After a frantic opening drum sequence, the opener, "Ten Thousand Faces" rockets to life with a guitar riff that harkens back to something from the Stone Temple Pilots era of the early 90's (which is totally fine by me.) The vocals throughout this record lean more toward the hardcore screaming side, and you certainly will have no issue feeling the urgency and pain in lead singer Jonathan Lamperi's voice. 
The opening four songs as a whole all feature hard rock guitar riffs and are sure to be satisfying to any and all of your head banging needs. "All Slaves" especially brings a heavy grove that continues from start to finish. But, after this initial onslaught of continuous power chords, the band slows things with "Rain Song."  A gentle, meditative track, that finds the songwriter prayerfully asking to somehow hear the voice God.
"Man of War" and "New Eyes" immediately picks the heaviness and tempo back up. "News Eyes" introduces some well executed chaotic elements, perhaps one of the more metalcore-ish sounding tunes, with plenty of start/stop components. It's certainly one of the standout tracks for me. 
The first half of "Finders Seekers" is almost entirely instrumental, but then vocals come in pleading for the Lord "to make a man out of me." This tune also includes a nice melodic guitar solo toward the end. The closer, "Crows," sends the record out on a heavy pounding note. I did find myself wishing that the record ended on a more uplifting sounding song for some reason, but maybe that's just me.
Overall: This record is a good collection of hard rocking, riff blasting tunes. The band draws from different elements across many of the heavy music genres. I thought that they were at their best when they dipped into the more 'grungy' sound that peeks it's head up every now and then. Even though there is still something about the overall sound that still falls just short of being something truly unique, Edge Walker is still very much worth a listen.
RIYL: Sent by Ravens, 90s grunge, War of Ages