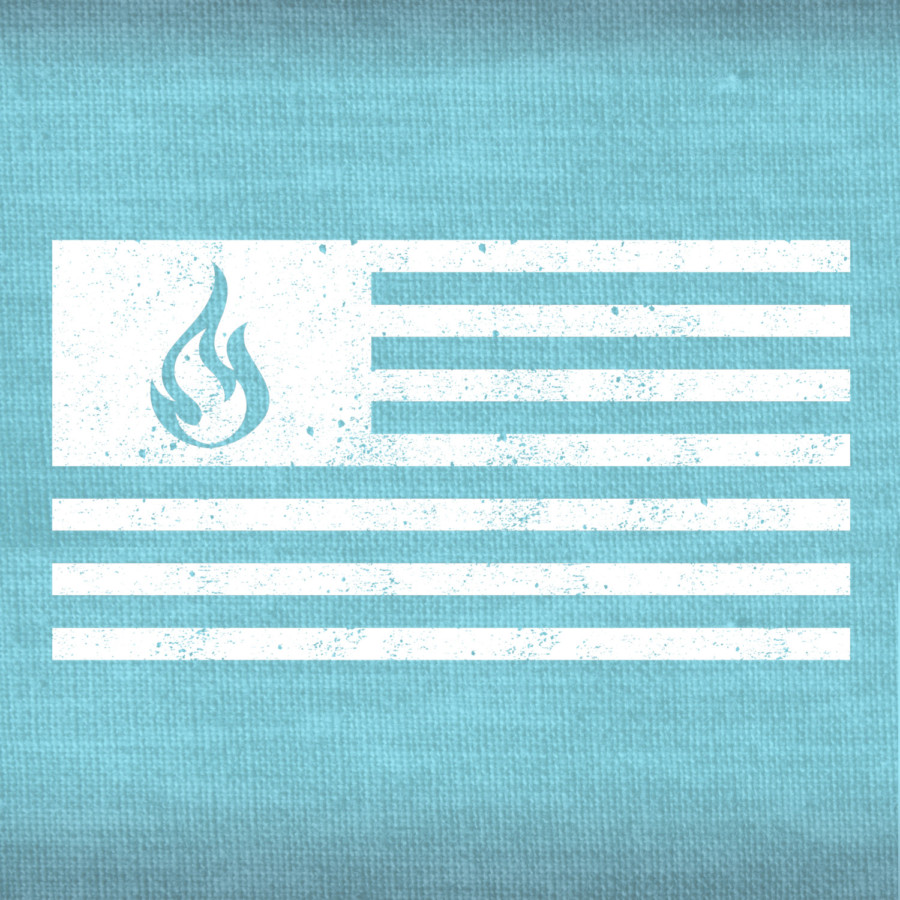 For those new to American Arson, let me give you a couple phrases to give you a good idea of what you'll find in their songs: unbridled passion, lyrical boldness, musical technicality, high energy, and perseverance that is rarely rivaled. Their first release debuted in 2014, showcasing a full-band sound centered around the use of live looping. Evan Baker handles vocals and guitar, while Jesse Gentry mans the drums.
Waymaker is an EP that definitely should invite new listeners. However, for long-time fans of the band (and Evan's previous band, Good Luck Varsity), there are plenty of references, overt or not, to previous albums and songs. Given that this is a pre-release review, I don't mean to spoil things too much but I've chosen to include my insight into some of the songs in italics. I'm definitely curious to see what others find when they listen through.
Revival in My Lungs heads the EP and begins with a gang-vocal chant of "Bring up the lights!" Guitars waste no time coming through with energy and aggression. Lyrically, the song speaks to the life of the band: being faced with discouragement but being continually driven to carry on, even though they haven't met the popular definition of success set forth by corporate America.
The references to beasts and monsters is a key lyrical element on The Blood & The Bones, which we see here in the ending lyrics. The concept of being hunted spans that EP and is certainly prevalent on several songs here as well. The ending lyrics regarding a "full heart" and a "fire in my chest" are quite clearly a reference to the Good Luck Varsity song, Clear Eyes, Full Hearts, Can't Lose. 
"I'll promise you, for every word that's true you'll hear ten lies," is the backbone of this EP's socio-political (or maybe even socio-religious) anthem, Ten Lies. It's further proof that American Arson is not lyrically-shy. Musically, the song bursts into a mix of steady drums and punk rhythms which truly work to further enhance the message of rebellion against corruption.
While there aren't any initial specific lyrics which seem to be a direct reference to previous works here, the musical style of the track and the lyrical themes definitely feel tied to tracks off The VIne & The Branches, such as They Will Know Us By Our Love.
The next three tracks, the Dead End series, form the core of the album and are some of the most interesting tracks the band has crafted, showcasing a mix of old and new elements.
The first of the three, The Hunted, immediately hit me as a possible favorite on this EP. Whereas its predecessors have more of a traditional punk feeling, The Hunted starts out with a stronger guitar melody that builds into a classic post-hardcore segment, complimented by great drumwork. Nonetheless, the track does continue to build, with guitars again returning to a classic punk pattern and drums stampeding. There's a fair amount of progression here, and there's a powerful balance of melody and power here. Add in a pretty catchy chorus and The Hunted earns its spot as one of the strongest songs on the EP.
Though the lyrics here again refer to beasts and being hunted (The Blood & The Bones), the lyrical content seems to metaphorically wrap around the dissolution of Good Luck Varsity, putting it more in line with what was showcased on The Vine & The Branches. The opening riff reminds me a bit of Plan B, off an early Good Luck Varsity release.
Part two, Last Request, is a short, mostly a cappella track. It begins with a low drum beat, layers of looped vocals, and one single line of lyrics: "I hope they lay my bones up north in the evergreen grove." It's not a perfect segue between the other two pieces, but I definitely feel there's a place for it in the story.
Following in line with the Origins Trilogy, Last Request is a throwback to I Walk Alone.
Waymaker, the title track, ends this trilogy of songs. It bears semblance to The Hunted in some ways, It's yet another more melodic track, and it follows the lyrical theme set forth by the previous two.
Waymaker is crafted with an incredible amount of lyrical references. It recounts the creation of the Origins Trilogy primarily, managing to reference all three EPs overtly, as well as borrow lyrics from the Good Luck Varsity song, Firstborn. "So I'll bury my bones in the soil like seeds and water them with my blood. And in one year's time they will see the vine and the branches start to bud." There are lyrical throwbacks to Clear Eyes, Full Hearts, Still Lost and Ten Towers here as well.
Sequoia brings things to a close, but it's certainly not the ending track you'd expect after listening to the Origins Trilogy and its sombre, reflective outros. Here, we're flipped back to the first half of the album, where the punk elements are rekindled and the energy continues right until the end. It's a triumphant close, and, alongside Revival in My Lungs, Waymaker is cohesively bookended.
This is another instance where there aren't as many overt references, though some of the thematic elements from Ten Towers and the staple Good Luck Varsity track Lakes are present.
Waymaker, though not included in the Origins Trilogy, serves as perfect supplemental listening. It's an anthology of the three EPs and vocalist/guitarist Evan Baker's unrelenting passion for music which hasn't let up yet despite the many setbacks that have come his way. It's a narrative of endurance. The cohesive story won't be apparent to everyone, but it makes multiple listens a rewarding experience. Musically, there's a great blend of elements from all three previous EPs, along with a couple more straightforward punk tracks. The Dead End tracks certainly are the highlights of the album, though Sequoia is another personal favorite.
Now, for a few drawbacks. First, the lyrical cohesion with previous songs and EPs is executed well – however, it's a story that is starting to become too familiar. It's fair to assume new songs will not run into this problem though, as this seems to be the point of closure for this story. The Dead End tracks ultimately feel different than the other three. There are no weak songs here, but I definitely prefer the melodic elements – so I probably won't be listening to Ten Lies all that much.
Overall, Waymaker is yet another strong release from American Arson, showcasing a blend of punk, pop-punk, alternative, and straight up rock. It's a passionate EP ripe with self-referential treasure from the rest of the band's discography and serves as a great starting point for new listeners to get acquainted with exactly what these two guys from Detroit can do.