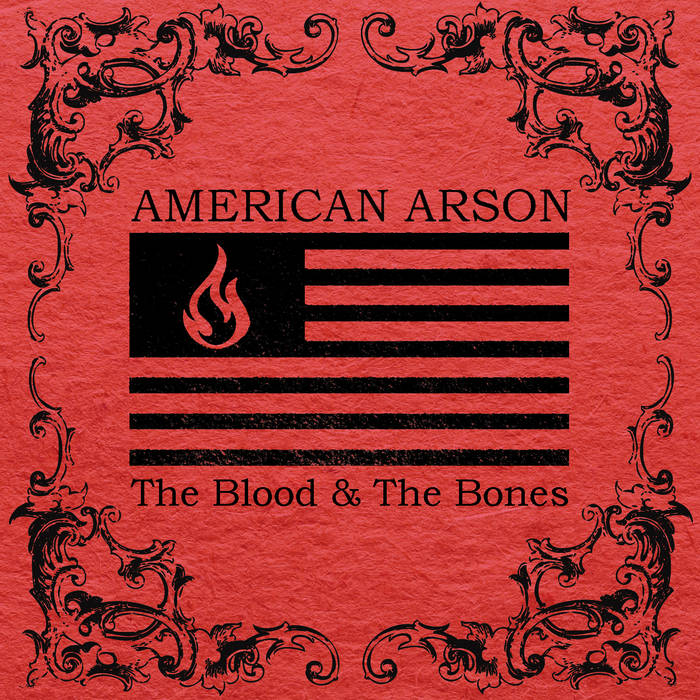 I have always had a lot of respect for solo artists. Their capacity to compose complex, multi-part tracks that often rival efforts put forth by their full-band counterparts astounds me.
Despite all of this, transitioning to a live setting usually leads to the over-use of backing tracks or playing stripped-down versions of the songs.
American Arson, a Michigan duo, manages to avoid all the stigma associated with solo and duo projects. Vocalist/guitarist Evan Baker and drummer Jesse Gentry opt for a full-band rock sound, accomplished through the use of line-splitting and live looping. As such, the live sound reflects that of the recordings.
The Blood & The Bones marks the final EP in the Origin Story trilogy, and it picks up where the other two EPs left off.
The two waste no time showcasing their abilities on The Beast of Gévaudan, the opening track. Named after a beast which terrorized the French countryside in 1760s, Baker chooses to personify his failures and shortcomings as a monster living inside him. Overall, the track is upbeat and is arguably the most pop-punk song American Arson has released so far.
The next track, Heart Like a Hammer, finally sees an official release. While it had been regularly used as an intro track during live performances, it serves as an interlude on this EP. The song heavily plays on the use of looping, constantly building toward a satisfying conclusion. Drums maintain a marching rhythm, ultimately culminating to a pounding end. Despite its difference in sonic texture, the song certainly feels at home on the EP.
The album's single, My Father's House, brings a hardcore sound into the mix. "Everybody's coming to get me," Baker screams, surpassing any type of introduction. The track introduces the closest thing to a breakdown on the EP, manifested in driving harmonic guitar lines and aggressive-yet-technical drumming. The heaviness is certainly warranted, given that lyrics touch on the difficulties of pursuing passions that don't lead to fame and fortune. The track also features what can best be described as a spoken word section, but it's certainly done tastefully and well.
Ten Towers serves as the emotional closer that I've come to expect from the group. Juxtaposed against the heaviest track, it provides closure. It is a faithful response to the doubts, worries, weaknesses, and pain that we carry. "With Your love carrying me, I've got this whole wide world in my hands," Baker cries out. A spoken word section helps close the track. "I am a liar, I am a thief, but above all, I am Yours."
The EP released just in time to make my list of Top 10 Albums for 2015. I had high expectations, and I certainly wasn't let down.
Between the EP's title and the sound showcased on the single, I was surprised to find the EP was more melodic than I was expecting. The balance between creativity and accessibility is one of the strongest traits of these songs.
The biggest weakness seems to stem from Heart Like a Hammer. While it's powerful and executed well, its placement on the EP is a bit odd. Since it does serve as an interlude, it would probably fit in well if there were a few more tracks around it.
Overall, I love this EP. It certainly shows a progression in sound, and it ultimately only falls short in its brevity. Fans of pop-punk, melodic hardcore, and indie should all find something to enjoy here.