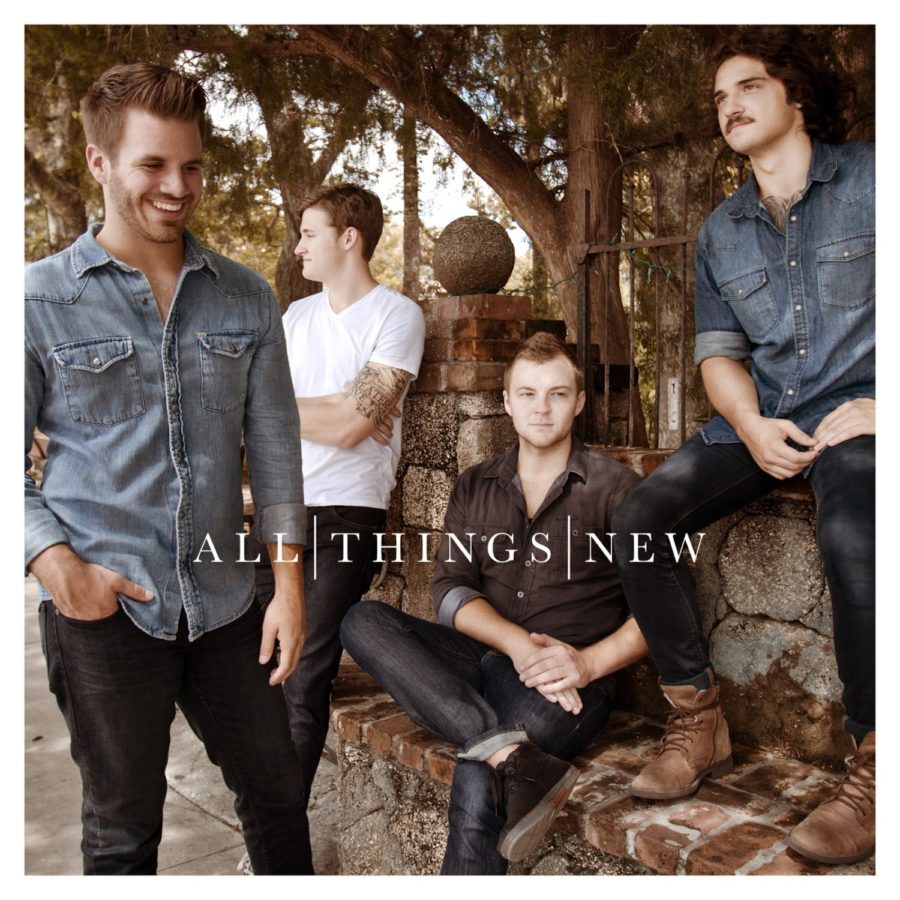 Artist: All Things New
Title: All Things New
Label: BEC Recordings
Release Date: 4/9/13
Reviewer: Jonathan Andre
Tracklisting:
Washed Over Me
In Your Reach
Holding On
New Man
Borderline
Lead Me Home
Greater Things
Keep Me On My Knees
Use Me
You Came For Me
Recently signing to BEC Recordings, home of artists like Jeremy Camp, KJ-52, Kutless, The Museum and Manafest; these four men from Florida have found themselves on a prestigious label (and currently on the God's Not Dead Tour with Building 429, Newsboys and Campbell) as they ready for their self-titled debut release album All Things New. With a blend of musical genres from contemporary pop, to ballads and acoustics; All Things New have given listeners a similar musical atmosphere and thematic element to other artists like Sanctus Real, Mikeschair and Aaron Shust. As lead singer Garrett Hornbuckle relays that it was 2 Corinthians 5:17 that inspired the band name and that '…these are songs that people need right now. They carry the message of redemption and freedom in Christ who came and died for us while we were still sinners…', we are given a snapshot of a band with a long history of Christ invading to make things new, especially of things that at the time may be deemed unfixable. With these men undergoing tremendous hardship during their teenage years (falling away from Christ, adjusting with divorce and step-parents) to overcome them by and through God's grace, these ten songs reflect their hearts and their encouraging spirits as we hear a collection of melodies that they have been brooding over with the help of God along the way. While this album may not be as grand musically when compared with Josh Wilson's Carry Me, Audio Adrenaline's Kings and Queens or even Chris Tomlin's Burning Lights; this debut album is a great purchase if you enjoy contemporary pop or a great number of radio singles stringed together in a row. While some of the album may seem a little indifferent musically and may possibly disinterest some listeners who may be more inclined to listen to more of a rock music genre, All Things New's purpose for this album (to share that Christ takes the broken things to make them new) is found complete in these 10 songs, with lead singer Garrett sounding at times similar to Sanctus Real lead singer Matt Hammitt. Produced by revered and respected singer/songwriter Jason Ingram and every song co-written by the band; All Things New's debut album is a solid album release that places the band in firm stead to be one of the nominations for New Artist of the Year at the 2014 Dove Awards.
'New Man' is the first single from the album, and for me personally, its one of the album's highlights. With light percussion and an acoustical atmosphere, Garrett brings the album theme to an emphasis in this song about being a new man in Christ. Reminding us that all the mess in our lives stay at the foot of the cross as we step into the invitation set before us by God to us through Jesus His Son; Garrett gives us great encouragement to declare that '…God, You have made me new, You've restored my heart and turned these ashes into life, oh God, You have pulled me through, and everything I was is gone and washed away for good, I'm a new man in You…' With these heartfelt lyrics reminding us that a new start in Christ is just one turn away, it is the personal testimony of Garrett and how God pulled him through difficult home situations that is the central motivation behind composing the encouraging track. Emotional and comforting, yet equally confronting and uncomfortable at the same time as we search inside ourselves and see if situations in our past (like Garrett) have influenced our own perception of Christ, both as a Father, a Friend and a Saviour. With this song certain to bring healing and hope to those who may suffer from broken families, Christ's mission to restore and make things new is a main message willing to be conveyed in 'New Man'. Radio friendly and almost a certain inclusion into WOW Hits 2014 later on during the year; 'New Man' anchors an album that's destined to convey Christ's renewal of us from the inside out as we celebrate the new creation we are in Him. Well done All Things New for such a compelling and uplifting song!
'In Your Reach' is perhaps one of my favourite songs on the album alongside 'New Man', as the band employs a banjo and handclaps to create a country style melody with Garrett singing in the style of both David Crowder and Ben Cantelon. Reminding us that we are never too far from the reach of Christ, Garrett digs out his feelings of longing as he declares that '…nothing's gonna hold me, nothing's gonna hold me down, cause I know Your hands are gonna pull me, hands are gonna pull me out…', giving us a sense of reliance on Christ regardless of the matter at hand. Written about a fellow friend drummer Luke Wycuff knew as they delve deeper into his own story of an suicide attempt that led to his life turning around once he was plugged into a church, we are given a down-to-earth, heartfelt, personal and sometimes uncomfortable song that can sometimes play too close to our hearts as we discover that we aren't that different from the persona in the song. An anthem to declare to solidify the truth that Christ is always near us, the melody segues into similar themed songs like 'Greater Things', 'Keep Me On My Knees', first track and potential single 'Washed Over Me' and album ender 'You Came for Me'. While each of the songs show us something that these men deem to be personal in their lives, the album as a whole presses on the understanding of Christ always staying with us during the moments when we think he has abandoned us the most.
'Washed Over Me', just like 'In Your Reach', is a Southern themed song with banjos and acoustic guitars reminding us of the blood of Jesus and how '…down by the river I was redeemed, the way Your love washed over me…'; while 'Keep Me On My Knees' offers up a heartfelt prayer to God in the midst of light keyboards and Garrett proclaiming to God to '…don't take the weight from me, if this is what I need, to know You're all I need…then keep me on my knees…' While this song can be at odds with some listeners (how can God allow bad things to happen to us?), we must further realise that even though God doesn't cause the bad things, He will use a fair amount of our mishaps to shape us and mould us to the people He longs for us to become. With God using these trials to allow our faith to be made stronger in Him, we are given a heartfelt song that shows us that God is indeed with us in the moments when our faith may be tested, prompting us as we see what He is longing for us to know during those circumstances. 'You Came For Me' ponders the question- why did Jesus come to die for us, and through the 4 minute tune, our confusion over the matter is replaced by the acceptance of God's grace abounding as Garrett offers us a remedy- to just accept the free gift of love and redemption. Finally there is 'Greater Things', a poignant keyboard and light percussion prominent melody that reminds me vocally of Sanctus Real frontman Matt Hammitt (ironically, Matt was a co-writer of 'Borderline' with Garrett, another song on the album). As the song speaks about the testimony of bassist Josh Schou and how Christ gained his attention during the moments of his party life as he changed his life around, we are provided an assurance that those who follow Christ will in fact do greater things that He did, with the power of the Holy Spirit residing within us. A comfort and a hope that our passions and purpose will come to fruition with the help of the Lord, 'Greater Things' shows us the power of Christ within us as we follow and imitate Christ, just as how Christ imitated the Father. Well done All Things New for another one of my favourite tracks on the debut album!
'Borderline' was co-written with Matt Hammitt, and reminds us through riveting piano riffs that it is God that fills us up and urges us to return towards the passions that we once loved, yet dropped or didn't pursue because of various personal reasons, segueing into 'Lead Me Home', a layered acoustic guitar anthem about the struggle within us about whether we live our own lives or be sold out for Jesus. As we face the reality head-on knowing that controlling our own lives is only going to lead to missed out opportunities and self-centred moments full of selfishness, peace flows as we let Christ take the things we want to hold onto for dear life. 'Use Me' is a three minute song featuring acoustics and a ukulele and Garrett declaring to God to use him in any way He sees fit, yet it is the longest song on the album, 'Holding On', that I'm sure will be one of the songs that will resonate with listeners the most. Starting off with a piano riff that ought to draw in listeners from a variety of musical backgrounds, Garrett surmises that God's plan will prevail as even if during our lives, we stop holding onto God, He never stops holding onto us while He's weaving through our lives and influencing the moments to reflect glory back to Him. As Garrett explains, '…that song tells our story as well…sometimes you go through harder things in life, but God has you in every moment. It's like with this band, even with all that has gone on in our separate lives, All Things New still happened, and we're doing this record. It's in His will. Sometimes we let go, but God holds on through every detail…' A great confidence booster whenever you need one, 'Holding On' is sure to be a radio single in the future (alongside other candidates 'Washed Over Me', 'In Your Reach' and 'Greater Things'). Well done guys for creating such an encouraging song!
Overall: While this album release may not be as popular or even as publicised as other albums in April from Josh Wilson, All Sons and Daughters, The Afters and Matt Maher; this newest signing to BEC Recordings is a great choice to listen to if you enjoy contemporary pop with a southern-style acoustic edge. All Things New have drawn upon their personal experiences to create these ten tracks, and I'm sure with the success of 'New Man' ought to lead towards stellar reviews for the album in the upcoming weeks and months. With every song meaning something to the band as they reflect upon their lives so far (all of them are only in the early twenties), we are shown that personal experiences, no matter how ugly, difficult or painful, can shape our work even to reflect God's glory as we surrender fully our lives and every part of it to be used by Christ to drawn people towards Himself. From the ever-poignant 'New Man' to the country infused 'In Your Reach' and 'Greater Things'; fans of Mikeschair, Aaron Shust, The Museum and Sanctus Real will certainly be blessed by the debut album from All Things New. Well done guys for such an encouraging and inspiring album full of songs that heal and motivate!
RIYL: Aaron Shust, MIKESCHAIR, The Museum, Sanctus Real
Buy the Album: iTunes/Amazon mp3