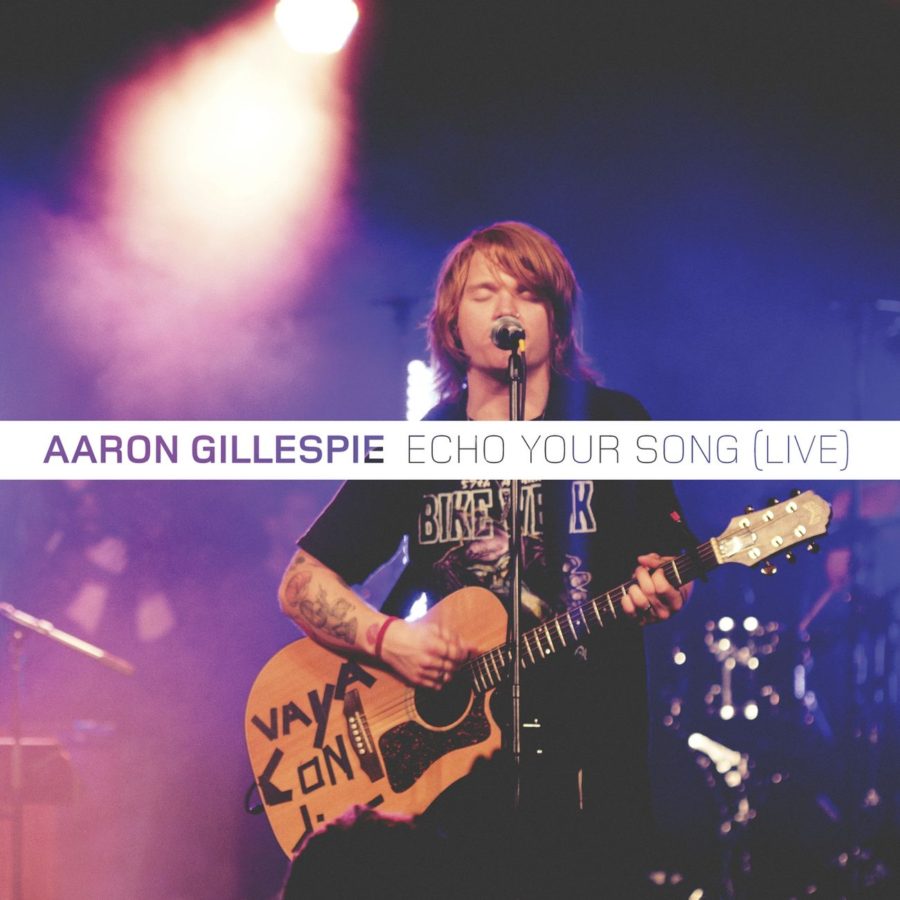 Artist: Aaron Gillespie
Title: Echo Your Song EP
Label: BEC Recordings
Release Date: 2/28/12
Reviewer: Jonathan Andre
Tracklisting:
Beautiful Exchange
We Were Made For You
Anthem Song
Jesus Paid It All
Came To My Rescue
I Will Worship You
Aaron Gillespie, former singer of Underoath and current lead singer of The Almost, released his debut record, Anthem Song in March 2011 to critical and commercial acclaim; moving away from his initial style of hard rock music in Underoath and The Almost. With Anthem Song being a worship alternative album, Aaron released his live EP, Echo Your Song, as a follow-up to this, a few original songs from his debut album, as well as a few covers from songs by various worshippers around the world. Listening through this EP, I was able to have some worshipful moments throughout. This is an EP for definite fans of Aaron and his music, as listeners come together to worship a God who is worthy of all our praise and adoration.
'We Were Made For You' was the first single from Aaron's debut record, and in this live setting, it works pretty well. The song is quickened, though hardly noticeable; and as Aaron sings '…You are God, we were made for you, just for you…' we are suddenly swept up in the moment, praising the God of all creation, knowing that we were created for His pleasure, for us to know Him in all His glory and splendour. The crowd is hardly noticeable in a song that is one of my favourites from Anthem Song. After a few listens, it can seem that Aaron could be rushing through the song, though it may not be his intention. A reasonable transformation between the studio and live setting, 'We Were Made For You' is a certain highlight in the EP of 6 tracks.
'Came to My Rescue' is a Hillsong cover; which is a shame because I was able to guess that it was; even before I checked the song's composers.  Hillsong have been writing for decades, and therefore, writing akin to a certain style; it's hard not to spot their song from a mile away. This song, while executed well in this live setting, runs for 7:25, and at times during my listening, I just wished the song would end. Not that there is anything bad with the song itself, nor the passion at which Aaron sings the song, but somehow, I think he just chose the wrong song to cover, simple as that. Another Hillsong cover was the first song on the EP, 'A Beautiful Exchange'. A title track on a Hillsong album, Aaron just sings out the chorus '…Holy are you God, Holy is your name, everything I've got, my heart will sing…' over and over, as the guitars and drums start to crescendo into a worship moment where people can just fall in abandon before the King who is worthy of our adoration. Standing at just over 3 minutes, this song can somewhat be a little repetitive, nevertheless, I was yearning for more at the end, wondering if Aaron will fully cover this Hillsong song in the future.
'Anthem Song' is an original from Anthem Song, but fails to transform from a studio to a live setting, with numerous times during the track where the music drown out the vocals, some drum beats out of sync a few times, and the rest of the time Aaron spontaneously shouts out 'make some noise', which can be a bit irritating at times. It is ok if you're listening to the EP for the first time, and you want to really get into the worship, and you are able to respond favourably to his encouragements; however, as you listen to the EP again and again, this encouragement can seem more of a distraction from the music at hand. 'Anthem Song' is flooded with cliché lyrics, '…Your anthem we sing out, You are holy you are holy, before you we bow down, You are worthy you are worthy oh God…', to the point where you can almost think that this could one of Hillsong's filler-songs, the ones that are never a single, but are just there on albums. Sadly, this is an original tune, and I was honestly expecting something better from Aaron, considering that it was following such an awesome song in 'We Were Made For You'. 'I Will Worship You', co-written with Paul Baloche, is the best song on the album. With a spontaneous '…Hallelujah, Hallelujah, Hallelujah, our God reigns…' I am captivated by Aaron's passionate singing as he worships with freedom, and as the crowd join in at the end, this is a fitting last song to the EP.
Overall: This is an EP that was frankly too short, and with too many covers. I would've loved to see much more creativity with the song choices, as singing a Hillsong song 'Came to My Rescue', which I hadn't even heard until listening to this rendition, wasn't first choice if I was picking his set list. Maybe some covers of more well-known songs (if he was going to do covers at all) would've been better. Nevertheless, this is an album for die-hard fans of either Underoath, The Almost, or Aaron himself; as well as fans of modern worship with an alternative twist. However, if I were to choose between this album and other albums by established worship artists like Paul Baloche, Christy Nockels, or Chris Tomlin, I'd stay clear of Echo Your Song EP.
RIYL: Hillsong, Planetshakers, Deluge, Jesus Culture
Buy the Album: iTunes/Amazon mp3