Album Review :
What We Do In Secret - The Migration EP
By Scott Swan in Reviews | Comments closed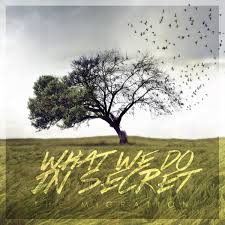 Artist: What We Do In Secret
Title: The Migration
Label: unsigned
Release Date: 09/16/14
Reviewer: Scott Swan
Tracklisting:
No Shelter
Brother's Keeper
Water it Down
Den of Thieves
The Migration
Grey Grace
Screaming truth against the backdrop of blistering riffs, Memphis based What We Do in Secret bombards the ears with a brand of Spirit-filled ruckus sure to excite even a casual fan of hardcore. I think the heart of this band is probably summed up well in the band's bio: "Jesus is Freedom. This band is dedicated to Freedom. Portrayed in Love and chaos on stage to reveal the freedom found in Christ in a chaotic world."
While spinning this EP entitled "The Migration" it's hard not to invoke imagery of chains being broken and cast off in the midst of a lively mosh pit, hope replacing despair with every phrase screamed, and grace replacing condemnation with every power chord struck. While constructing this message of freedom, we also find musicianship that is tightly executed, but still loose enough to keep a hardcore edge. There's a feeling of heartfelt urgency on this record, that speaks volumes of the passion behind this music. You certainly get the sense that at the end each performance, these guys have left it all out there, leaving nothing in the tank. 
Having said that, there are still some moments that almost seem tender in nature, such as the pleading to find purpose in the title track's chorus; "How much longer can this go on/I've denied my purpose/yet He call me son." It can also be found in the solemn sounding "Grey Grace," but for the most part, this record brings it hard and heavy, without coming up for air. Overall, I feel the vocals on this release are purposeful and dynamic. I am not one who is a fan of monotone presentations, and these guys are nowhere near that description. The guitars are tree trunk strong, rooted in a captivating mix of chaos and melody. 
All the evidence you will need to realize I speak the truth is in the opening number "No Shelter," Breakneck paced verses meld into the shouted chorus; "No shelter, no grace/For everyone in the places/We would have been/If not for grace." The riffs on this tune are hard and sound great, but even more importantly, they don't get caught sounding repetitive. This is likely my favorite song amongst the six, and have not grown tired of it, right down to the growling line, "Lower your heads, Repent!"
The momentum continues with the next track, "Brother's Keeper." This, in my opinion, is the most chaotic offering. Mixing tempos, starting and then abruptly restarting, this is one that will leaving you not knowing if you are coming or going. But, from the chaos we are then ushered into the more melodic selection, "Water it Down." With a theme that seems to incorporate baptism and wanting the Lord to put back a life back together that is found to be in pieces. This tune is really well done, and even features some clean singing in parts. "Den of Thieves" consists of a common themed tracked about the perils of Pharisee-ism. Infusing some well timed distortion with a nice "muted" intro, this song has a lot to offer.
Overall: WWDIS has managed to create a "put together" sounding record, while leaving enough chaos to still push boundaries. I can't think of a lot critical things to say about this EP, only the fact that the last track was a little bit of a downer for me. Even if you don't think this genre is for you, I would recommend you still give this record a listen. It might just change your mind. 
RIYL: Call To Preserve, No Innocent Victim, Torn