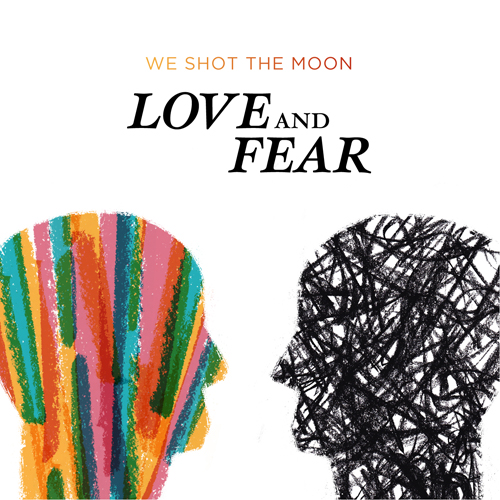 Artist: We Shot The Moon
Title: Love and Fear
Label: None
Release Date: 8/14/12
Reviewer: Cimarron Hatch
Buy The Album: iTunes / Bandcamp

Tracklisting:
Patient
Breakdown
Me Vs Myself
Love and Fear
We Can Wait
Sonrisa
When I'm Gone
Forgive
Scars
Blind
We Shot The Moon, best known for being former Waking Ashland singer, Jonathan Jones' new project, has released their third studio album, Love and Fear. The album was produced by Dan Koch, who was a member of the now inactive band, Sherwood. In late May of this year, a Kickstarter fundraiser was launched seeking $7,500 to cover recording costs. With help from their generous fans, We Shot The Moon raised almost double the amount they had asked for by the time it was over. Just under than two months after the fundraiser ended, the band gives us the final product—Love and Fear.
Starting with what could only be described as "outer space sounds" is "Patient." This first song has a good rhythm in the chorus which is sure to make it get stuck in your head. Next is "Breakdown," a pretty average song with odd, distracting drums. I did, however, enjoy the guitar work, especially the solo near the end. "Me Vs Myself" is a good song, but it feels like something is missing. Perhaps it needs more real instruments rather than synths and electronic drums. The title track, "Love and Fear," comes next. To me, the lyrics just sound like a bunch of words thrown together, but somehow it works here. The instrumentation is great, and the vocals in the chorus are a huge highlight. The intro to "We Can Wait" sounds very much like that of "Houdini" by Foster The People, with its piano chords and drum beat. The vocal effects on the song are a bit harsh, and the "robot voice" chant at the end is quite excessive.
"Sonrisa," which means "smile" in Spanish, takes on an entirely different style that is reminiscent of bands like Phoenix and Peter, Bjorn & John, with a bit of a Spanish flare like the title suggests. I love the acoustic feel of this song. After "Sonrisa" is "When I'm Gone," which has nice synths and is the first music video from the album (watch it here). Then comes "Forgive," with a cool intro, an interesting melody, and lyrics focusing on forgiving yourself for past mistakes. "Scars" is another acoustic song with a good rhythm. The final song, "Blind," is very odd. The song really goes on forever with the same lyrics repeated over and over. The main lyric is "I don't know why," which makes me wonder what the lyricist does not know. Could it be that they don't know why this song is here? If that's the case, I don't know either.
Overall: This is a pretty cool album with a lot of different sounds. Some of the lyrics are quite strange to me, but that is made up for by the instrumentation in most cases. We Shot The Moon has made it clear that a label is not necessary to make quality music. For me, the highlight tracks of Love and Fear were "Love and Fear," "Sonrisa," and "Scars." They all included great vocals, and the latter two, especially "Sonrisa," had beautiful instrumentation with acoustic guitars and light drums. I know that a lot of music fans are going to enjoy this album, and I encourage giving it a listen.