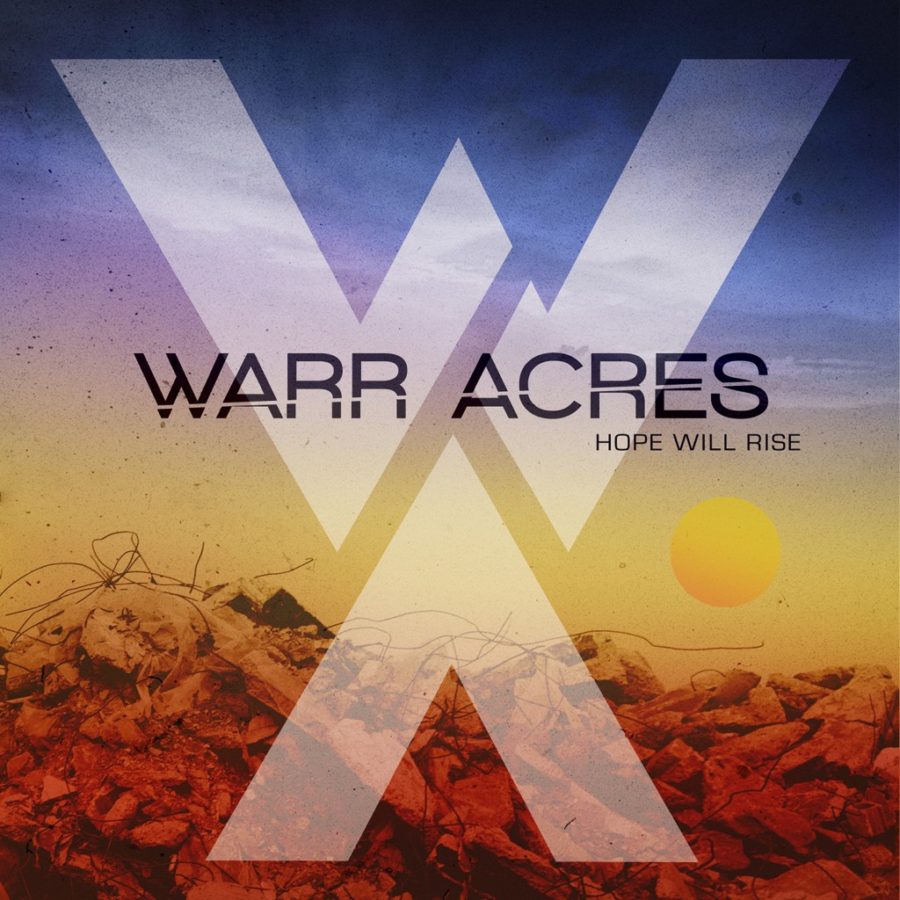 Artist: Warr Acres
Title: Hope Will Rise
Label: DREAM Records
Release Date: 10/29/13
Reviewer: Jonathan Andre
Tracklisting:
Pulse
Freedom Fall (feat. Jonathan Thulin)
Light Up the Night
Beautifully Complete
This Beautiful Life
Hope Will Rise
Lovesick (feat. Cindy Cruse Ratcliff)
So Much Greater
Come to Jesus
All Around
Psalm 27
Nobody Else
Linger
Here At Your Feet
A worship band from Victory Church in Oklahoma City, Warr Acres, previously called VMusic until their signing to DREAM Records and their name change in 2011, is a band full of great worship and upbeat material, and has been a highlight artist-wise on the artist roster since their debut album in 2011. Now releasing their second album as a signed band, Hope Will Rise is a 14 track album that unveils to us a great variety of musical styles as the band continues to assert their own authority, both within the label, and outside it as Kristy, Lael, Chris and Oscar deliver one of the most musically unique and relevant worship-pop albums that have released all year. An album that gives a different and welcomed atmosphere as opposed to the traditional CCM albums releasing lately (Chris Tomlin, Big Daddy Weave, MercyMe etc.); the album possesses a great amount of strings, electronics, piano and light electric guitars to create anthemic melodies and others just to dance to. While Warr Acres may still be a relatively new band in the CCM industry (even though VMusic have been around independently for a while); Hope Will Rise is sure to place these 4 men and women of God on the map. From power ballad and worship anthem 'Hope Will Rise', to the motivational and upbeat 'Freedom Fall'; Warr Acres have done a great job at the album, enough to warrant a listen from those who long to listen to some uplifting worship/pop music that uniquely different than what they've been hearing on the radio, or even those who are just curious about what music is offered on DREAM Records (apart from Press Play, the most well-known band on the label!).
'Hope Will Rise', the first single from the album, as well as the title track, is one of my favourite songs on the album (as are many of the singles on albums I've heard this year). Sung primarily by singer Lael Ewing, this is a melody for the church, reminding us of the qualities God has and longs to give to us, as Lael declares out that '…faithful, forever are You God…mighty Redeemer are You God…' Full of powerful electric guitars and great harmonising vocals in the chorus between Lael and Kristy; this somewhat repetitive melody (as the song builds up into a crescendo moment with powerful vocals and a strong electric guitar backdrop) doesn't seem to drag and segues into the refreshing and emotive moments of 'Nothing But the Blood'; tying in the popular hymn into the track as Lael cries out, asking the question of '…what can wash away my sin, nothing but the blood of Jesus…' With the band playing that stanza in the melody to show us that even timeless hymns and contemporary melodies can collide to create a song that enhances the melody Warr Acres creates, yet at the same time provides us with a great respect for the hymn and its own arrangement in the song (with plenty of reverb and a subdued nature about the melody). As the song finishes on a note of great exaltation and praise as the instruments deliver a loud resounding anthemic sound with big guitars and a compelling vocal; fans of the band and their previous work are sure to enjoy 'Hope Will Rise' as well. Possibly one of my favourite Warr Acres songs ever (alongside 'Maker of Miracles'); both Kristy and Lael delivered their best, providing a song that's an anchor to the rest, both lyrically and musically, as the band provide us with songs that continue to shape their songwriting ability while also stretching their own ways they perform, giving listeners a collection of songs that rivals in every way others also released on the same day, from Vertical Church Band, North Point Christmas and Superchick!
With a mixture of slow and faster paced melodies, Warr Acres have given us a great variety of music to listen to, showing us their musical and lyrical depth, maturity, and strength, as they present to us styles from reflective to upbeat and radio friendly. 'Pulse', led by Kristy Starling, invites us into a powerful electric guitar filled melody full of distinct percussion drum beats and an enthusiastic emotional vocal, as Kristy gives us a reason for us all to proclaim that '…we see Your greatness in Your fame, our life is echoing Your name…' A frenzied and electronic atmosphere as Warr Acres give us one of the most energetic performances (out of any upbeat melody on the album), the dance inspired moment of worship is a well-rounded first track  that certainly does a great job in introducing listeners to the album and the band, and will hopefully encourage everyone who listens to carry on hearing Hope Will Rise. 'This Beautiful Life', while only a tad over 3 minutes, is another favourite of mine, this time led by Lael Ewing. In fact, scanning through each of the songs on the album, it is primarily both Kristy and Lael that lead almost every track on Hope Will Rise, again giving female-led bands an emphasis in the Christian worship/pop market, with Warr Acres hopefully continuing their rise in popularity to that of BarlowGirl, Fireflight of ZoeGirl in the future if the band continues to receive the exposure that it does. 'This Beautiful Life' emphasises on how life can be beautiful with Christ within us and by our side as we are hopefully encouraged by the poignant words of how we ought to '…get up, get out, get on and start living, make all the most of what you've been given, wake up, wake up, wake up to this beautiful life…' An encouragement to all to live our days with a sense of purpose and direction, Warr Acres continues to bring this theme towards other melodies. From the one of two male-led melodies, 'Light Up the Night', a powerful electronically based song with whistles (creating a sense of organic and earthiness to it) as singer Chris Crow leads us into a theme of shining our light wherever we go; to the heavily electronic and guitar driven 'Come to Jesus', an invitation into communal and intimate worship as Kristy declares with such great authority for us to '…come and rejoice with lost ones found, with the chained who've been unbound, with the sick who now are healed forever, come and sing praises to the King who in humble suffering, gave His life to make us whole forever…' (and possibly my pick to be given a radio edit and released to radio at some point before the next Warr Acres album); the band have been able to deliver a contrast of musical styles, both emotional, and musically unique, different and thereby bringing in two distinct groups of listeners (those who enjoy dance music and those who adore and love worship music), and also manage to deliver each of these styles to the highest quality without wavering or compromising on either.
'So Much Greater' starts off with a distorted guitar effect as Lael starts to use this melody to bring forth a theme of how even every second of the day is too little enough time for us to continuously give God the praise, thankfulness and adoration in the midst of our own realisation and knowledge of His sacrifice and redemption of ourselves. Hopefully a song to be sung in churches before the year ends, this song has a Hillsong-esque atmosphere to it, and it's not necessarily a bad thing. Fans of Hillsong will sure to gravitate to this song, while Warr Acres continue to forge their own identity in both their collaborations, 'Freedom Fall (feat. Jonathan Thulin)', and 'Lovesick (feat. Cindy Cruse Ratcliff)'. Famous for his radio hit 'Dead Come To Life', Jonathan takes track No. 2 to the next level with his powerful vocals and his energetic presence on the melody as Warr Acres and himself take us on a journey of hope and assurance as both Lael and Jonathan praise God for not giving up on us throughout all the moments of the Bible (and in our own lives) where God had every reason for Himself to turn our back on us. Starting the song with the confronting, humble and encouraging words of how '…You could've called it quits, when Your people revealed hearts of discontent, You could've given up on the ones who had shunned Your eternal love, our story starts instead with the grace that embraces the fall of man…' is one of the most comforting, yet also confronting lines of the whole album, knowing that our freedom was undeserved and that our response towards it ought to reflect how much we are grateful for what has been done for us. Again also using an electronic keyboard and distorted vocals as a backdrop, 'Lovesick' is a moment of man expressing their love and adoration for God amidst the keyboard riff and light electronic riffs and distortions, and while at times, the electronic aspect of the melody can irritate me (just a tad), both Warr Acres and Cindy have developed a track that can be used interchangeably between corporate and individual worship as we unveil ourselves to God that we are '…lovesick, I won't let You go…our hearts collide and we are One…' Again embodying a corporate worship feel a la Jesus Culture (with an abundance of electronic effects), 'Lovesick' is sure to become a standout on an album destined to be one of the best worship-electronic albums released ever in CCM history (I know that's a bold claim but after hearing this album, I'm sure you'll feel similar, if not the same, as myself after hearing Hope Will Rise).
Chris also leads 'Nobody Else' (doing his best to channel some Jimmy Needham through the track), a piano prominent song full of powerful drum beats and a hard hitting message of how even when everything falls, we still have Christ hanging on and holding onto us, and us declaring to Him that '…all I have is Yours, I give it all, I want You more, You are all I have, when all else fails, You're my cure…'; while the trio of worship melodies 'Psalm 27', 'Here at Your Feet' and 'Linger' are some of the most powerful and Spirit filled songs that the band have done ever, with each of them inviting us into a moment of unified worship to our King. From the piano only 'Linger' led by Lael, and the introduction of 'Tis So Sweet to Trust in Jesus' midway into the track as the two melodies blend together as one, to the light percussion and keyboard emphasised last track 'Here at Your Feet', an anthem that brings together booming vocals and an anthemic music quality together to give to listeners a song that invites us to hopefully and literally stay at the feet of Jesus; Warr Acres and their album are certainly going to be one of my favourite albums (and artists) of the year.
Overall: Also giving us 'All Around', my favourite song on the album as Lael pours out her all amidst the litter of nicely placed electronics as we are reminded and encouraged to let God's praises be renowned and resound around the world (similar to the theme of Casting Crowns's 'Until the Whole World Hears'); the band have poured in everything they have to lay bare to us 14 tracks of true worship, appealing much to the younger generation with its electronic effects, but also, it's for every age group, and every listener of every music genre. The band have certainly stepped up a gear, musically and lyrically, from their previous self-titled album, and have certainly found their niche in electronic worship. An album that will certainly be a standout in October 2013, as well as possibly reaching my top 10 albums of the year so far (from the top of my head, though I need to sit down and see, though I'm definitely sure that this album sits within my top 15); Lael, Kristy, Oscar and Chris have unravelled to us a masterpiece of melodies certain to bring whoever who listens into the presence of God. A certain purchase if you enjoy artists like Hillsong, Press Play or BarlowGirl; Hope Will Rise is sure to give us extraordinary hope as we embark on a journey like no other, encapsulating the moments of praise and how '…we stand here in Your presence, lifting up the name of Jesus, a strong tower meant to save us, and now nothing will defeat us…' ('Hope Will Rise'). Well done guys for such an emotional, enjoyable and energetic album, and one of the most passionate worship albums of the year since Meredith Andrews's Worth It All.
RIYL: Hillsong, BarlowGirl, Meredith Andrews, Press Play
Buy the Album: iTunes/Amazon mp3