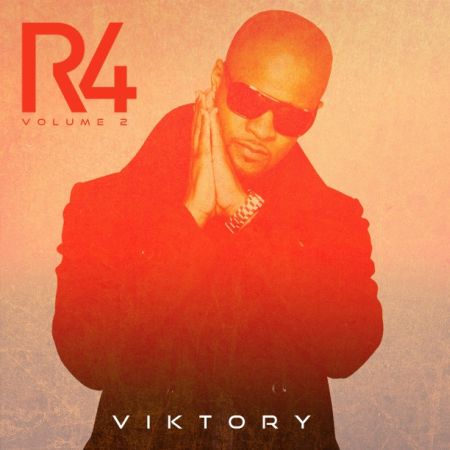 Artist: Viktory
Title: R4 (Relentless 4ever) Vol. 2
Label: Viktorious Music Group
Release Date: 06/10/2014
Reviewer: Anthony Peronto
Tracklisting: 
I Am R4

You Still Heard Me ft. Andrew Brown
Glory To The Beast ft. ZG
One Eight 0
Drop It ft. Canon
No Automation
No Price Tag ft. Spec & Derek Minor
No Hero ft. Marty of Social Club & ZG
Take Me Away ft. V. Rose
Emancipation ft. Canton Jones
Game On ft. Vice Vrsa
Preachers Cry ft. Austin Campbell
Grind Hard. Live Free
Keep It Ahunit
Forever ft. Marvin Winans Jr.
"Therefore, my dear brothers, stand firm. Let nothing move you. Always give yourselves fully to the work of the Lord, because you know that your labor in the Lord is not in vain."-1 Corinthians 15:58
In a culture afraid of commitment it's not surprising to hear that, in Dre Murray's words, "only few dare to be bold." If the rising divorce rates and declining church attendance are any indication, we need to stand firm in the direction God has given us. With Reach Records' 116 Movement and Collision Records' W.L.A.K (We Live As Kings) group taking a stand in CHH, it takes some digging around to find other artists proclaiming an unceasing faith. Enter Viktory, who after four albums drops his banner project, R4 (Relentless 4ever), alongside a free youth program and book. Now Viktory is returning to the same concept in R4 (Relentless 4ever) Vol. 2; but is it a mediocre rehash or an improvement on the original?
When discussing the strengths of Vol. 2, the most obvious one is the tightened tracklist. The first volume had 20 tracks with 16 of them containing features. However, Vol.2 has a more cohesive flow with a shorter tracklist and let's Viktory handle things with a greater proportion of solo songs. An example of Viktory's solo skill is seen on "Grind Hard. Live Free," where he contemplates life without Christ over Tyshane's hot production. Another improvement is Viktory's growth in adapting to various styles and how the producers adapt alongside him. For example, Geeda easily cranks out the production of the heavy "Glory To The Beast," the radio-friendly and semi-acoustic "Take Me Away," and the frenzied highlight "Drop It." And G-Roc has a back-to-back home run with the East coast sound of "No Automation," the Miami-influenced "No Price Tag," and the feel-good "No Hero." But it's Dirty Rice who takes the production prize with "One Eight 0." Even if the vocal effects are unneeded and the production nearly overwhelms Vik's verses, this banger about Jesus' ability to turn us 180 degrees is simple but effective.
For an album about being relentless, you can expect some heavy-hitting topics with a confrontational approach. From the screamed-into-the-mic intro "I Am R4" to the rapid-fire flow on "Drop It," Viktory hypes up the listener and reminds them that "Life is what you make it/ You gotta do it, no automation." Similar to Bizzle and Da Truth, Viktory has a challenging method of communication that's seen on "Glory To The Beast" and "Keep It Ahunit." The former song examines our culture's moral and spiritual decline and the latter song looks into people's lives (including Vik's) and says what needs to be said. Verses such as, "And I saw your outfit, you're killin' em' son/ But you're absence in your home, is killin' your son," have a boldness that's convicting and effective.
While the production and rhymes are unrelenting, there are some tracks with lapses of quality. The testimonial "Take Me Away" and the powerfully honest "Preachers Cry" end up being forgettable. "Game On" is a needless semi-interlude that, despite high-quality production by Black Knight, would have benefitted in becoming a full-length track. And after such an attention-grabbing intro, the diary-entry "Forever" ends with the album in a typical fashion. Comparing "Forever" with the first volume's ending of "R4" and it's great remix, there's no denying that an album like this should go out with a bang.
Overall: Reach and Collision Records might have got it down to a movement, but Viktory has delivered yet again the soundtrack for anyone who desires or walks out a relentless faith. And while it improves on the original, it is not perfect from start to finish. With diverse and hard-hitting production and convicting lyricism, Vol. 2 is a nearly great album that should please most hip hop fans. Hopefully it can influence many to walk out their faith in boldness and conviction.
RIYL: Da Truth, Bizzle, Lecrae, W.L.A.K.