Album Review :
Various Artists - Music from the Motion Picture GRACE Unplugged
By Jonathan Andre in Reviews | Comments closed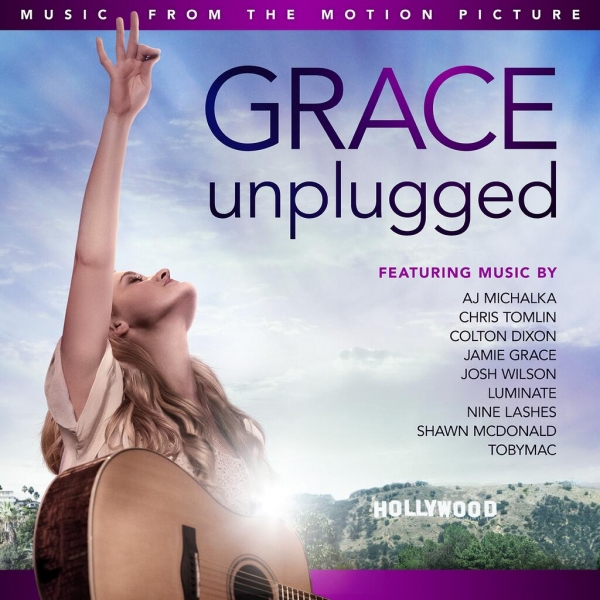 Artist: Various Artists
Title: Music from the Motion Picture GRACE Unplugged
Label: Sparrow Records
Release Date: 8/27/13
Reviewer: Jonathan Andre
Tracklisting:
All I've Ever Needed (AJ Michalka)
Desert Song (AJ Michalka)
You Never Let Go (AJ Michalka)
Misunderstood (AJ Michalka)
Holding On (Jamie Grace)
Our God (Chris Tomlin)
Steal My Show (TobyMac)
In and Out of Time (Colton Dixon)
The Void (Nine Lashes)
The Space Between Us (Shawn McDonald)
Welcome to Daylight (Luminate)
Amazing Grace (Josh Wilson)
Christian films have always been around, from the Left Behind trilogy starring Kirk Cameron released in the early 2000s to the string of David A.R. White movies released throughout the last 10-15 years or so via PureFlix, a movie company that David is heavily involved with. Add to that the many movies released via the Alex and Stephen Kendrick based and funded Sherwood Pictures (Firewall, Facing the Giants, Fireproof and Courageous), as well as the family orientated and poignant The Heart of Christmas, Letters from God and October Baby; movie lovers around the world have been given stories that speak to the heart of the individual and tug at the issues that mainstream movies sometimes gloss over or not even discuss about at all. Releasing in October 2013 is one of the most anticipated Christian films of the year, Grace Unplugged. Starring AJ Michalka (one half of 78Violet, a band she started with her sister Aly) and Jamie Grace; the story reminds us of the choices we make in our quest to seek greatness and the ramifications of such choices. Starring as teenager Grace Trey in a film where the character tries to find her way in the world of music and showbiz while realising that her solid ground of faith may be slipping away in order to compromise with the success she has been given; AJ Michalka delivers one of my favourite ballad-like songs in the last few months with 'All I've Ever Needed', the first radio single of the soundtrack to the film, releasing at the end of August 2013.
Played in the trailer and I'm also sure in the film also, 'All I've Ever Needed' is the first track in a list of tracks that all have a common theme of finding yourself in the midst of uncertainty and people trying to impose and force certain stereotypes upon yourself. From Chris Tomlin's 'Our God' to TobyMac's 'Steal My Show' and Josh Wilson's instrumental version of 'Amazing Grace'; it is great to see such overtly Christian material to be shown in the film in various different ways. While the film doesn't come out to October, this album (or just the AJ Michalka songs if you have the rest on your iTunes) is a must if you enjoy great Christian music. Like with all soundtrack like albums, I would advocate purchasing of individual tracks. Regardless of whether or not you do purchase the album as a whole, these songs by AJ are definitely worth looking into, and for these songs alone, the album warrants a solid 3 (maybe 3.5) rating, with her soaring vocals and powerful lyrical moments of vulnerability and praise being the highlight of the Grace Unplugged Soundtrack!
Written by Ben Glover and David Garcia, 'All I've Ever Needed' is perhaps one of my favourite songs throughout these last few months. Sung from the point of view of a person who has reached all their dreams only to find out that they have compromised their beliefs along the way, it's a perfect choice to be placed in the movie, about the similar theme of finding of self without compromise of values. Starting off with a riveting piano riff, we are met with vulnerability and honesty as AJ pours out her heart and soul into the song full of emotion and encouragement. As we are confronted with the poignant chorus complete with strings and powerful percussion, we are met with a cry from AJ, of how '…I've chased a million things, bright lights and empty dreams, now here I am, right where I thought I wanted to be…' So many people try to chase fame and fortune, and often discover along the way that what they imagined it to be like isn't how it turned out for them. As I'm sure Grace Unplugged delves into, it is only when our journey in our careers and relationships are with God that the outcome turns out to give God glory and ourselves peace and happiness. Otherwise if we make decisions on a whim with little thought of the consequences, it'll be like stepping out into the unknown with worry, fear and hopelessness there to guide us instead. We are called to live our lives like we're strangers in a foreign land, and this song talks about how sometimes we can live like our home here is permanent. Through powerful moments of surrender and AJ's enjoyable vocals, 'All I've Ever Needed' is certain to encourage whoever listens with the message of decisions about life, and how sometimes it can be as simple as leaving '…it all and lay it down to get back to where I belong, Lord all I've ever needed was your love…' Well done AJ for the highlight of the album, one that will rival both Jesus Firm Foundation and My Hope: Songs Inspired by the Message and Mission of Billy Graham as Christian compilation album of 2013!
With AJ Michalka also covering worship melodies 'You Never Let Go' and 'Desert Song', we are given a collection of melodies (either led by her or other CCM artists) that speak to the theme of God never letting go of us and finding us even in the moments when we think we know better, or when we think we may not even need Him at all. With Grace Unplugged being a movie about someone finding themselves and their identity in the light of God after jumping off the deep end into a pool of stardom, fame and situations where it may not necessarily be a 'cool' thing to follow Christ; both 'Desert Song' and 'You Never Let Go' showcase a passion in AJ's voice that conveys to us feelings of desperation and a holding onto of hope that can be related to by many of us young people today. 'You Never Let Go', originally written by Matt Redman, conveys the theme of how God never lets us go, in the good times and bad; while 'Desert Song' declares that '…I will bring praise, no weapon formed against me shall remain…' With AJ placing her own spin on the songs (portraying 'Desert Song' as a rock'n'roll anthem instead of a reflective worship melody, as well as adding her own melodic twists on 'You Never Let Go' by adding light piano riffs and powerful drums to almost make the song unrecognisable as it starts); AJ has delivered to us great covers of both songs, and while many listeners may know her from 78Violet, it is great for her to sing out worship songs, with these melodies providing an avenue to witness to the non-Christian fans of 78Violet who may purchase the album based on AJ's tracks. Also singing an original track 'Misunderstood'; AJ delivers the most 'mainstream' song from the compilation album with the song serving as a moment of uncertainty as we are invited into a 3 minute track that showcases a persona not apologising for her beliefs, hoping that she is just misunderstood as she tries to navigate the world around her. A song that a majority of her 78Violet fans will enjoy, 'Misunderstood' provides us with the theme of speaking your mind and taking an adventure out in the world, even if it is to make mistakes and learn from them. With all of AJ's songs being the backbone of the compilation album as a whole, these melodies are great for fans of 78Violet, or fans of modern contemporary music with an uplifting and heartfelt message. Well done AJ for such compelling and emotional songs!
Other than the original AJ Michalka material, the rest of the album comprises of songs that have already been on previous artists albums in the past. While this is a good thing for the album when it is pitched to those listeners of mainstream music who watch the film and are inquisitive about the music in it; for any CCM or Christian music lover like myself, the rest of these songs may have easily been purchased before this compilation coming out, either digitally or buying the artist's physical albums at local Christian bookstores. With seeing this soundtrack album as an outreach tool to promote the music and thus engage people who many not necessarily be church-going to think of things in a spiritual, these songs which appear on the album after the 4 AJ Michalka ones are great to promote and emphasise a theme of an individual being caught up in praise and adulation of a career, only to find that it was God's love that they needed all along. Chris Tomlin's 'Our God' makes an appearance to remind listeners that '…our God is greater, our God is stronger, God You are higher than any other…'; while Luminate offer up their lesser known track from Welcome to Daylight, the title track. Encouraging listeners to seize each day and welcome it as a gift from God as we live our days in the daylight instead of the darkness; this is a perfect song to sing along to as we each start our days, acknowledging that God indeed calls us out with an invitation, calling us to come towards the daylight as we endeavour to live out our days hopefully with Him.
Singer songwriter and superb instrumentalist Josh Wilson presents to us the lone instrumental track on the album with an instrumental version of 'Amazing Grace'. While many listeners may often choose actual tracks over instrumental ones, this is a gem of a song, and listening to it instrumental or otherwise is always a treat, especially with Josh's instrumentation with looping of guitars, percussion and some interesting and unique guitar riffs that places his own spin on the timeless hymn. Jamie Grace, who stars in the film, offers her song 'Holding On' towards Grace Unplugged, where with just the piano, she places our attention firmly on the lyrics and the testimony that comes with it; that when we acknowledge that we are not strong enough to save ourselves; God comes in, giving us '…the strength to fight and a heart to believe when it's hard to believe…' Add to the compilation a hit from TobyMac in 'Steal My Show', a call from us to Christ as an invitation for Him to come and steal our me-centred shows away from us as we realise that the play called 'life' isn't about us as the main characters but rather ourselves playing a great role in the never ending story of our Father in heaven; Music from the Motion Picture GRACE Unplugged is an album certain to become popular as the weeks continue up until the premiere of the film in October.
Overall: While CCM enthusiasts may say on the one hand the album may be better marketed if each of these artists present in the album (who release songs from previous albums) record something original just for the movie (or if AJ Michalka covers each of these songs- after all, she is the main star in the film and most listeners of CCM music would've possibly had all these other songs anyway); I understand that this album isn't necessarily targeted at the Christian music fan crowd, but rather on the other side of the fence, for listeners who may not necessarily have heard the names of 'Chris Tomlin', 'Josh Wilson', or even 'TobyMac' before. With the album a certain discussion starter amongst friends who may be curious about the film but may not necessarily have gone to church or know anything about Christianity before, this is a great tool to use (and hopefully not abuse) as we share with our friends and family a movie that'll hopefully stir within us our continual devotion for Christ our Saviour. With Grace Unplugged possibly the most anticipated Christian film of 2013, Music from the Motion Picture GRACE Unplugged is a great way to increase people's interest in spirituality, meaning, hope, and the things of God. Well done to Capitol Christian Distribution for this album release, that'll hopefully mean a lot to somebody who hears it and is changed by the power of God from the inside out!
RIYL: WOW Hits, AJ Michalka, TobyMac, Chris Tomlin
Buy the Album: iTunes/Amazon mp3