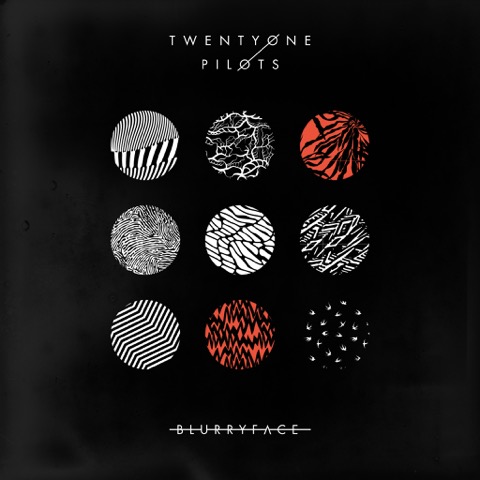 Without a doubt, Blurryface is Twenty One Pilots' breakout album. Hitting #1 on the Billboard charts while singing about how they don't care about making on the radio would seem like a happy accident. However, those familiar with Twenty One Pilots' past work would know that they have earned their way to the top. The latest effort from the 2 men is a genre-hopping, spiritual-influenced, concept-based ride that is above-all fun while tackling dark themes.
From the opening track, Tyler Joseph and Josh Dun lay down their struggles. This song, Heavydirtysoul, serves as an introduction to the character of "Blurryface" as an embodiment of Tyler's stress. Combining the Jekyll-Hyde persona with the name of Tyler, this brings the cult classic film/book Fight Club to mind.
There's an infestation in my mind's imagination
I hope they choke on smoke cause I'm smoking them out the basement
This is not rap, this is not hip-hop
Just another attempt to make the voices stop
Rapping to prove nothing, just writing to say something
Cause I wasn't the only one who wasn't rushing to say nothing
This doesn't mean I lost my dream
It's just right now I got a really crazy mind to clean
This issue is directly followed up by the song "Stressed Out" in which Tyler exchanges words with Blurryface. Tyler wishes to have the freedom and naievity of his childhood while Blurryface forces him to become paranoid, self-aware, doubt himself, and "care what you think". At one point, Tyler wishes he "didn't have to rhyme every time" he sang. This exact line didn't rhyme with the verses around it but the phrases that followed it, were in fact, rhymes. Blurryface put insecurity upon Tyler's creative freedom. Tyler and Josh tackle the issue of musical limits in other songs such as "Lane Boy" and "Tear in My Heart".
The fight with Blurryface is addressed in "Fairly Local" as Tyler acknowledges that he is not entirely evil but continues to struggle. This song was the first released from Blurryface and I initially hated it. However, it has definitely grown on me (especially in context with the entire album's theme).
Though the album contains frequent genre-jumps, reggae is laced throughout many of the songs. Most noticeably, it is is taken to use on "Ride", "Message Man", and "Lane Boy". The pop-rap the group is most associated with is also found in nearly every song on the record. One interesting aspect of this record is that it seems to be influenced by Eminem and his alter-ego of "Slim Shady". Surprisingly, it appears to be that general audiences have not picked up on this comparison. Furthermore, "Stressed Out" shares a very similar (though common) beat with Eminem's hit song "My Name Is…).
By far, the most accessible and radio-friendly song on the record is "Tear In My Heart". Taking a few notes from the piano-rock days of Relient K and The Rocket Summer, the popular tune is probably the lone "happy track" of Blurryface. It suggests that he finds emotional solace in his wife, Jenna Black. Whether the listener wants to take it for amusing literal meaning or not, the bridge of the song also seems to be a throwback to their older song "Car Radio".
"You fell asleep in my car I drove the whole time

But that's okay I'll just avoid the holes so you sleep fine
I'm driving here I sit
Cursing my government
For not using my taxes to fill holes with more cement
Similar to Josh Garrels' recent album, the front half of this album is drastically different from the second half (with "The Judge" serving as the acoustic-based split song). Blurryface may have many "under the radar" spiritual references, but "The Judge" is explicitly a cry for help to be saved from Hell. Similar in theme but completely different in sound, the follow-up song "Doubt" is another plea for God not to forget about Tyler. Even with his doubts and struggling mind, Tyler holds on to the hope of God. He also seems to be struggling with the popular catchphrases and systems of modern religion. This all leads to climatic buildup in "Polarize". The reliance of God's mercy is also the center of "Hometown".
Coming to grips with reality and looking past the embodiment of Blurryface, Tyler and Josh play the upbeat and ukulele-centric "We Don't Believe What's On TV". This track is musically a cousin of "House of Gold" and the positive lyrics that exist outside of Blurryface's control. However, Blurryface still persists throughout several more tracks before the final victory battle on "Not Today" and "Goner". The former track plays as a loud and confident assalt on Blurryface while the latter is the last confrontation between the 2 ideals. He comes to terms that he truly cannot take on Blurryface alone. He turns to help from the outside and declares his demons to be gone.
Overall: To the outside listener, this piece of work may come off as insane, offbeat, and corny gibberish. Then again, isn't that what most of the world thinks of Christians outside looking in? At the surface, this album may not seem like much. I encourage listeners to research the lyrics and study this album as a whole. There are some spots that begin to get redundant at the 3/4th mark but the better songs truly make it forgiveable. Every song also serves as another chapter in the story.
This album may have hit #1 for its "fun" and "catchy" songs, but also because of their fiercely loyal fanbase. Tyler and Josh are truly talented men and it makes me think about getting some water imported from Ohio. Whatever Relient K, House of Heroes, and Twenty One Pilots are drinking, I want some.
RIYL: Eminem, Sublime, The Rocket Summer, Gym Class Heroes, Beck, AWOLNATION