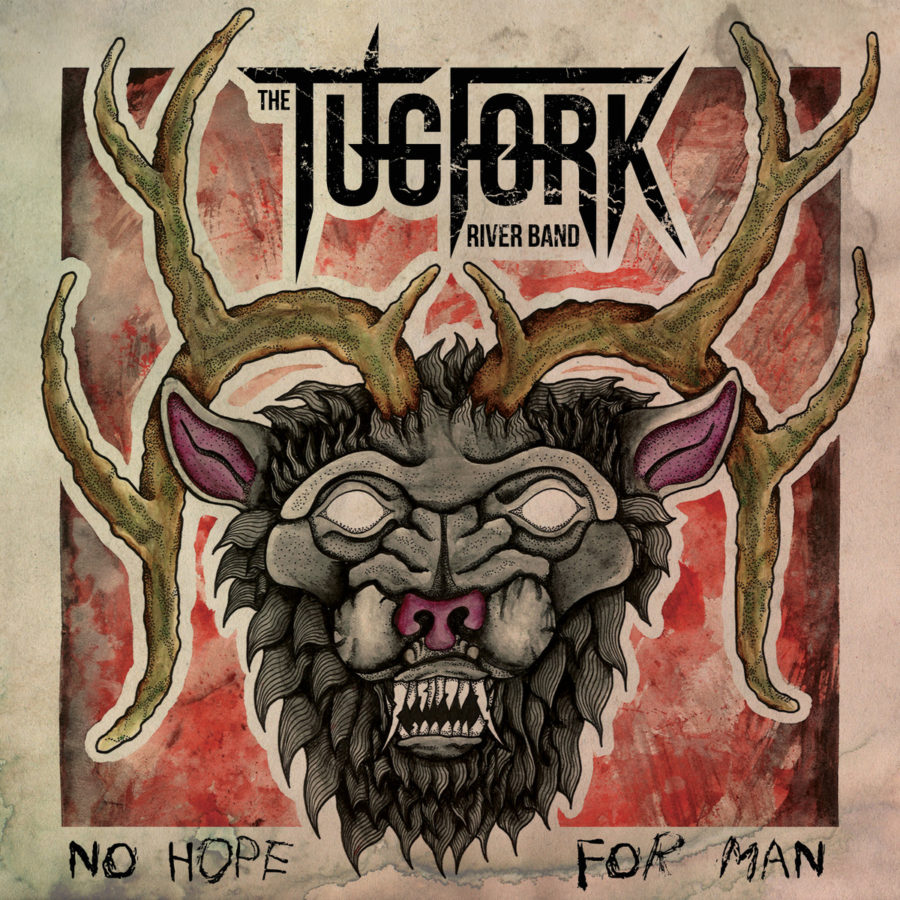 Artist: Tug Fork River Band
Album: No Hope For Man
Label: Independent
Release Date: 07.02.2013
Reviewer: Lee Brown
Track Listing: 
To The Wilderness Dead

No Hope for Man
Typical Juvenile Squatch Behavior
The Rural Juror
Junkyard Reality
Can't Clown, Sleep Will Eat Me
Death of False Hope
Prior to reviewing this album I knew exactly two things about this band. First, I knew their name, The Tug Fork River Band, which does inspire some thoughts of an old jug-band or something heavily influenced by the banjo. Secondly, I knew that they were playing their release show later this month with Becoming the Archetype. With these two bits of knowledge in hand, I guessed (maybe even surmised) that the band would likely sound something like Maylene and the Sons of Disaster crossed with Becoming the Archetype. It turns, out, this isn't far from the truth.
Hailing from Indianapolis Indiana, Tug Fork River Band brings a solid "American" metal sound that mixes in elements of groove metal with a pinch of the more hardcore variety of metal and does it all with a very southern slang. References to The Showdown wouldn't be too far off, though there is enough distinction in them to say that TFRB has a style that learns from the above without leaning on them too much. This is only slightly less true with BTA, which seems to be a key inspiration on certain songs, making my initial impression pretty apt.
Having worked with Wounded Records, Tug Fork decided to take their fate in their own hands and self release Vulture in 2012. No Hope For Man serves as their second independent effort, which was also partially crowd funded. No Hope For Man rests on an immediately striking premise, which is underscored (you'll see) by the album's artwork. The overall theme of the album? Wait for it. There is no hope for man… in himself.
In an era where most mainstream bands "preach" either self-aggrandizement or doom and gloom based solely on their own inward-focus, TFRB return to Biblical roots and through that lens gaze at the intrinsic condition of man to come to their conclusion that man cannot save himself. Even the cover art, which (correct me if I'm wrong) is an image of the beast of Revelation, ties into the apocalyptic and prophetic message of the album. The result of all of this, is seven satisfying bits of southern flavored metal with some deep thoughts behind them. The album is at times catchy, at times brutal, and brings just enough of each to create a satisfying blend.
The album begins with the beautiful aggression of "The Wilderness Dead." With the song being self-stated as "to the wilderness dead," the track comes across as the "To:" line in a letter. Pointedly, it is addressing the song (and therefore the album) to dead men living in a wilderness land. Right from the start of this song hints of The Showdown and other southern metal bands come to mind. In case you're curious, distinctly "southern" metal tends to simmer a little more than other flavors. Fittingly, TFRB brings some intentionally slower paced riffs and crosses them with some BTA-esque screaming that melds with some Lynard Skynard influenced rock vocalizations.
The title track "No Hope For Man" follows. Just as a letter begins with it's address and then jumps into the meat of the issue, "No Hope for Man" gets right to the point. The lyrics "no hope for man, there must be a sacrifice, lest our souls be damned" bring in Old Testament sacrificial system imagery to point back to the hopelessness of trying to attain salvation through any other means but the grace of God.
"Typical Juvenile Squatch Behavior" furthers this message by beginning with the line, "how quickly we forget the very reason we have breath." The further one goes into the song, the more hope is shown as the band proclaims, "come awake and rise with me," pointing to the fact that this album is not doom and gloom even if it admits strongly that there is no hope for man (in himself)… there is yet true hope to be found outside of man in the sacrifice of Jesus Christ. As the song comes to a close there is some great riffing mixed with a great proclamation to "hold onto your faith until the end."
"The Rural Juror," which doesn't seem to have anything to do with the 30 Rock ballad of the same name, brings more aggressive screaming than most of the other tracks on the album. Where other tracks have a southern rock feel even in the harder moments, "The Rural Juror" brings aggression throughout with only a hint of sing-songy moments. It also contains a solid breakdown preceded by a quick "bow down."
"Junkyard Reality," the band's first music video off the EP, focuses in on the lyric "pour me out some gasoline. Let's make a toast to coming clean." This track is at once the most "southern" sounding track on the album, and also one of the most catchy. Serving as more of a battle cry or challenge, it repeats statements like "a line's been drawn in the sand." Though the music video doesn't give a greater insight into the song (it's pretty fun, though), I recommend starting there if you've never heard of Tug Fork River Band before and are wanting to whet your appetite.
"Can't Clown, Sleep Will Eat Me," my favorite track name, takes a hard look at feeling worn out and downtrodden. The song carries with it the hardcore elements (vocally) of previous tracks with a very infectious and catchy pattern to the guitars and the drums that draws you in. Thematically, this track is the dark before the dawn, focusing on the pains a world that "want(s) you to believe that God is dead."
The album closes with "Death of False Hope." With a slow build-in reminiscent of the start of a dirge, "Death of False Hope" is an oxymoronic track in that it is labeled with "death," but it is actually the eucatastrophe (a term coined by Lord of the Rings scribe J. R. R. Tolkien as "the sudden happy turn in a story which pierces you with a joy that brings tears") moment. The "death" referred to in the track is both the death of Christ sacrificially in our places, and the death of all those false saviors that must be crucified before we can find the one true source of redemption. As the song trails off into the sunset, a great closure is brought to the overall theme and story of the album.
Overall: Tug Fork River Band is not a banjo band based out of Arkansas, but is the type of band the guys from Duck Dynasty would listen to if they happen to be into metal. Crossing southern rock stylings with Becoming the Archetype influenced metal, TFRB has something deep to say and a upfront way of saying it. No Hope For Man sets out to destroy, musically and lyrically, the idea that one can find hope in anything but the death of Christ. It is a solid metal album that is certainly catchy enough and deep enough to bring listeners back for more.
RIYL: Becoming the Archetype, The Showdown, Maylene and the Sons of Disaster