Album Review :
Tracings - Bloodlines & Anchors
By Scott Swan in Reviews | Comments closed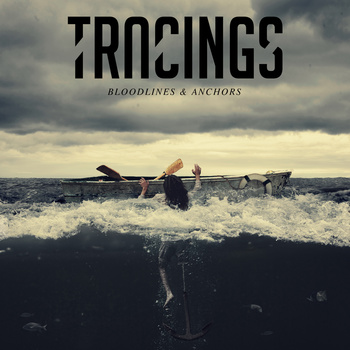 Artist: Tracings
Title: Bloodlines & Anchors
Label: unsigned
Release Date: 1/6/15
Reviewer: Scott Swan
Tracklisting
Fallout
Maverick
War Room
Oasis
Shoreline
Not sure what it is about bands from Fargo, but they just seem to keep falling into my lap for reviews. Besides cold weather and being the title of an awesome movie, they must also have a fairly well-oiled music scene, churning out some impressive stuff as of late. There will be no need to bring out the wood chipper (if you have seen the movie, you'll get the reference) for the sounds being produced up there. This time around we turn our gaze to a post-hardcore effort from Tracings and their newest EP, Bloodlines & Anchors.
The band has actually been around since 2011, and have a previous EP, Unconditional (2012), under their belt. In listening to this new offering, it does seem that the music has a tighter, more grown up feel to it than the previous work. They have a sound that I would put somewhere in the Wolves at the Gate arena, with maybe a little Emery thrown in. I believe this release to be somewhat harder as well, filled with slick guitar riffing, strong double bass drumming, and scream/clean tradeoff vocals. Although while listening to this, you might find yourself thinking that this band sounds familiar, and it probably does, as it is not particularly a new sound. However, I still found it to be really well done, and not exactly a pure copy of anything. The band is able to forge moments where they actually do seem to find their own sound.
The first track, "Fallout" launches out of the gate with straight ahead pounding drums and some underlying synths that really set the mood. It's clear from onset, the vocals maybe one of the biggest improvements here. The screams are on point, while the cleans are passionate and solidly executed. Vocalist Kyle Richards, belts out a theme focusing on a broken home and much worse, the broken relationships that ensued. A nice way to start the record for sure.
"Maverick" wastes no time in getting things moving, ripping across the sound spectrum with soaring guitars and pulsating drums. Somewhat cryptic lyrically, but you certainly get a sense of the writer wanting to rid the toxic things in their life and begin again with renewed strength. "War Room" brings a bit of an eerie feel, remembering a combat situation, but then finding comfort during the angst. In all honesty, it gives the impression of someone battling PTSD. Matching the war-like theme, the music rocks hard guiding the intensity of the subject matter.
"Oasis," begins vocally with some brutal screams, declaring: "Sand on my feet/Burning my skin/I need shade or I will surely die!" This song is very desperate sounding, and leans toward the fact that all this seeking has been in vain because it was largely misguided. The desperation bleeds out in the vocals, urgently trying to get anywhere for much needed replenishment. For me, the best track is the last one, "Shoreline," which is basically the payoff for all the weary searching in the previous songs. With the final conclusive understanding that, "No one will save, but You," we finally find some true hope and real rest found in God. This tune has a nice build up starting with some light guitar picking, but eventually exploding into a furious finale.  
Overall: Like I said above, the overall sound is not altogether unusual. But Tracings have managed to construct an EP that shows continued growth and a band on the verge of really finding something that could take them places. This record is a great start in that journey. Bloodlines & Anchors was a joy to listen to presently, while still hinting at greater things to come in the future. I will most assuredly be keeping a hear out for these guys.
RIYL: Wolves at the Gate, Red Jumpsuit Apparatus, Emery