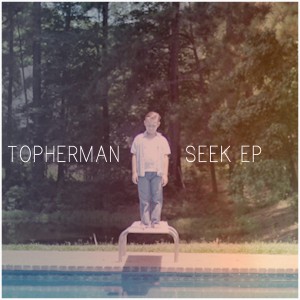 Artist: Topherman (IVM Stream) (iTunes)
Title: Seek EP
Label: Community Records
Release Date: 8/14/12
Reviewer: Carter Fraser
Tracklisting:
Narrow Roads
Going It Alone
Glory Unto Him
Creation
Topherman thrive on their naïve, happy-go-lucky, indie rock energy. Although I mean this in the best way possible, it almost sounds like they really don't care. This isn't to be confused with apathy; no, it's far from it. When Topherman gleefully chant on opener "Narrow Roads," "well they say / we're not gonna make it!" it comes across as neither a cry of defiance nor resignation. It's more a shrug-your-shoulders-and-smile acceptance, fearless and relaxed. Cameron Wood's wild, wailing vocals further contribute to Topherman's bouncy light-heartedness. This also carries over into the second song, as the peppy keys and strings accentuate Topherman's party-minded whoa-whoa-whoa's skillfully.
The first two tracks admittedly do overshadow the second two, mostly due to the first two being the more lively cuts present. The third track, "Glory Unto Him," is a fast paced acoustic song, which generally succeeds, though it could have possibly been a bit more powerful given an expanded instrumentation behind it. The closing track is the odd one; it's an instrumental builder that clearly takes cues from Explosions in the Sky and other comparable post-rock acts. Though not a total bum of a finish, it simply feels like your standard post-rock fare, a placeholder among three other more purposeful tracks. It certainly fails to play off Topherman's strengths, and unfortunately does an impressive job of allowing the listener forget about the band's vivacious spirit on display just a few minutes prior.
Overall: At a bare minimum, the first two cuts on the Seek EP are entertaining, danceable numbers that deserve a number of listens, and hopefully some radio airtime. Keep listening, you might find something to like on the second half as well. Check out our full stream here.
RIYL: Jonezetta, Edison Glass, Ocean Is Theory, Arcade Fire, Explosions in the Sky