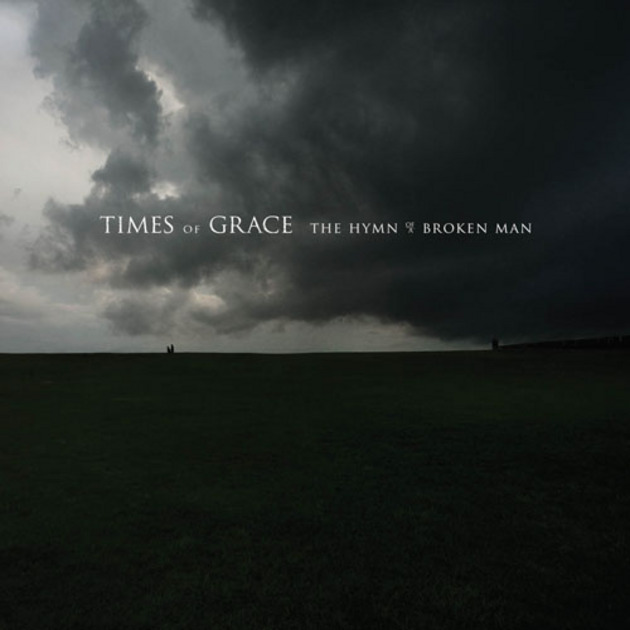 Artist: Times of Grace
Album: The Hymn of a Broken Man
Label: Roadrunner Records
Release Date: January 12, 2011
Reviewer: Eric Pettersson
Tracklisting
Strength in Numbers
Fight for Life
Willing
Where the Spirit Leads Me
Until the End of Days
Live in Love
In the Arms of Mercy
Hymn of a Broken Man
The Forgotten One
Hope Remains
The End of Eternity
Worlds Apart
Fall from Grace
Adam Dutkiewicz, guitarist of metal heavyweights Killswitch Engage, has gotten back together with that band's former vocalist, Jesse Leach. Together, their "side project" is Times of Grace, an explosion of hard rock and heavy metal sound that is sure to please fans of Killswitch Engage, Demon Hunter, Underoath, Thrice, and even Metallica.
From the first note of "Strength in Numbers," listeners know this album is going to epic, and full of passion and insight. Shouted over a fast marching snare and an ominous riff, Jesse delivers what could be seen as the thesis statement of the record: "As we live in these dark days filled with violence, opposition and hate, there lies a place of saving grace. Protected in the hearts of the humble, the faithful, the ones who choose the path of resistance to protest, protect, save, proclaim our lives lived not in vain. In flesh, in spirit eternal. One love, One truth, One destiny." The entire album is a bold and powerful call to unity in faith and love, emphasizing God's mercy and grace for those overwhelmed by guilt and despair.
Songs like "Live in Love" can get quite heavy with pounding riffs, blazing solos, and fierce screams, but in general The Hymn of a Broken Man echoes back to a purer metal with frequent clean vocals and no real hardcore breakdowns. While there is plenty of singing, especially on choruses, the rest of the vocals are split fairly evenly between true screams and a rough shout, akin to Thrice's Dustin Kensrue or some stuff from The Showdown's David Bunton.
The album frequently addresses the darkness of this life, unhesitant to delve into the depths of pain, doubt, guilt, and sorrow. However, without moving on too quickly or glossing over the power of these feelings and experiences, Times of Grace brings the overall message back around to a spark of hope. Compare, for example, the dark acoustic treasure "The Forgotten One" with the rocking and uplifting "Hope Remains." The first is a passionate plea for the mercy of God amidst the struggles of life, singing, "Lost in a sea of sadness. Blind in this place of darkness. If I fall would you be there to raise me up? Or will I be the forgotten one?" Knowing that God does not work on our timing, the issue is not resolved in the mere five minutes it takes to play the song. However, the very next track, "Hope Remains," is a positive call-to-action. The chorus sings, "Hold on to faith, hold on to love. Hold on to who you are. You're not alone, don't lose sight. We will rise above." It is not a cheap, optimistic hope that deals with suffering by ignoring it and focusing on the bright side; rather, it is one that stares pain in the face, grieves over the dark realities of life, and moves on to point to the promises of God, even while admitting a lack of knowledge or understanding in regards to when and how those promises will be kept. It is a beautiful and powerful message, one that could resonate well in today's metal community.
Overall: Working with Jesse Leach again was a great move on Adam D's part, because Times of Grace has put out an album that could leave a big mark on heavy music today. There is an obvious passion and depth to this Hymn of a Broken Man, both musically and lyrically. Everything about this release is top-notch, from the vocals to the guitars to the lyrics to the production to the overall songwriting. Since Adam is still an active member of Killswitch Engage, it remains unclear how much priority will be given to Times of Grace, but their debut has this reviewer hoping it will receive enough focus to maintain a steady schedule of touring and recording.