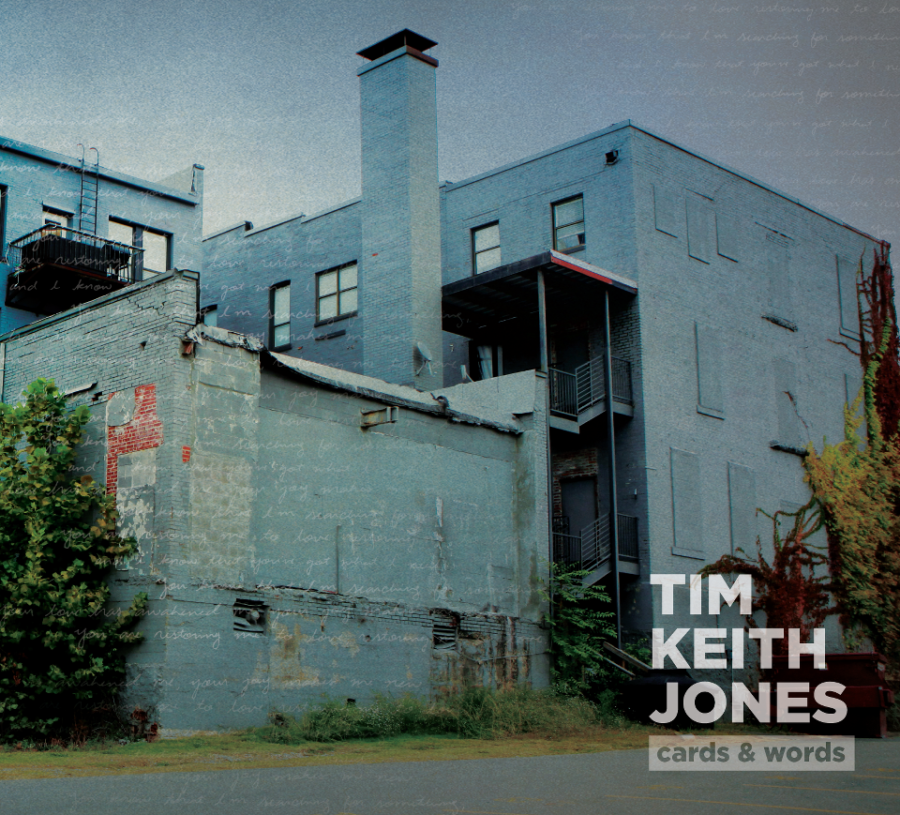 Artist: Tim Keith Jones
Title: Cards & Words
Label: Independent
Release Date: January 18, 2013
Reviewer: Jessica Cooper
Track Listing:
Just Enough
I Am The Beggar
Cards & Words
Restoring Me to Love
One Step at a Time
Airplane
Seventy & Beautiful
You Lose
Break Free
Psalm One
I'm sitting in a coffee shop trying to wrap my mind around all the excitement, goodness, and glory that surround this album. I've listened to it probably enough times to be considered obsessive in the last six days, but I think I've managed to create an objective response for it. That being said, I'm pleased and blessed to have the opportunity to share my thoughts with you about my friend releasing his debut album, Cards & Words.
Several months ago, Tim asked for some feedback on the acoustic pre-production samples for "I Am The Beggar" and "You Lose." I was pretty impressed, even with their simplicity in comparison to what they are now. "I Am The Beggar" leads with acoustic and the song gradually builds with the introduction of the snare, kick, bass, organ, and then electric guitar. The road map of this song is a pretty popular progression, however I think this one is done particularly well. I really enjoy its laid-back feel – there is a uniqueness about it as far as worship songs go. "You Lose" and "Seventy and Beautiful" are two poppy acoustic songs that remind me of Ben Rector or what one would hear on John Mark McMillan's The Medicine.
"One Step at a Time" is a classic example of a smooth love song that invites listeners to reflect on the sweetness and vulnerability of covenant marriage. Notes of jazz and a dominant piano give this song a familiar edge, building up to the bridge with an increase in intensity and participation from the rest of the band. And while we're on the topic of clear inspiration, "Cards and Words," the title track, is a tribute to Tim's father. When he performed the song at the release on the 18th, it was so sweet to see his parents respond; you could tell they were proud and touched by his public yet intimate gesture.
Now in my younger years as a Christian, I thought Jesus Culture was the greatest thing to grace the face of Christian music. I was absolutely in love with their style and the way they ushered in the presence of God. But three years ago, when I heard my church's worship band (with whom Tim plays guitar) play his song "Restoring Me to Love," I can tell you with confidence that I fell in love with it. It still holds the lead for my favorite worship song. Our previous worship pastor, Brandon, was usually the one to sing it during our regular worship services, but it is awesome to hear Tim take the lead on Cards & Words. I'm also especially glad that Brandon got a featured spot on the bridge of the final cut. The message of the song can be summed up by the second verse:
"There is no salvation on the backs of the saints / but you gave yourself freely / so my outcome would change / I can't walk, I can't run, I can't measure what you've done / and how beautiful the light of the sun / but I know how you died / how you laid down your life / and now surely my war has been won."
My other favorite on this album is "Break Free." It's essentially a song about God's unwavering commitment to us regardless of our sin. This track is 70% chill, but it blasts into a high-energy outro unexpectedly. It's all acoustic until the second time through the chorus:
"Why can't I break free from you? / Why can't I give you your due? / I can't seem to keep from coming unglued / like I used to before I met you."
It continues with a simple strum, a third time through the chorus, and then the electric guitar sweeps it up into the air. You hear some awesome organ pairing in the background, a vocal match, and then an energetic instrumental solo. The song fades out with feedback that gives it an interesting live sound.
"Psalm One" is scripture and melody paired together. I really like the conclusion of this one:
"You created us from dust / and you're watching over us / you revive us with your touch / Lord, come and water us."
Overall: If you're really into discovering new music and want something fresh to listen to, Cards & Words is an album to add to your collection. It has a familiar sound for listeners who enjoy singer-songwriter/worship music. Seeing this guy's project finally reach completion has been an incredible sight to witness on the sidelines, and I expect more great things to come from Tim Keith Jones as a musician and artist. Cards & Words will be available on iTunes, Amazon MP3, and Spotify on February 10, 2013, and you can connect with his official website and Facebook page for more updates.
RIYL: John Mark McMillan, Ben Rector, Gungor, Shane & Shane, The City Harmonic, Citizens, The Brilliance.