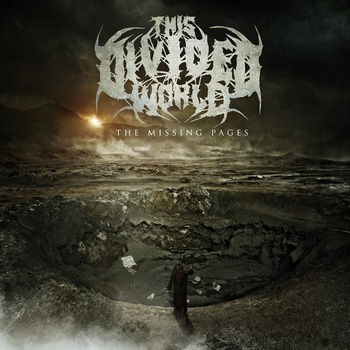 Band: This Divided World
Album: The Missing Pages
Label: Unsigned
Release: 10.1.13
Reviewer: Brody
Tracklisting:
The Words I Should Have Said (Shannon – The Order or Elijah)
People Pleasing (Bryce – Solomon)
Hell (Tom – Creations)
The Book of Life (Greg – ex Great Was the Fall)
What Has Been Seen Cannot Be Unseen (Sam – A Body Divided)
Curbstomp the Devil (Mark – ex This Divided World)
This Divided World is a studio band hailing from Rochester, New York. "The Missing Pages" is quite unique in that the single member of the band, Micah Brill, plays all the instruments while a different guest vocalist handles the screaming for each song.
The album kicks off like a good jar of peanut butter: thick and chunky. The Words I should Have Said features everything a metal head could wish for. Skillful guitar taps and leads, pummelling drums, and of course head bobbing breakdowns. The vocals provided by Shannon Low of The Order of Elijah are some of my favorites on the record as he mixes occasional spoken parts with guttural growls and piercing shrieks.
Hell is another standout track, featuring Tom Hirst of Creations. The song sounds very reminiscent to Hirsts' band in that it begins with a rather eerie reading of 2 Thessalonians 1:5-9 before going into the brutal and slow hardcore Creations is best known for. Micah Brill creates a great backdrop on this track with reverb heavy leads hidden behind the menacing chugging and steady double bass throughout.
My favorite track on the album, What Has Been Seen Cannot Be Unseen is perhaps the wildest ride on the album. This is due largely to the instrumental aspects, as guitars twist and turn, change from breakneck speeds to downtempo solos. Sam Stephens from A Body Divided absolutely shreds his vocal chords on this song as well. He shows great range, speed, and talent at his craft.
Curbstomp the Devil finds former vocalist of This Divided World, Mark Young, joining the mix again. Perhaps the most memorable part of this track is the tremendously downtuned breakdown at the end as Young proclaims, "His words will be silenced as his teeth hit the back of his throat / I will curbstomp the devil where the streets are paved with gold".
The only real thing that took away from my enjoyment for this release was the fact that while having a different vocalist for each song is a great idea (especially to get some of the lesser known names out there), I felt that it hindered the album from having any real sense of cohesion. Every song sounds similar musically, but when each vocalist tends to sound pretty different the album tends to sound less and less like a complete musical experience.
Overall: All in all, "The Missing Pages" is a solid release if you're in the market for breakdown heavy deathcore as this band can surely hang with the best in the genre.
RIYL: Creations | MyChildren MyBride | Impending Doom