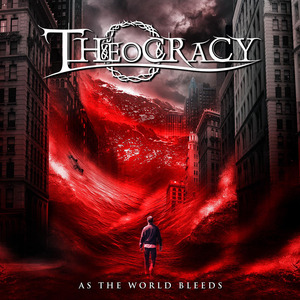 Artist:  Theocracy
Title:  As The World Bleeds
Label:  Ulterium Records
Release Date:  11/25/2011
Reviewer:  Jeremiah Holdsworth
Tracklisting:
1.  I AM
2.  The Master Storyteller
3.  Nailed
4.  Hide In The Fairytale
5.  The Gift Of Music
6.  30 Pieces Of Silver
7.  Drown
8.  Altar To The Unknown God
9.  Light Of The World
10.  As The World Bleeds
Theocracy is a power metal band out of Georgia which is founded by lead singer Matt Smith.  He orchestrated all the parts and played all the instruments for the debut self titled album.  It's considered a classic among underground power metal enthusists.  This helped Matt secure other musicians to be able to form an actual band, and lead to the ground breaking sophomore album, Mirror Of Souls.  I remember I bought the album on buzz alone, without listening to a single song.  I usually don't buy music blindly but I took a chance.  Needless to say I was blown away, and I then, understood what all the buzz was about.
After a long wait, 3 years, the band was finally able to get a third album together for my itching ears.  I figured, this album has to be great, if they had that long to write and arrange their new tunes.  Well great is an understatement, because this album is far beyond that term, and enters into prodigious territory.
Power metal is the generic term associated with Theocracy but they are way more than that.  Melodic, Speed, Thrash, and Progressive tend to interweave their way throughout their albums.  "I AM" kicks off this album with it's progressive tendencies and melodic rhythms that change up constantly.  It keeps an eleven minute song fresh instead of bringing boredom to my ears.  Definitely the right way to kick off a juggernaut.  Some lyrics below,
I am the vast volumes of knowledge spanning all across the earth
I am the whisper of the wind you feel but cannot see
I am the alpha and omega, first and last, eternity
"The Master Storyteller" features an infectious chorus with melodic guitars and medium to fast drumming.  "Nailed" is melodic and somewhat thrashy in parts, a short acoustic guitar piece adds a nice element.  A breakdown like ending, with choir like ohh's, and an amazing guitar solo, make for an extravagant song. Some lyrics below
The blood of Christ is all I claim
This grace revealed everything
That my eyes have never seen before
"Hide In The Fairytale" continues on with more melodic guitars, and catchy choruses.  "The Gift Of Music" has constant change ups from melodic to power and it turns into a speed/thrash powerhouse at the end.  "30 Pieces Of Silver" is a mostly fast paced song with soaring guitar pieces, solos, and double bass firing off and on throughout.  "Drown" moves at a slower pace compared to the previous songs and is semi-ballad in nature.  The guitar solo toward the end definitely adds some intensity though.  Some lyrics below
Like Peter all those years ago
Who looked away and sank below
When I sink in seas of doubt
Will You take my hand and pull me out?
The devil and the deep blue sea
With open arms awaiting me
But I won't go down tonight
If I keep my eyes on You, I'll be alright
"Alter To The Unknown God" definitely picks up the intensity with a fast paced nature with heavy guitars, a chorus that sticks in your brain, more melody, and a sweet guitar solo.  "Light Of The World" brings epic melodic power metal guitars and drumming, with blistering soloing, and even more infectious choruses.  Some lyrics below
Men love the darkness
Much more than the light
For their deeds can be kept out of mind
Out of sight
And the line has eroded
Between wrong and right
Like it's all relative after all
To stand like a wall and resist the temptation
To sell ourselves out
For hollow acclimation
And cheapen the message
A weakened foundation
Revealing the cracks in the wall
"As The World Bleeds" blends in all the elements of the prior songs and forms and epic closer that is part power ballad, thrash, speed, melodic, power, and symphonic.  What a way to blow out a stupendous album.
Overall:  I don't know if I can come up with enough words to describe how breath-taking this album is.  "As The World Bleeds" outshines it's previous release in all areas and it is an amazing album in its own right.  Theocracy sets the bar with what epic power metal should sound like.  Lord willing, they will be able to grace us with a 4th full-length album in the next few years.  I can wait that long, as long as it surpasses this marvelous piece of power metal history.