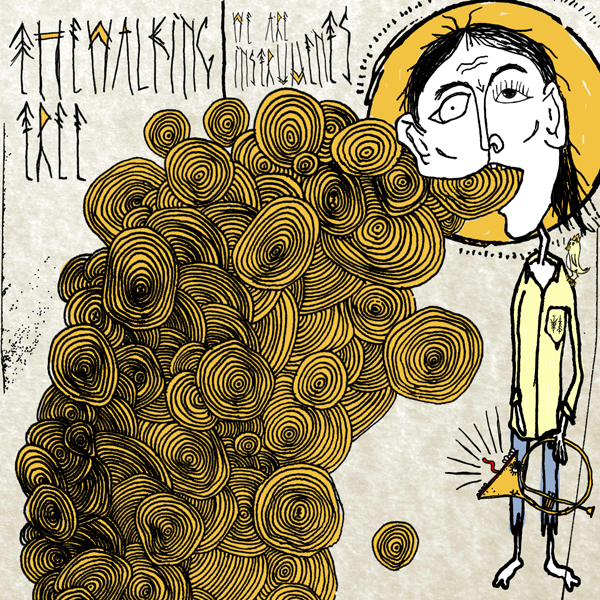 Artist: The Walking Tree
Title: We Are Instruments
Label: Come & Live
Release Date: 06/18/2013
Reviewer: Ty DeLong
Tracklisting:
Instruments
October
Stones
We Are Free
Some Hope Some Rhythm
Back II…
Chains
Broken Head
ABBAABBA
Ten
Dead Man
When I first downloaded Glorious by The Walking Tree last year, I was blown away.  Here was a new band to pick up the dark, emotional rock mantle that had lost some steam.  What was even better, their music was available for free through Come & Live.  When the band posted a Kickstarter to fund their full-length, I gladly chipped in, expecting more of the deep, solemn sound that characterized the EP.  To my surprise, We Are Instruments shares very little in common with its predecessor.
In the interest of full disclosure, I didn't like this album when I first listened to it.  This was primarily because it wasn't what I expected.  Instead of the complex alternative rock of the EP, the band pivoted toward the vintage rock sound that has lately seen a resurgence.  Similar to recent work by The Almost, The Walking Tree makes use of fat, over-driven guitars, straight-forward but hard-hitting drums, and an array of soft and yelling vocals.  Once I got over the disappointment in the drastic change of style, however, I was able to appreciate the album on its own merits.
Thematically, the record calls believers to offer their lives as acts of worship.  This is evidenced in the lyrics of the opening track which features only a sparkling distorted guitar and vocals with heavy reverb.  Later songs such as "We Are Free" combine proclamation of such truth with a challenge to live it out.  Stand-out tracks for me include "Some Hope Some Rhythm" and "Ten."  The former features a rhythmic bongo drum as percussion backing throughout, a nice creative touch, in my opinion.  The latter is about as close as the band comes to their previous sound, including dueling guitars during an instrumental break halfway through the song.  To me, that richness is what is sometimes lacking on other tracks.  That's not to say that the other songs are simple; each song has nuances of its own, but the writing just didn't quite captivate me.
One aspect of the album I do enjoy a lot is the vocal performance.  Styles range from smooth melodies to passionate yells that break into screams.  This dynamic is used to great effect with the lyrics.  In one song, Warren softly sings "Love is pouring down / Jesus save my soul / Mercy come on down / Jesus give me grace."  In another song he frantically declares, "Filled with love by the blood of the Son / Oh my soul is new my chains are undone / I will dance for You."  His voice carries as much energy as the instrumentation, in my opinion, and he matches the intensity quite well.
As I touched on, instrumentally the band turned toward vintage rock.  Sometimes I even detected hints of blues.  The change is consistent, from guitar tones to bass lines to drums.  Other subtleties such as tambourines and clapping further reinforce the throwback feel.  Guitar work spans the gamut from hard-hitting strums to arpeggios to lead licks.  There are intriguing moments, but also times that seem to drag on or repeat.  For some this may not matter, but complex guitar parts are one thing that gives an album staying power for me.  The bass mostly backs up the guitars, though it also has a few moments to shine.  Lastly, I would say the drumming is above-average.  It seems as elaborate as the style would allow without distracting, and the natural tones make it feel very real compared to some heavily-produced genres.
The audio and mix are good, though decisions such as heavily-panned guitars did throw me off at times.  Also, extra instrumentation such as trumpets sometimes factors heavily into songs, which can tend to detract from the main elements, in my opinion.  In the end, The Walking Tree did not deliver a bad album, and I love the overall theme, but I didn't have many wow moments, even through repeated listens.  Give it a spin for yourself and see what you think.
Overall:  With We Are Instruments, The Walking Tree take a different direction from their debut EP, keying on a vintage rock sound with a positive vibe.  The album is cohesive both sonically and thematically, and it's clear that the band is heavily invested in their new style.  Fans of fat guitar tones and poetic, spiritual lyrics will find some things to like on this full-length available through Come & Live.
RIYL: The Almost, The Followers, Manchester Orchestra