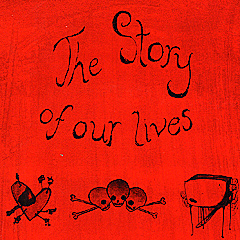 Band: The Violet Burning
Title: The Story of Our Lives
Label: None
Release Date: 03/05/12
Reviewer: Josh Hamm
Track Listing:
Disc One: The Fantastic Machine
Aurora
Where It All Begins
Lights Out
Graves (till the end)
br0thr
Machine Beat Sabbath
Imminent Collapse
there is no end
br0thr (the lights have gone)
I Don`t Belong
Firstborn From the Dead
the letting
TH3 FANTA5T1C MACH1N3
the loudest sound in my heart
Leaving (but, I don't wanna leave you)
Disc Two: Black As Death
My Name Is Night
Maelstrom
Breakdown
Where Do We Belong?
Rock is Dead
Nowhere, CA
Sung
In Ruin
Lacuna
Disct Three: Liebe Über Alles
Mojave
mon désir
finest hour
light poured down on me
arc
I Caught Fire
cadiac
Liebe über Alles
change of heart
Made for You
The Violet Burning is an old veteran of the indie scene. They've been creating phenomenal music since 1989. The Story of Our Lives is their 9th studio release, and it is undoubtedly their magnum opus. As loathe as I am to use this term, this is a truly epic release. First of all, there are 3 discs, The Fantastic Machine, Black as Death and Liebe über Alles, with a grand total of 34 songs. The genius behind it all is Michael Pritzl, who essentially wrote and recorded almost everything you hear on the album. This is brilliant music which flies in the face of the popular convention of releasing hit singles; this is one album you must buy as a whole and listen straight through.
It was incredibly hard to figure out how to make this review a reasonable length, because as I went through to find my favourite tracks to discuss, I selected well over half of them. It's a goldmine of quality songs. It doesn't help that it's a giant concept album, following a man's life as he struggles with life, death, meaning, purpose, and God.
It starts off with The Fantastic Machine, and the listener is treated to a soft opening, and then is hit in the face with the heavy, crunchy guitar riffs and drums of the third song, "Graves(till the end)." There is some criticism of the Christian music industry in songs "br0ther," "Machine Beat Sabbath," and "brother(the lights have gone)" as Pritzl sings compares them with Big Brother from George Orwell's 1984 and realizes that he's better off apart from them. As a whole, the disc is a cry out for help as a man struggles with life and death, it's particularly moving on the song "Firstborn from the Dead" where he exclaims "Firstborn from the dead, Firstborn from the dead, Help me! Help me!" It ends on a sad note with "Leaving (but I don't wanna leave you)," a stunningly melancholy song with a simple guitar and layered vocals as he rejects love, with "You move me, Though, I don't wanna be moved, You love me, When I don't wanna be loved, I'm leaving, But, I don't wanna leave you."
The story continues with Black as Death, the darkest disc thematically, as well as the heaviest hitting in terms of straight up rock songs. However, I have to say the highlights for me were the softer tracks, although a couple of the harder tracks absolutely knocked it out of the park. A great song was "Rock is Dead," which proves its title absolutely wrong, as well as "Sung," which reminded me somewhat of the direction Dead Poetic took in Vices. Lyrically, the first half of this disc deals with doubts and trials faced in life, such as in the song "Maelstrom," as Pritzl sings "I'm falling in too deep, Please get this out of me, I'm haunted I'm haunted, Don't want it don't want it don't want it."But as it progresses the character realizes that he needs and wants to put his trust in God, and he's trying to do so.
The album ends off with Liebe über Alles, which translates in German to "Love above All." This is my favourite disc of them all. There aren't any more hard rockers; it's composed of 10 slower, but well paced songs. I was surprised to find that this is one of best collection of worship songs I've ever heard. The lyrics are incredibly heartfelt and ring true of anyone who's struggled with a dark night of the soul. My highlights were "I Caught Fire," "Liebe über Alles," and closing song "Made For You." It's a great way to end the album, clocking in at 9 minutes, with beautiful, delicate electric guitar, it ends on the words "Lord of all light, I was made for you, Lord of all creation, I was made for you, For you."
Overall: Wow. This is one album which you do not want to miss, as a concept album it's terrific, with deep and meaningful themes and subjects interwoven throughout all 3 discs so that it progresses in a natural story. The transitions between prayerful songs calling to Jesus and hard rocking, crunching guitars and strong vocals are effortless, crafting a complete experience which demands to be listened to. This is an album where you can feel the sweat and blood which were put into it, and you can feel the passion and soul put behind the lyrics and the delivery of them. There's a reason why this was on so many album of the year lists in 2011, and you need to find out what that reason was, and listen to this album.
RIYL: The Prayer Chain, Poor Old Lu, Smashing Pumpkins, The Cure