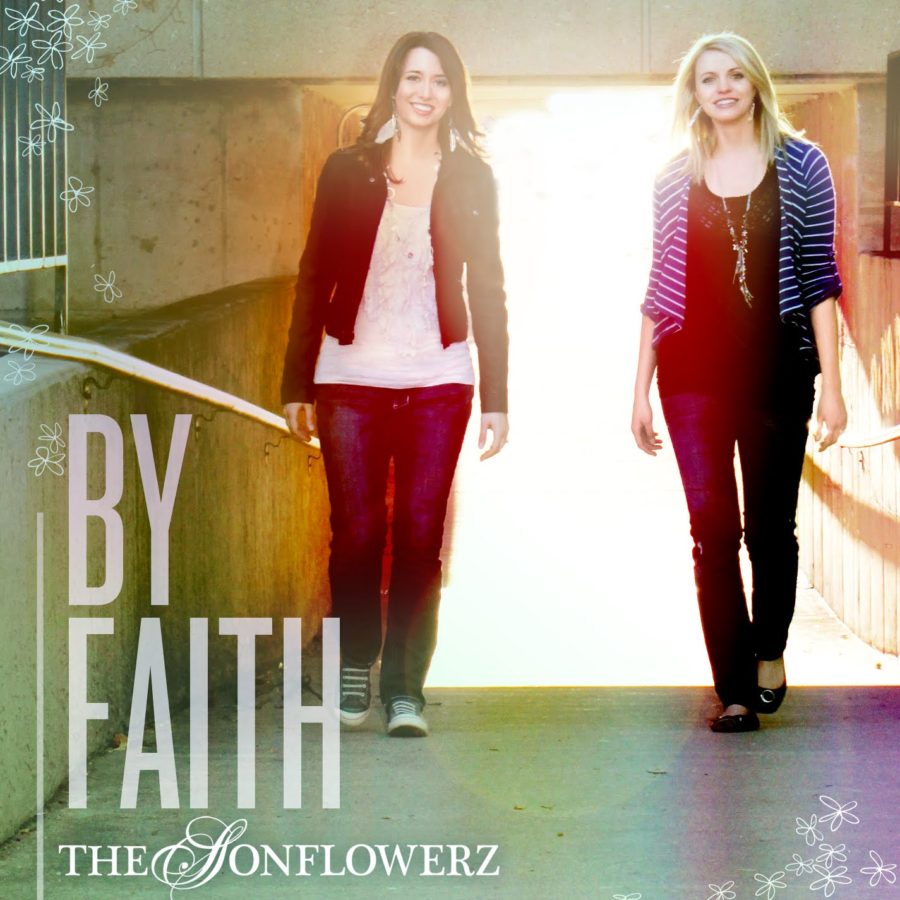 Artist: The Sonflowerz
Title: By Faith
Label: Catapult Distribution
Release Date: 9/13/11
Reviewed by: Jonathan Andre
Tracklisting:
You Captured Me
By Faith
Made to Shine
In You Alone
Always Reign
Now That I Am Yours
How Great You Are
My Heart is Alive
Dearly Loved
The Face of Jesus
Having shared the stage with artists like Third Day, needtobreathe, and BarlowGirl; British-American sisters Becca Leander Nicholson and Elisa Leander Tipps are The Sonflowerz, a band that started in 1999. Now 13 years and 3 albums later; the duo have released their 4th, By Faith. The duo band is still unsigned, yet they have made an impact on the independent and major label Christian scene alike. After a few listens and likening their music and vocal style to BarlowGirl, it can be seen that both Becca and Elisa have crafted 10 songs from their hearts. These songs are for the person that longs to engage further with the Lord and praise Him for who He is. From slow ballads to radio friendly pop tunes, the sisters have created songs that would enhance both corporate and personal worship.
'By Faith' is a simple track of faith and trust in God even during the difficult moments. As the song starts with the lyrics, '…Before all time began and throughout all the ages, my God has always been faithful…' I am always reminded of the last chapter of Matthew when Jesus told His disciples that '…I am with you always, to the very end of the age…' (Matthew 28:20). God is always faithful, and will never leave us, and we can come to God without hesitation, laying '…down every fear, the anxious heart within me to run the race with Your endurance…' The knowledge that I can trust God in any situation is freeing; walking in the hope that God is right by my side. This simple message of faith and trust, as well as the driving guitars and bass, as well as soaring harmonies between both Elisa and Becca in the chorus and bridge, creates a worshipful moment, and is one of the album highlights.
With many worshipful songs from the album; 'In You Alone', 'How Great You Are' and 'Always Reign' are my favourites. 'In You Alone' was inspired a tornado event in Missouri and how God's love was still in the midst of this tragedy. The declaration of '…In You alone my soul finds rest…' shows listeners that it is in God that we seek our refuge, strength and hope; and during the times when we don't have all the answers, we know that we trust the One that has. God doesn't cause the terrible things in our lives, but He does use them as learning and strengthening tools, shaping us to become the men and women of God. 'How Great You Are' features the guest vocal of Jared Anderson; and speaks about the majesty of God and the lavishness of His unending love. Through the rich lyrics of the bridge '…Let my whole life be to You a sacrifice…', I am constantly reminded of Romans 12:1, with Paul's description of holy sacrifice, laying down everything that we have at the feet of God, and living our lives as an act of worship. 'Always Reign' also speaks about living our lives to the glory of God. As Elisa sings the chorus, '…Here You are raised up, inside this temple, Lord, You will always reign…', I cannot help but join in the worship moment, praising God for what a wonderful Father He is. Together with 'By Faith', these four have stirred up the worshipper in me.
Throughout the remainder of the songs, themes and motifs run through each, applying to almost everyone. 'Now that I Am Yours' relates to how what we feel about ourselves doesn't define who we are, but it is God's love for us that shows us our identity; we are His. God's forgiveness '…broke the chains that tied me down, today my healing flows from the hands and feet that bled for me…' Jesus bled for us, and this song highlights this fact. 'My Heart is Alive' is a celebration song, how we were dead before Christ, and how in Him we are new creation. The tag line '…My heart is alive for the first time…' is reassurance for the soul that when we enter in a relationship with Christ, we feel invigorated and motivated, with peace and assurance of who Jesus is and what He has accomplished. 'Made to Shine' starts off with an electric guitar intro that hooks in the listener. Written for a girl who was bullied, it can also be for all of us. We were all made to shine for the glory of God. We were made for a purpose, and whatever we do well will show others God's love that is inside of us. As we open up to what the Lord is encouraging us to do, our talents can be used to show Jesus; as '…more than the stars in the sky, you were made to shine…'
The final track, 'The Face of Jesus', is neither a worship track nor a radio pop track, but rather, a reflective track about the sisters' trip to El Salvador on a Compassion International mission trip. As the sisters saw poverty, the face of Jesus could still be seen. In the dire of circumstances '…In El Salvador's streets I met a young girl half my age, with a baby inside her I feared for her future…' we are met with hope, as though the people are struggling physically, they are not spiritually. The harmonising vocals throughout the song powerfully speak to the listener and we are introduced to '…Jesus, a shelter from every raging storm…' Jesus can be in the places that we least expect, and we can be inspired by the people that we should be inspiring. It is in the moments when we have nothing that we can truly rely on God for everything, to know that He is our provider. This song is not to be missed, and is another album highlight.
Overall: All of these songs speak about who God is, and how we give our lives as surrender to Him, worshiping and proclaiming His awesomeness and majesty. Whether you are just looking for worship, reflective or pop rock music similar to BarlowGirl or Point of Grace, look no further than 'The Sonflowerz'. Their honest lyrics and heartfelt songs are penetrating to the core. Thanks to an article on NewReleaseTuesday.com, I was able to listen to the duo last September, and they have quickly become one of my favourite female fronted bands, together with BarlowGirl, Fireflight, Superchick and Addison Road. Whenever a 5th album arises, I will certainly take a listen!
RIYL: BarlowGirl, Point of Grace, Rebecca St. James, Addison Road
Buy the Album: iTunes/Amazon mp3