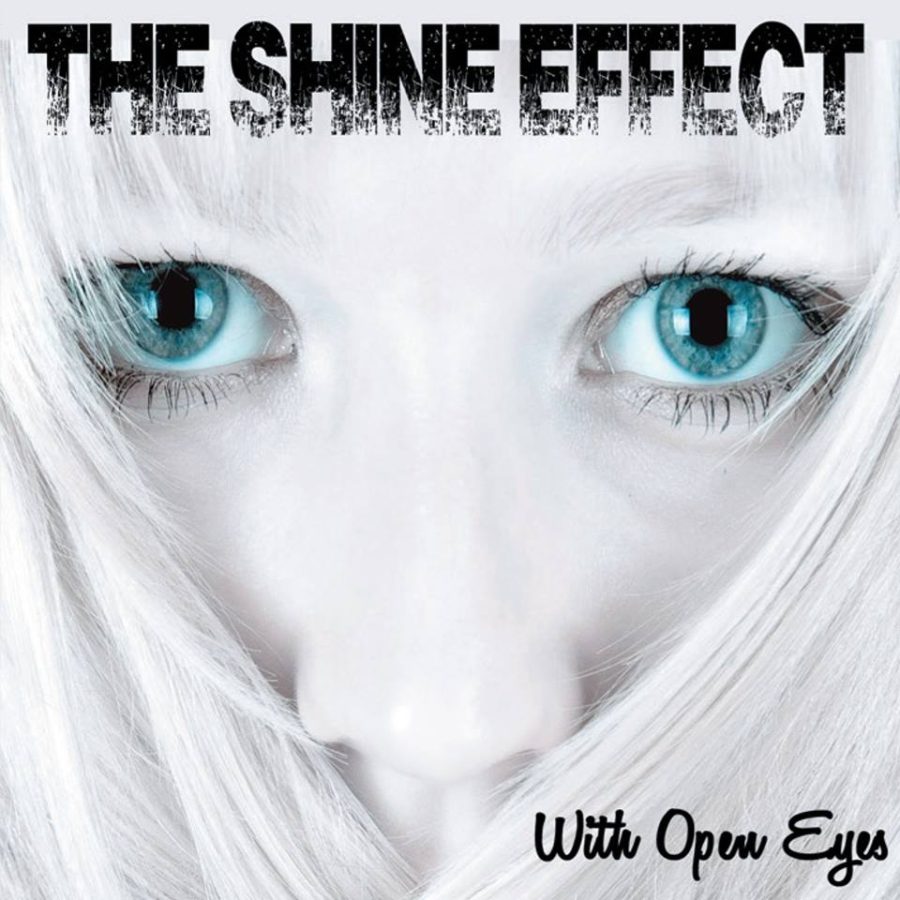 Artist: The Shine Effect
Title: With Open Eyes
Label: None
Release Date: 3/9/13
Reviewer: Cimarron Hatch
Buy The Album: iTunes / Storenvy

Tracklisting:

Your Beautiful Name
Heartaches
Stronger (Hallelujah)
Something You Should Know
We Will Shine
You Are My God
The Shine Effect is a rock/pop-punk band from the small town of Jacksboro, TN. The members are Josh Roberts (vocals and guitar), his wife Christa Roberts (drums), and his brother Ben Roberts (bass and vocals). With Open Eyes is the followup to the band's first release, a full-length titled The Life. The Hope. The Journey. The Shine Effect has played over 200 shows between these albums, and have successfully built a fan base through these events.
The album kicks off with a song titled "Your Beautiful Name." It's part acoustic and part pop-punk, which reminds me of the debut albums of bands like Hawk Nelson and Stellar Kart. The lyrics of the song talk about safety in the arms of the Lord. Next up, "Heartaches," like the title says, deals with the subject of heartaches and gives encouragement that it's not the end of the world. While the message of this song is good, it got a bit too repetitive for me—it just needed an alternating sound somewhere. "Stronger (Hallelujah)," again, is repetitive, and it suffers from a lack of substantial lyrics. It's a mid-tempo worship song featuring a reprise of "Hallelujah / Hallelujah / Your love is all I need."
A more aggressive rock song called "Something You Should Know" comes next. It's about being supportive of a friend even though you don't agree with how they're acting. Random scream parts happen during the verses and they really don't work because they're not well done. "We Will Shine" is definitely the highlight of this album. It has a beautiful melody and is in 3/4 (waltz) time, but it also has hard-hitting drums and strong bass throughout. The song is an anthem about always being a shining light to spread the Word of God and committing life to Him. Closing With Open Eyes is "You Are My God," which feels more like an opening song and is extremely repetitive. I, personally, would've suggested having "We Will Shine" end the album because it leaves a feeling of fullness and resolve, which "You Are My God" does not.
Overall: The Shine Effect shows a lot of potential on this album, like they could be a force in bringing real pop-punk music back onto the scene. The instrumentation on With Open Eyes is all very nice, and the vocals are comparable to those from bands such as Craig's Brother or Blink-182. While some of the lyrics are not quite as substantial as I would have liked to hear, they are still very meaningful. Check out The Shine Effect's music and catch them at one of their numerous tour dates this year.