Album Review :
The Hotshot Freight Train - Get Low
By Brandon J. in Reviews | Comments closed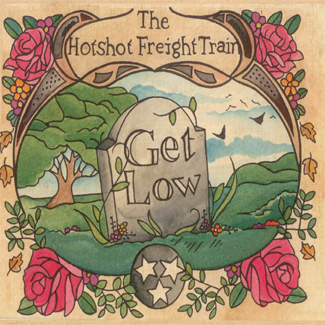 Artist: The Hotshot Freight Train
Title: Get Low
Label: Future Destination Records
Release Date: 3/20/12
Reviewed by: Brandon Jones
Buy Here
Tracklisting:
Boys From Tennessee
You Haven't Loved Me
Mountain To Nowhere
Hello Sadness
Hadley
Ol Milwaukee Road
Ghost Of Eugene Debs
Favorite Songs
Joseph & Mary
Highway Lines
Appalachia
The Ballad Of C.W. Jenkins
To say I'm a fan of this band is an understatement. Case in point, I declared their last album, Poetic Devices and Personal Vices, my favorite release of 2009. I have followed them since a few members of former IVM band, Joey's Loss, went on to form this band. I had their very first self released EP We Are The Hotshot Freight Train. It's quite evident in the musical output found on Get Low that this band is quite improved from that early EP. Stylistically they remain somewhat similar and the band is on fire as ever before lyrically. Maturity is something obtained by years spent traveling desolate roads and playing to hardened patrons in bars/clubs across the country. I feel that The Hotshot Freight Train have reached that tough to grasp maturity that so many bands yearn for throughout their existence. This perfect piece of Americana pie is called Get Low and it's served up fresh by those "Boys From Tennessee", The Hotshot Freight Train.
The album begins with the gentle strum of the acoustic guitar and soft spoken vocals of Joshua Tipton. It's a simple story of growing up, working hard, and living life as a "Boy From Tennessee". The backing keys add a nice touch to this song, which happens to be one of my favorite songs on the record. "…but the boys from Tennessee finish what they start… "You Haven't Loved Me" also starts off with the strum of the acoustic guitar before the band breaks in. Some dueling guitars and backing keys add a nice touch to this beautiful song.  It's the ultimate break up song. I also notice some female backing vocals (of which 8 woman are listed in the credits as appearing on this album) that further layers this song with depth. "…but we both know what the truth is, that you haven't loved me for a long long time…" "Mountain to Nowhere" features another acoustic intro and Joshua's soft spoken, yet weathered, vocals. I say "weathered" in a good way, meaning his voice has seen years and years of use from traveling the country and playing to folks across the country. A lot of these so called "pretty boys" in their tight pants lack this sort of depth and maturity present in the voice on this record. "God only knows where I am going nobody cares what I've seen. .." "I'm wasting my time oh I am wasting my time climbing this mountain to nowhere.." This is a heart on the sleeve number and is a cry out. Weathering the storms that God puts in our way and struggling to see light at the end of the tunnel. A yearning for peace and grace. This is a beautiful song and I really enjoy it. The layering of backing vocals along with lush arrangement of guitars building up to the ending sing a long of "Hallelujah" is something I can't explain, you'll just have to listen.
After these strong first three tracks, it's tough to top the sentiment and mood that has already begun. There is so much more though and the album has really started to take root in my heart, mind, and soul, not to mention EARS! "Hello Sadness" has sort of a country/bluesy vibe to it with its piano lead and a quick beat that keeps your foot tapping. I especially enjoy the guitar soloing. "Hadley" is a slow jam type song. A definite blues feel to the country/american vibe of the album. I am hearing keys and sweet backing vocals all layered together in wonderful harmony. "Old Milwaukee Road" features more acoustic, more pianos, and more electric guitar.  Guitar soloing rules on this song.
"Ghost of Eugene Debbs" starts off with electric guitar and continues that slow burn style throughout the song. This is somewhat of a political song about hard working people vs "the corporate thieves" and the greed of those that lead. "Republican or Democrat to me it seems all the same. you got to be rich to get elected so you can vote yourself away. I am tired of hearing one side or the other claim to serve the greater good. The people shouldn't have to worry about politicians doing things the way they should." The song breaks into a heavy guitar solo near the end of the song. Do I hear a little Neil Young here? "Favorite Songs"  slows things down slightly and celebrates youth and that youthful love so many search for. "Joseph and Mary" slows things down even more and it's another charming track. It's a song told from the perspective of Joseph about Mary and her pregnancy with Jesus in the womb. Beautifully written and such a concept that I haven't heard to many other artists compose. This song is wonderful. "Highway Lines" starts right off with some horns and backing from keys to add with the electric guitars and Joshua's charging vocals. My least favorite song on the album although still a strong one and I am sure many will appreciate it.
"Appalachia" is song celebrating life on the east coast and especially around the Appalachian area. The struggles, the hardships, and the life that many of the people of that part live through each day.  This line probably wont make it on Christian radio anytime soon but who cares, I think it's honest and beautiful representation of those that do struggle and need a hand in life. "for those of us that daily struggle, daily struggle with the past. The best medicine is the gospel and a whiskey glass." "The Ballad of CW Jenkins" ends the album and tells the story of a grandfather who spend his life working hard by his hands to provide for his family and future generations. The song is told through acoustic guitar and banjo with the countrified voice of Joshua Tipton. Many of us can relate with our grandparents who all struggled through jobs, war, poverty, economic hardships, yet with their heads always held high, working hard to provide for a future many of us have come to take for granted. Remember your grandparents and great grandparents kids, because if it wasn't for them many of you wouldn't have the current life you live.
Overall: There is just so much depth, power, humility, and sense of honesty in this album that I can't help but relate to it. Simple songs about life, struggles, hardships, and the fragile ground we all walk on. Broken relationships and the pain we feel as human beings learning to take each step. The boys from Tennessee have really outdone themselves on Get Low. Everything from the production to the packaging reveals a band that won't settle for anything less than pure quality. These are songs sung on long drives across the country or in that dark bar across town. These are working man songs and songs for a new generation of Americana/Folk music fans. Style wise, the band treads the line between Folk, Americana, while leaning a bit into the punk territory vocally and lyrically in their songs. There isn't a boring moment to be found on this release at least in my opinion. Even the weakest song ("Highway Lines") is miles ahead of the nearest scene-core tight pants wearing kiddies. These are poetic simple heart on the sleeve numbers sure to bring a warm feeling to any heart. This is a highly underrated band, even after 3 full length releases and an EP. You'd expect to hear them on the radio or even for their name to appear in the biggest rock mags around but that isn't the cast with THSFT. They are content making simple honest songs for the working man and telling stories of the struggles that Tennessee men and women face. I am positive that their time in the spotlight is nearing, even after all these years. How can a band this good go unnoticed? My favorite songs from Get Low would have to be pretty much all of them minus "Highway Lines". "The Boys From Tennessee" is just so darn good. Score: 10/10.
RIYL: Bruce Springsteen, Neil Young, Gasoline Heart, Willie Nelson, The Hold Steady, Gaslight Anthem, The Avett Brothers, Mumford and Sons.
Download "Boys From Tennessee" for free right here (on IVM)