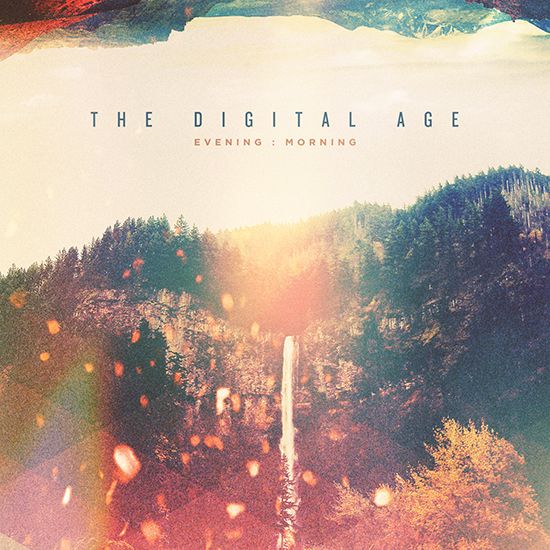 Artist: The Digital Age
Title: Evening:Morning
Label: Fair Trade Services
Release Date: 8/13/13
Reviewer: Jonathan Andre
Tracklisting:
Captured
Symphony of Grace
All The Poor and Powerless
Your Name (Shout)
Overcome
Through the Night
Glow
Break Every Chain
Believe
God Of Us All
Always You
Morning Song
Since the David Crowder*Band parted ways in 2012, there have been two distinct and somewhat very different bands that formed from the division of both lead singer and band members. David Crowder formed his own 'collective' somewhat after the amicable parting with his band members, forging a musical identity in bluegrass, folk and worship to bring to listeners a message of hope and worship alongside banjos, strings and a whole lot of yodelling. Appearing at various events under the pseudonym 'Crowder', David forged on, and now in 2013, he potentially has a new album releasing later on this year. The Digital Age on the other hand took another turn, employing the vocal abilities of both Mike Dodson and Mark Waldrop to co-lead vocals in a band that also consists of David Crowder*Band guitarist Jack Parker and drummer B-Wack to round out the quartet. Also forging on, but this time as a rock-worship band delivering messages of hope and encouragement with a powerful guitar driven edge; it was their Rehearsals EP that was released in 2012 that made me declare that The Digital Age will go far, possibly even towards a label signing. With their most successful song to date 'All The Poor and Powerless' anchoring the Rehearsals EP, we witness the song being re-recorded again and placed on their forthcoming album Evening:Morning, again anchoring the album which will be their label debut on Fair Trade Services, home of other prominent and well-known artists like The Afters, MercyMe, Audio Adrenaline and Hawk Nelson. With a great amount of musical experimentation in Evening:Morning, I can safely say that the album's success is all but assured, with many fans of the once great worship band certainly gravitating to both Crowder and The Digital Age to fill the void. From the first music video of the song 'Believe', to the first radio single 'Captured', we are able to hear the great harmonies delivered by both Mike and Mark in one of the most anticipated worship albums of 2013 so far (and also one of my favourite alongside Meredith Andrews's Worth It All!).
'Believe' was created into a very unique music video (released in April 2013) as the song debuted on their youtube page, the first song to be delivered to the public in some shape or form from their new album Evening:Morning. Filmed in a unique way with each of the four members playing through the song once as the camera films each of them alone in a spot before cinematically combining each of the films together; we are reminded through the song of the beliefs and values of The Digital Age, that '…I believe in God The Father, Almighty, Maker of Heaven and Earth…' Now track 9 on the band's debut album, it is a lyrically simple yet tremendously profound and impacting song that has become one of my favourite songs on the album, and possibly one of my favourite songs from The Digital Age ever (yet nothing can top the band's covers of 'All the Poor and Powerless' and 'After All (Holy)'). A pseudo-first radio single, 'Believe' reminds us to truly understand what we really believe, and make sure that we won't be swayed intentionally or unintentionally by anything that passes by. While I thought that 'Believe' actually could've made a great actual first radio single, 'Captured', the first song on Evening: Morning, was distributed to the major radio stations in May 2013.
With the message behind 'Captured' being that it is when we are captured and captivated by God's presence and love that we can truly be free to live our lives devoted and solely to reflect the glory of the One who gave everything for us to be in communion with Him; this indie-like vocally layered melody full of great harmonies between Mike Dodson and Mark Waldrop is a great start to an album full of musical experimentation, where it can sometimes even feel like the David Crowder*Band never split when listening to these songs. As Mark discusses that the '…contrast is a really cool place to live as a Christian where you're kinda being tugged between the realm of here and the realm of God, and we're striving for that and yet we're constantly being pulled here…but the only thing centring it is Christ…', we are given a picture of how being in the overwhelmingly glorious presence of our Father can be such a joyous occasion, yet on the flipside we also know that our lives can be still full of struggles and back-and-forth between focusing on the now compared to that of the eternal. With the song hopefully inspiring us to seek more after the Lord in all aspects of our lives, The Digital Age have delivered a 3 minute short power ballad that'll hopefully be one of the classic The Digital Age songs in years to come. Well done Mike, B-Wack, Jack and Mark for such a powerful single!
Previously on Rehearsals EP, 'All The Poor and Powerless', originally written and recorded by indie/folk/worship duo All Sons and Daughters was again re-recorded for the band's debut album Evening:Morning. Full of electric guitars and an ethereal vocal to begin the song, we are invited to witness one of the most humble and worshipful moments on the album, and just like how Third Day have 'owned' 'Creed', playing it numerous times during their concerts, I can suspect that The Digital Age can do the same from this All Sons and Daughters written song, both now and into the future. While I can't really tell much difference between the versions on both The Rehearsals EP and this album version (besides the fact that the song on Evening:Morning sounds more polished), 'All the Poor and Powerless', written by David Leonard and Leslie Jordan of All Sons and Daughters, doesn't stray much from the original, keeping the worshipful and tranquil moment throughout most of the track. They do however become really passionate, as both singers Mike Dodson and Mark Waldrop start so move from worship to screamo as they cry out to the Lord '…shout it, c'mon and scream it from the masses…that He is Lord…' Showing us that worship is not necessarily for the quiet and reflective type; worship can be upbeat if it wants to, with passionate vocal enthusiasm one of the main traits throughout this song standout on the album.
Personally equal in quality to both 'Believe' and 'Captured'; 'All The Poor And Powerless' leads the way for the band to cover another worship melody, this time the somewhat famous (amongst Jesus Culture fans) 'Break Every Chain'. Originally on Jesus Culture's 2011 album Awakening, 'Break Every Chain' is shortened from a lengthy 8 minute live version that Kim Walker Smith sings to a little over 2 and a half minutes on Evening:Morning. While such a drastic length shortening, the passion still doesn't wane as The Digital Age passionately cry out '…there is power in the name of Jesus to break every chain…' Full of repetition and emphasis on God being the One who breaks the chains that bind us from becoming the fully free men and women of God that He calls us to embody; this 2 minute song, dare I say it, is just as enthusiastic as Kim's version, and certainly feels more than 2 and a half minutes because of the enthusiastic passion from each of the members in the band. The album closer 'Morning Song' on the other hand is unique, with a certain subdue nature with not so much electric guitars, as well as bird chirping sounds, acoustic guitars, and an echo-y like effect in the form of reverb to create quite a different style than what we're used to from The Digital Age. As we are portrayed with a theme of welcoming the new morning with Christ and declaring our intentions that '…I can feel it, the Saviour's love…'; we are reminded of the continual presence of God and His ability to speak to us through creation, nature and everyday circumstances. A great way to finish off the album, The Digital Age have been able to show us that they can play a wide variety of musical genres, thus widening the appeal of the band to fans who enjoy rock, pop, worship, CCM and folk, as well as reflective and soaking music too. Well done guys for one of the best album enders since Philippa Hanna's 'Sweet Surrender' on Through The Woods.
'Through the Night' offers us electronic keyboards and percussion beats galore as the band deliver a poignant theme and melody that remind us that we will declare and worship the name of Jesus, even through the 'nights' of our lives when it could seem so long and gruelling; while the guitars that start up 'Symphony of Grace' reminds me musically like other rock bands (Relient K, Stellar Kart) and Mike and Mark declare that Christ is coming again, and that we ought to '..sing it out, praise to be to God who has set me free, in a symphony of grace…' With both tracks offering something for dance and rock music enthusiasts respectively; the band's versatility musically is once again tested in 'Overcome', the band's 6th track on the album and the longest too. With light electrics and layered vocals, this reflective track starts off with a poignant cry to God that we are overcome by the love showered upon us. The desperate cry of how '…You're all I need, everything I could want is found in Your love…' moves into a moment of rising percussion as the song boasts a great moving crescendo throughout the song as the band gives us one of the most stirring and riveting worship anthems, and alongside 'All The Poor and Powerless'; 'Overcome' caters towards listeners who love songs that start off slow and then rise to create a bang of an anthem midway through. The violin partway through the melody before the tempo and volume of the instruments increase is just a gem and another highlight of the song.
While 'Your Name (We Shout)' is possibly one of the most generic, radio-friendly and musically safe (compared to the rest of the songs on the album) melodies on Evening:Morning; the song still is a joy to hear as the band declares God's name above every other, as is the disco themed 'Glow', a song that encourages us to glow and shine our love to those we meet in our lives that are inquisitive about it. While the lyrics are thought-provoking, the music of 'Glow' can be a little better, with myself being reminded of the disco and certainly something that a pop group like Newsboys or Britt Nicole would do, rather than a worship band. Nevertheless, apart from these two tracks, the rest of the album is just as great as each of the other tracks, with 'God of Us All' possessing a quiet electronic noise to start off the song before the guitars and drums burst to form a hard-hitting anthemic melody if ever there was one. 'God of Us All' gives us clarity, comfort, assurance and reassurance that when God '… died, You took it in, all our sin…' With the vocals and music reminding me of a technique that an alternative experimental worship band would use (like Rend Collective, Leeland or The David Crowder Band); The Digital Age seem to carry on tradition as we are met with unique sounds and powerful vocals, with the message conveyed being of how we declare the love and thanks we have of God for what He did for us 2000+ years ago. Add to this the anthem 'Always You', a song that slowly builds up musically from light electric guitar plucks against a keyboard reverbing backdrop to remind us that it is always God that shows up in the places we may not necessarily expect; The Digital Age provides a great level of comfort and hope through these last few songs on Evening:Morning, with each song just as good as the last (except for 'Your Name (We Shout)' and 'Glow'). Despite these seemingly isolated mishaps, the album otherwise on the whole is a unique and poignantly memorable album debut from a band that'll hopefully break out of David Crowder's shadow in months and years to come. Well done Mike, Mark, B-Wack and Jack for both 'Always You' and 'God of Us All', two tracks that are lyrically and thematically similar, despite the big difference that exists musically.
Overall: With the departure of DC*B, The Digital Age seem to be picking up from where David Crowder left off, and Evening:Morning is certainly going to give them as well as listeners a sense of confidence that they can fill the void that the David Crowder*Band left when they disbanded a short while ago. Releasing on the same day as Soulfire Revolution's Revival as well as Tricia Brock's Radiate, The Digital Age's album is a certain purchase if you enjoy worship artists like Crowder, or even experimental-style bands like Rend Collective and Leeland. With such an atmosphere that brings together lovers of music from all sides of the musical genre spectrum, there is something for everyone, from songs with reflective worship, to others melodies that include sections of screamo and others that offer up great and powerful ballads. Possibly one of the most anticipated albums of the year, from just 'Captured' and 'Believe', I say a big, big yes to purchasing the album when it releases this coming Tuesday. One of my favourite albums to be released in July/August so far, Evening:Morning offers a refreshing and reinvigorating album for those who are seemingly tired of the over-commercialised CCM music industry. Well done guys for such a compelling album that'll stand out as a revolutionary worship record in months and years to come!
RIYL: David Crowder Band, Leeland, Rend Collective Experiment, All Sons and Daughters
Buy the Album: iTunes/Amazon mp3