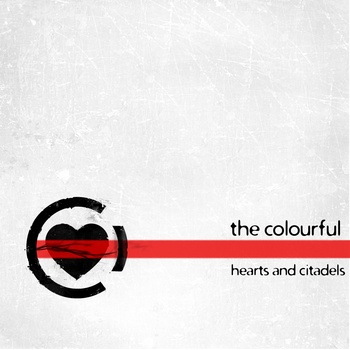 Artist: The Colourful
Album: Hearts and Citadels
Label: None (released independently)
Release Date: September 17, 2010
Reviewer: Eric Pettersson
Tracklisting
Ever On and On
Moria
I Can't Fly
Holding On to Grace
Let's Start Over
The First Song (We Will Find)
Outlast the Fireflies
Your Heart Sounds Like Mine
The Greatest Fall
Where I'm Supposed to Be
She's So Close
We Will Never End
With their sophomore release, The Colourful sit on a smart line between alternative and mainstream music. It's bouncy rock with big choruses, fun music with serious lyrics, singing of love, struggle, and joy.
Hearts and Citadels begins with a long instrumental intro before launching into a series of upbeat rock anthems. "Let's Start Over" stands out as a darker, more rocking track with the guitar solos and dance beats of bands like the Killers. The album takes a softer, slower turn with "Outlast the Fireflies," which reminds me of James Blunt. The next song, "Your Heart Sounds Like Mine," starts off slow and builds into a bigger rock song that isn't afraid to show off the vocalist's voice quality, nor his ability to harmonize with the back-up singer. The album generally remains in this softer, slower territory until the closing track, which is not a bad thing because The Colourful can write a string of soft songs just as well as a string of fast songs. The softer tracks often have bursts of power and emotion in the vocals, keeping things interesting until we get to "We Will Never End." This final song is the most fun on the album, and it's got a chorus that makes you want to get up and move. It could easily end as a good pop-rock song after the first three minutes, but instead it takes a turn for a bigger, more heartfelt explosion that keeps things going for another six minutes. All you can say is, "Wow," after listening closely for the first time.
Overall: With strong vocals, powerful guitars, fun choruses and enough melodic sensibility to crank out one radio hit after another, Hearts and Citadels shows that The Colourful have everything it takes to make it big. All that remains to be seen is whether they get the right kind of exposure to build their base. If you like REM, Muse, or Lovedrug, then this stuff is for you.