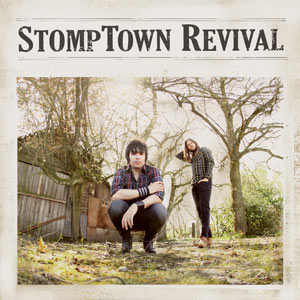 Artist: Stomptown Revival
Title: Stomptown Revival EP
Label: Save The City Records
Release Date: 10/02/12
Reviewer: Josh Hamm
Tracklisting:
Guiding Me Home
Waiting For The Man
Born Again
Anthem of Love
The Sun Will Find A Way
Leaning On The Everlasting Arms
Stomptown Revival makes what they like to call "spiritual stomp". This duo of solo artist Brandon Bee and former Circleslide frontman Gabe Martinez have something special here. It's pure fun Americana and Bluegrass with a touch of southern rock thrown in for good measure.
As soon as you hear the electric guitar and the stomp box (a pioneer age kick drum) on "Guiding Me Home," you're hooked. It's a passionate plea of praise towards God for his guidance through thick and thin, with a twinge of judgement day allusions. The guitar work is impeccable and could carry the song by itself, but luckily it doesn't have it: it's all fantastic. "Waiting For the Man" is a tour de force of guitar, harmonica, and amazing vocals and lyrics working in tandem.  The chorus is a rousing foot stomper, but the verses feel like they come from a classic folk legends, in the same vein as Mark Heard or Bill Mallonee, with lyrics such as "You know, my brother how the flood came down/, and the fire came down on an ancient town,/ but I'm waiting, waiting for the man to come,/ there were pillars of salt and the sun stood still,/ while the seas opened up and all the giants fell,/ but I'm waiting, waiting for the man to come." And then "Born Again" features some intricate harmonica in an intimate ballad about searching out Christ to rekindle one's faith while on the road, "Sun goes down,/ as I drive these miles to find you,/ it wears me out, so I'm heading off the road/ All around, the sky is my cathedral,/my knees hit ground,/ my voice sings out this prayer/…won't you make me born again."
Then the album picks up again with the stirring "Anthem of Love," as distorted guitars and pulsating stomp box drive the anthemic chorus: "Sing! Sing! Sing! It's a celebration, sing! Sing! Sing! It's a revelation; we are the anthem of love!" It's one of those songs you can't help but smile and sing along. "The Sun Will Find A Way" is a soft power ballad, which whips out the harmonica again to go along with uplifting lyrics about how through the clouds and pain, God will find a way for us.  It's a simple sentiment, but what pulls it off is the incredibly vocals: they're so full of passion and raw energy that you can't tear your ears away.  It all culminates in the rendition of the hymn "Leaning on the Everlasting Arms." A lot of people have redone hymns recently, such as Wayfarer and Ascend the Hill, but this one feels like Stomptown Revival wrote the song themselves. They do it incredible justice.
Overall: Stomptown Revival is bringing back Americana and Blues back into style.  It's hard to believe that such a complex mix of instruments, engaging voices, and original song writing is just two guys. This is one album you don't want to miss.
RIYL: Mumford and Sons, The Lumineers, All Sons and Daughters, Burlap to Cashmere