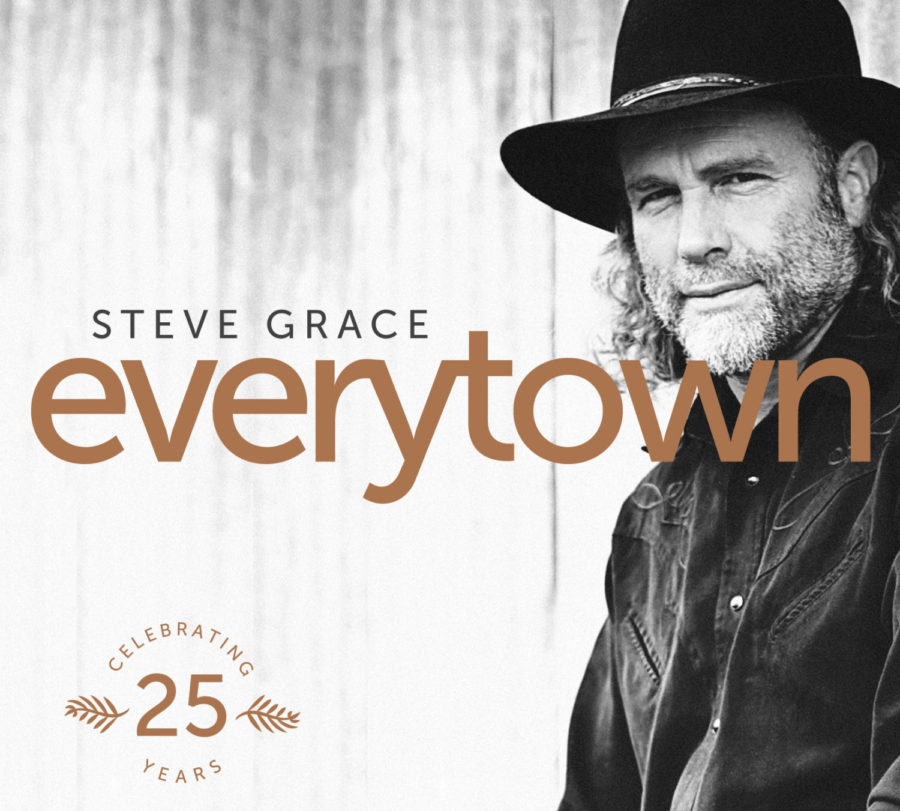 Artist: Steve Grace
Title: Everytown
Label: independent
Release Date: 10/2/12
Reviewer: Jonathan Andre
Tracklisting:
Big Dreams (New Recording)
As Far as it Goes (New Recording)
Everytown (New Recording)
Long Road to Glory (New Recording)
Tomorrow Tonight (New Recording)
Crazy Road of Life
Faith, Hope and Love (New Recording)
With You (Song For Kerrie)
Marry Me Again (unreleased song)
Prodigal Son
Blue Jeans (unreleased song)
Out There on the Highway (unreleased song)
Steve Grace has always been one of the most popular Australian Christian artists throughout his 25 year career since 1987. One of the many artists from Australia that have been embraced by Aussies and other cultures around the world, Steve Grace is able to bring to listeners tracks full of country influence that remain firm and steadfast on the truths and promises of God that remind us of our worth in Him. Full of musical influence that reminds listeners of the Australian culture and larrikin attitude that is embedded within our psyche, Steve gives listeners a snapshot into his own music and reminds us all to '…dare to dream the wildest dreams and get out there alone…' ('As Far as it Goes')- with Christ there with us every step of the way. Steve always incorporates a sense of adventure and travelling within his music, and this album is no different. Writing and performing music for 25 years (some of my favourite Steve Grace albums include Follow (2000), New Day Coming (2002) and As Far as it Goes (1996); Steve's collection of some of his favourite melodies over the years is a great addition for anyone who loves Steve and his music, or anyone who enjoys country music with a spiritual and uplifting slant. From the motivational and encouraging 'Big Dreams' to the reflective 'Faith, Hope and Love' as well as previously unreleased songs 'Out There On the Highway', 'Blue Jeans' and 'Marry Me Again'; these twelve songs are enough to capture 25 years of music ministry- quite a feat considering many artists seem to burst on the music scene for a few years and then fade away when the next band or artist comes along. With honesty and transparency that places Steve as one of my favourite Christian Country singers I've ever heard, Everytown gives listeners a great motivation, that '…when times get hard, I won't give up, gonna build my life on faith, hope and love…' ('Faith, Hope and Love').
'As Far as it Goes' is perhaps one of the first Steve Grace songs I've ever listened too, and still to this day; one of my favourites. Originally on his 1996 album by the same name, Steve has reminded listeners of the spirit of adventure, and that God is calling each of us to a life that is full of excitement, wonder, privilege and joyous abandon as we look towards the unknown with full confidence that Christ is with us. Starting off with a electric guitar strum reminiscent of a country-infused track, Steve asks the questions about whether we want to just live out a safe life or to '…get out there alone, will you do the best with what you've got and just be satisfied, and head out like a pioneer across the great divide?…' Australians are best known for their larrikin attitude, not really concerned with popular opinion nor socially intimidated into modifying behaviour to suit social and political norms. This attitude ought to be looked at and really wrestled with by more than just Australians- Jesus Himself called us to be larrikins to a certain extent, with Romans 12:2 reminding us to not be conformed to society and their pressures and ideologies, but rather to let Christ renew our minds so we can understand what is pleasing and perfect to Him. A great electric guitar bridge to keep us in the motivational mood of moving from comfortable to conviction as we become bold in Jesus as we live our lives not out of normalcy but from a place of expectation and anticipation; 'As Far as it Goes' is a great highlight of an album that shows that 25 years later, Steve is still impacting the Australian nation and the world with his inspirational and uplifting music.
Choosing 12 best songs to highlight a career can be tough, and though I haven't followed much of Steve Grace's early material enough to give a great enough critique about which songs missed the cut or others that were shockers in their selection on the 12 track best-of collection; I can safely say that this album is certainly full of songs that have been expected and songs that have come from left-field when it comes to his later albums (from As Far as it Goes onward). Both 'Tomorrow Tonight' and 'Faith, Hope & Love' were originally on his 1996 live album, and both remind us with the accompaniment of acoustics and light strums of electric guitars and banjos, of that transient things of this world don't matter if we have '…Your love, cause You make it right, You're my hope for tomorrow tonight…' ('Tomorrow Tonight'), building our lives on the steady rock that Jesus Himself is. Both these underrated songs have been some of my favourites from Steve's 1996 record, maybe even overall within his whole career. 'Everytown' is the sole representation from the 2002 album New Day Coming, and while I enjoyed Steve's rerecording of the song with a different instrumental introduction and a more country-style musical representation, I maybe would've expected more selections from this album to be on his 25th year anniversary 12-song collection. 12 songs to capture an artist's whole career will be difficult, and maybe if there were more tracks on the record (say, 15 or so?); I may have chosen 'Turn, Turn' or 'Thinking About You' to accompany 'Everytown' to represent New Day Coming on his best-of album. Nevertheless, there seems to be a lot more focus on his earlier material, with 'Big Dreams', 'Crazy Road of Life' and 'Long Road to Glory' chosen from his earlier records recorded in the 1980s and 1990s. Though listening to these 2012 rerecordings are perhaps the only time I've heard these songs (I may have heard 'Long Road to Glory' somewhere before, I'm not sure); these songs still capture the songwriting ability of Steve, and remind listeners, including myself, that our journey on this road of life can be long or even crazy, but with Christ with us, our dreams can't be too big as we submit our plans and preconceived ideas to Him and continue to bask in His glory as we live out the adventure of life with confidence and trust in Christ.
Incorporating faith, love and life; Steve has often shown listeners songs about his loved ones, or even just about the struggles of life that remind listeners of how real and relatable his music is. Both 'With You (Song for Kerrie)' and 'Marry Me Again' are all tributes to his wife of over 20 years, Kerrie; while 'Blue Jeans' is a fun 2 minute track about his life growing up in the Australian countryside. But it is the 3 minute song 'Prodigal Son' that gives us a clear depiction of our need for God's grace and mercy as Steve reminds us that we are all prodigal sons in need of the Father's forgiveness and compassion. Starting the song of with a harmonica, this musically joyous song is full of contemplation as we understand Christ's sacrifice for each of us. While I was perplexed at why no song was included from Steve's 2007 album Better Days Ahead or his 2001 album Follow ('Vision for the World' or 'Better Days Ahead' would've been a nice addition to the track-listing); this 12 song album nevertheless is able to capture a brief but also decent snapsnot of a career that highlights an artist that is one of the most popular in Australia for his frank down-to-earth melodies of love, faith and the roads of life. Well done Steve for these heartfelt songs full of hope and a call-to-action.
Overall: Though he may not be as popular in America than in his home country of Australia, Steve's infectiously enjoyable music has been impacting listeners over Australia and the world. From his humble beginnings in the Outback of Australia to sharing the stage with artists like Michael W. Smith, Steven Curtis Chapman, Amy Grant and Carman; Steve's collection of songs will be adored and enjoyed by many who have enjoyed his earlier music, or even other artists like Larry Norman, Keith Green, Randy Stonehill, even Michael W. Smith or Steven Curtis Chapman fans will be able to enjoy these country songs with a Christian message. From his songs being placed in World Vision ads ('Vision For the World') to the success of his cover of 'Turn Turn' (a song based upon Ecclesiastes and set to music by Pete Seeger in 1959); Steve's passionate heart for music ministry and singing uplifting and hopeful songs is certainly evident in his music. Well done Steve for such a memorable album and for timeless songs that are just as poignant and motivational now than they were during when they were first recorded.
RIYL: Randy Stonehill, Keith Green, Steven Curtis Chapman, Larry Norman, Michael W. Smith
Buy the Album: Amazon/Website/CD Baby