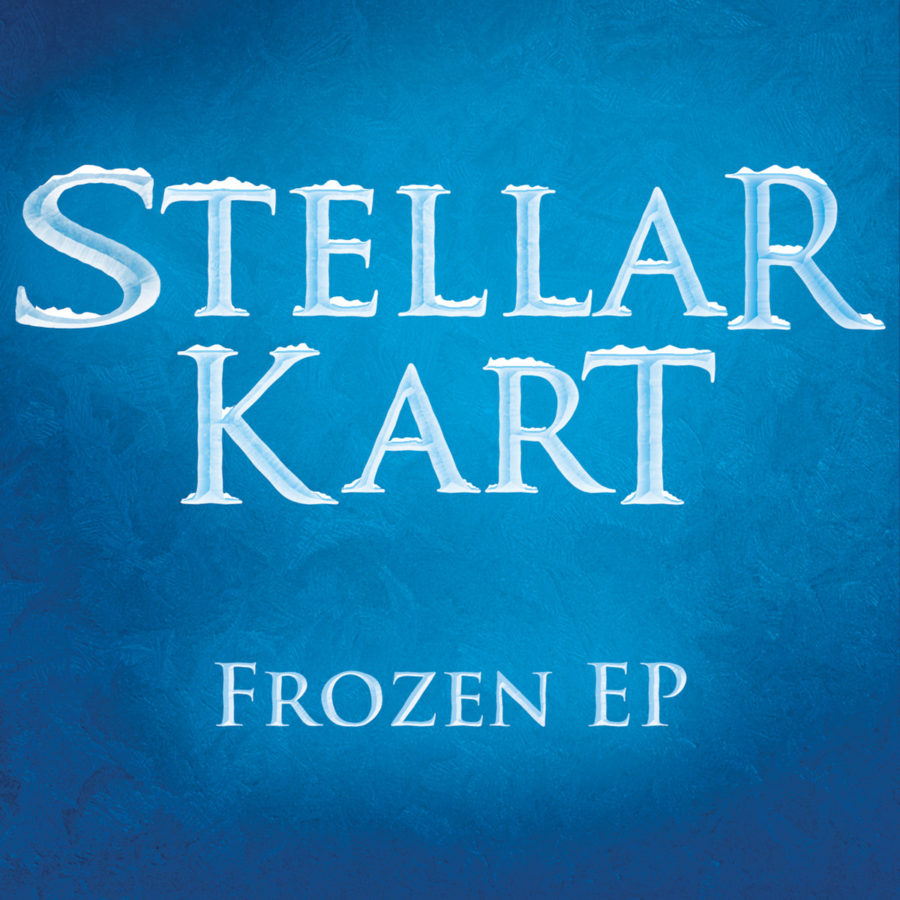 Artist: Stellar Kart
Title: Frozen EP
Label: independent
Release Date: 4/15/14
Reviewer: Jonathan Andre
Tracklisting:
Let it Go
Do You Want to Build a Snowman?
For the First Time in Forever
Since releasing their 2010 worship album Everything is Different Now, pop-punk band Stellar Kart seemingly fell off the radar where a number of personnel changes led to the band drifting off into what some people could call oblivion, with not much of a peep from the band originating from Pheonix, Arizona, aside from a Disney covers EP released in 2011. Nevertheless, the band came back in 2013 with their Inpop Records debut album All In, with standout songs on the album like 'All In (Apologize)', 'Criminals and Kings', 'Ones and Zeroes' and 'Hollywood Reality'. With Adam Agee being the lone member of the band that was there from the very start, Stellar Kart released what I believed was (and still is) their best album to date. While the band is basically different, they still have the same enthusiasm and passion than ever before. Now when you marry Stellar Kart, arguably one of Christian music's most poignant and powerful pop-punk artists around, with the best-selling animated film ever, Frozen, then you're in for some great rock, as the band cover some songs that will certainly be enjoyed by fans of Disney movies and songs, fans of Stellar Kart, or even fans of both. While this EP (which is not on Inpop Records, but released independently) is not a Christian album, the band still sing with all their might, and while these songs on the surface may not necessarily have a Christian meaning, these songs still promote the themes of courage, hope, togetherness and unity, qualities that Christ Himself longed for us to have, and ones that will ultimately show others Christ within us as these songs hopefully encourage listeners and fans of Disney to check out Stellar Kart, their music, and at the end of the day, a loving God through the process.
Frozen is one of those movies that reminds us of our childhood (at least mine). With around 30-40% of the movie singing, watching Frozen the other day threw me back to the times when I would watch movies like Snow White, Beauty and the Beast, Aladdin, and The Lion King. All those movies where the songs in them were just as integral, important and even necessary, as the stories themselves. Enter in Frozen, a story based on the Snow Queen by Hans Christian Andersen. With the story being about, according to Wikipedia, '…a fearless princess who sets off on an epic journey alongside a rugged, thrill-seeking mountain man, his loyal pet reindeer, and a hapless snowman to find her estranged sister, whose icy powers have inadvertently trapped the kingdom in eternal winter…', we are met with a movie about redemption, hope, reconciliation, and realisation that love in all its facets is able to overcome even the toughest of trials. While the movie in and of itself doesn't remind us of Christianity, Christ or anything resembling of the theme of hope in our Saviour; what Frozen has been able to do is to rally millions of Disney fans (and fans of cartoons) around the world to come together and be reminded that sometimes even the hardest of hearts can be unfrozen. Sure, it is done in the movie through magic that Elsa, the queen, possesses, but the movie at least asks us questions, about whether it is even too far-gone for us to try to save another, even if circumstances tell us right now that saving them is literally not possible. And along with the story of Frozen comes its songs, and in particular, melodies like 'Do You Want to Build a Snowman?', 'Let it Go' and 'For the First Time in Forever'.
With 'Let it Go' winning the best song at the Academy Awards for 2013, it's no wonder that regardless of the rendition, the song in and of itself will always be a standout regardless of the album that it is on, and this is certainly true within these 3 tracks. And while it may seem odd for a guy to sing the melody (in the original version Idina Menzel sang, and the rendition in the credits was sung by Demi Lovato), Adam does a wonderful job at the melody, and while some Frozen fanatics may object with Adam changing 'queen' to 'king' and 'girl' to 'boy', the semantics are just minor when compared to how well the song was choreographed. From the piano riff at the beginning, it is great to see Stellar Kart add their own slant to the song, with electric guitars and a sturdy kick drum beat showing their pop-punk flavour as we hear, in my opinion, one of the best upbeat versions of the song ever. And while the song itself may not necessarily scream 'worship', 'Let it Go' gives us a theme about indeed letting go. And as Christians, we can sometimes hold onto things that Christ has indeed told us to let go of- trying to be better, believing that God will hold the sin against us, even trying to be ritualistic or religious when we know that Christ has died and paid for everything, even the things that hold us back from believing this truth. 'Let It Go', while not directly inspired by God, can be in fact used by God if He wants to. As I ponder on the chorus, and how the character of Elsa declares (for herself) to '…let it go, let it go, can't hold it in anymore…', we are encouraged, hopefully by this song (and by God through our friends, family and people who we trust), that it is ok for us to let go and show the world our real selves- no matter how ashamed we are to be of them. Christ meets us where we are at, and as we are real and honest, we can be able to see what it means to love without inhibition. Letting go of all the preconceived ideas placed on us, the unseen expectations to be a certain way, or even our ideas of what the Christian life is supposed to look like, is something that will take time, but once it is done, our hope and freedom is able to blossom as we realise that some things we carry weren't to be for us, and rather, be placed down at the foot of the cross of our Saviour, Father and Friend.
Both 'Do You Want to Build a Snowman?' and 'For the First Time in Forever' are the remaining two tracks on this three (albeit short) EP from one of Christian music's most underrated bands in the last few years. While both of these songs have superficial themes about building snowmen ('Do You Want to Build a Snowman?'), and meeting friends and available suitors after being kept inside for a long time ('For the First Time in Forever'), each of these songs nevertheless have a deeper meaning, and both of them are given the full Stellar Kart treatment, enhancing the tracks as Stellar Kart make them their own. 'Do You Want to Build a Snowman' starts off with a stirring electric guitar introduction, and with the melody being only 2 minutes and 5 seconds, the song wastes no time as lead singer Adam Agee sings the song at a quickened pace. As we are able to see that the song is a longing from someone to another (in the movie's case, it is from one sister to another), we are reminded that some circumstances lead us to retreat from life, just like how in the movie, the character of Elsa retreated from hers when she feared that playing with her sister would lead to more magic-induced accidents. As I ponder and reflect on the melody, 'Do You Want to Build a Snowman' is an eye opener, and a song that ought to make us think- is someone singing this song to us, or are we singing this song to someone else? Is there anyone in our life that we want to make a connection with (but they're disengaged for whatever reason), or are we the one that is disengaged? While this song doesn't give us the pretty nice answers that are wrapped up in a bow, it does make us think, and as we seek counsel from our friends, family and Christ Himself, we are able to rest assured that even if we may not feel like engaging, our strength and hope that comes from Christ will hopefully propel us to come out of our rooms (metaphorical) and 'build snowmen' with the people around us. 'For the First Time in Forever' is a song that Aleigh Shields, bass player of Stellar Kart, shines on, and in my opinion, is the best produced song on the EP. With the song being about how Anna, the character in Frozen, feels as she sings of how it is the first time in her life that she gets to experience freedom and life beyond the walls of her castle; I myself am reminded that this song, while singing about life experiences, is nevertheless a celebratory song. A song that delivers such enthusiasm (and emotive power as Aleigh does a great job at singing the high notes), 'For the First Time in Forever' is about a feeling we all ought to have when we discover Christ for the first time- a sense of awe and wonder, passion and hope, excitement and energy as we reflect on how '…for the first time in forever, there'll be music, there'll be light, for the first time in forever, I'll be dancing through the night…' As we realise that just as the character Anna is excited about exploring life outside the castle walls, we as Christians ought to be excited just because we want to know God more, or even excited when God tells us to deliver the good news to wherever He leads. A song full of encouragement as we are reminded that it is in our joy of discovering things for the first time that God can move and show us things we may have never dreamed about; these three melodies, while not necessarily 'Christian' in nature, can and most probably will impact listeners, hopefully in their own walks with Christ as much as it does with mine.
Overall: Disney's Frozen is a freak of nature, a great success, a movie for the future, and all of the above. With the movie being the current 6th highest grossing movie of all time, Frozen and all its fans are here to stay, and with Stellar Kart even succumbing to the 'pressure' and releasing an EP with songs from the film, it's a matter of- 'if you haven't watched the movie, you better, because you're going to be missing out on a lot if you don't'. On a more serious note, Stellar Kart's renditions of these songs are perhaps some of their best covers, and in some ways, better than their Disney EP they released in 2011. If you're a fan of Disney cartoon movies, Disney songs, Stellar Kart, pop punk, or all of the above, then stop reading this review, purchase the EP right now, and enjoy! Well done Adam and the rest of the band for such poignant renditions!
RIYL: Beckah Shae, Hawk Nelson, Relient K, House of Heroes, Kutless, Disney Soundtracks
Buy the Album: iTunes/Amazon mp3