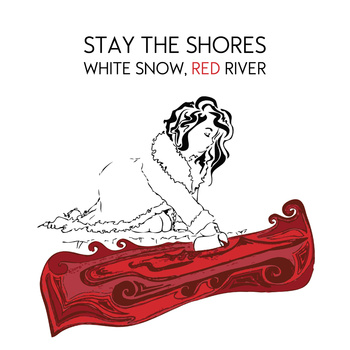 Artist: Stay the Shores (Bandcamp)
Title: White Snow Red River
Label: none
Release Date: 9/28/11
Reviewer: Carter Fraser
Tracklisting:
With My Ocean
Burn
River
Don't Hurt Me
Maiden Voyage Week
Far From Dead
How I'll Grow (Christmas Eve)
Your Heart Sounds
Write Something
Set In Stone
Oh, My King
This Time (Live)
Stay the Shores is an alternative southern rock band hailing from a variety of states from South Dakota to Alabama featuring a fun, southern sound with some indie sensibilities. While never groundbreaking, StS does a commendable job at mixing typical southern light rock influences such as Needtobreathe with more varied alternative styles. Brian Fannin's lead vocals are hugely responsible, sounding like a slightly more uncaged version of Needtobreathe's Bear Rinehart (think a mix of him with Austin Lyons of I Am Empire, perhaps). Luckily, though, Fannin does a terrific job at not sounding too over-the-top and reigning things in for more intimate moments. All in all, White Snow Red River is a solid debut for these rockers that shows some potential for improvement in the future.
While WSRR never has any truly breathtaking moments, it is generally consistent and diverse, making it's nearly hour length not drag on at too many points. Huge highlights are few, though "Your Heart Sounds" and "Far From Dead" are notable tracks. There's never quite enough to hint that Stay the Shores is a safe bet for huge success in the future, but WSRR is still a cut above many new alternative acts. The band's ability to occasionally take on creative lyrical themes bodes well, such as in the mostly acoustic "How I'll Grow (Christmas Eve)," which asserts, "how can a baby change all of the world by himself? / well I can't even change me / it's Christmas Eve / we can see what's under the tree." Just as important as the words themselves is Fannin's delivery of the lyrics, which is clear and gets the point across without much difficult interpretation. This in combination with a consistent mix of crunchy and clean guitars makes Stay the Shore's debut worth a listen.
Overall: White Snow Red River is a promising debut for the six-piece that might have been a bit unfairly overlooked at its release. Fans of the RIYL would be advised to give this a try, as it's free, and it's unlikely that you won't find something to your liking here.
RIYL: Needtobreathe, SONS, Abandon Kansas, The Wedding