Album Review :
Sound the Ruin - Bloodsong EP
By Scott Swan in Reviews | Comments closed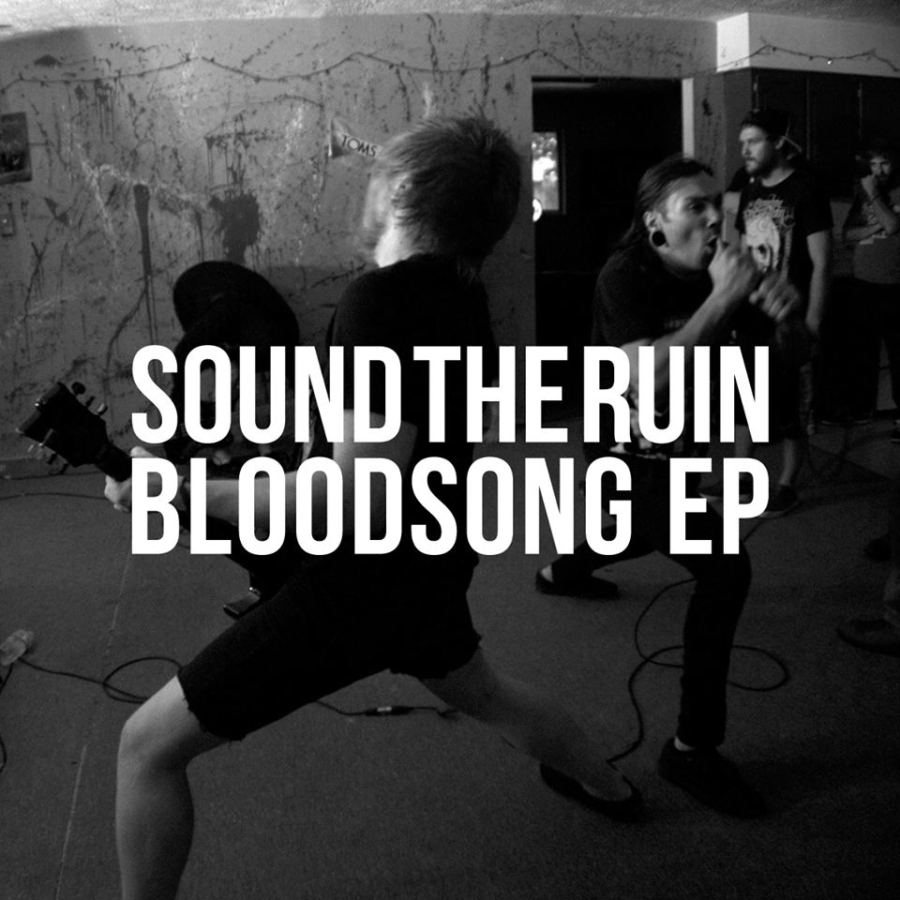 Artist: Sound the Ruin
Title: Bloodsong EP
Label: unsigned
Release Date: 06/16/14
Reviewer: Scott Swan
Tracklisting:
Blood

Song
White Noise
Instrument
Alive
Chaos n.
1. A condition or place of great disorder or confusion
2. A disorderly mass; a jumble
Although an easy enough word to define, one man's chaos maybe be another man's finely tuned symphony. I'm sure the music that I listen to on a regular basis would probably sound like a "disorderly mass" to a lot of my friends and family, but it all fits together perfectly for me. This leads to a band out of Colorado called Sound the Ruin, who brings us their self-described "chaotic hardcore" EP "Bloodsong."
Upon first listen, it took me a little while to get my bearings on this record. A lot of the guitar work sounds like an exercise in controlled distortion. But throughout the EP, I still found enough discernible groove to make the songs work in a melodic sense. While spinning Bloodsong, I was reminded of what it's like listening to jazz fusion. Where you have this almost improvisational, yet coordinated ensemble. You just don't know what's coming next; what instrument, what sound, and in what form it will take. For me, the glue that holds the work together are the vocals. They are strong and passionate, at times riding on top of the instruments and at others intermingling with them. Don't expect to get the standard verse/chorus/verse/chorus method with Sound the Ruin, it's just not their style. As a matter a fact, you'll probably have a hard time finding a lot of recognizable patterns at all, and I get the feeling that's exactly how they like it.
The opening track, "Blood" will give a good impression of what's to come on this record. I enjoyed the part toward the end of the song, where a galloping, chunky guitar provides a break in the chaos. Then leading to the ending shouts of "We can change everything!" The opening track then seamlessly transitions in the second, "Song." With the gang vocals crying out, "We will sing a new song!" I get the impression this piece is about revival, both personally and in the church as a whole.
"White Noise" begins with a preacher declaring that God hates what we do and hates some of us personally. Then the band begins speaking to the wolf in sheep's clothing going on to mention the scripture in 1 Corinthians 13., "but if we have not love it's nothing but a clanging gong" and as the group declares here, "And my ears are ringing!" The tune "Instrument" inspires us to allow God to break us and use us as instruments for His use. I love how they recite a bit of the Lord's prayer in the middle, and the emotional prayer-like shouting of "Break me!" at the end.
The closer, "Alive" is perhaps the least chaotic song in the collection here. It's a well executed tune with a nice melodic guitar groove in the middle section. Featuring uplifting lyrics, conveying the to the listener that no matter how "dark the night", there is always hope. Fittingly the EP then finishes with about twenty-five seconds of pure guitar distortion.
Overall: Being a listener that leans to toward the more melodic stuff, Sound of Ruin stretched me musically quite a bit. But even through all the chaos, the message really gets through. A message of hope and of seeing God's Kingdom on earth as it is in Heaven. Although the music is coming at you from all angles, there are still moments it all comes together and makes sense. At the end of several of the songs, you can tell the vocalist is totally worn out. The band has put it all out there, they have given us everything they have, with all the passion they can muster, and maybe that's what I like most about this band.
RIYL: Advent, From the Eyes of Servants, All Became New, Not One is Upright