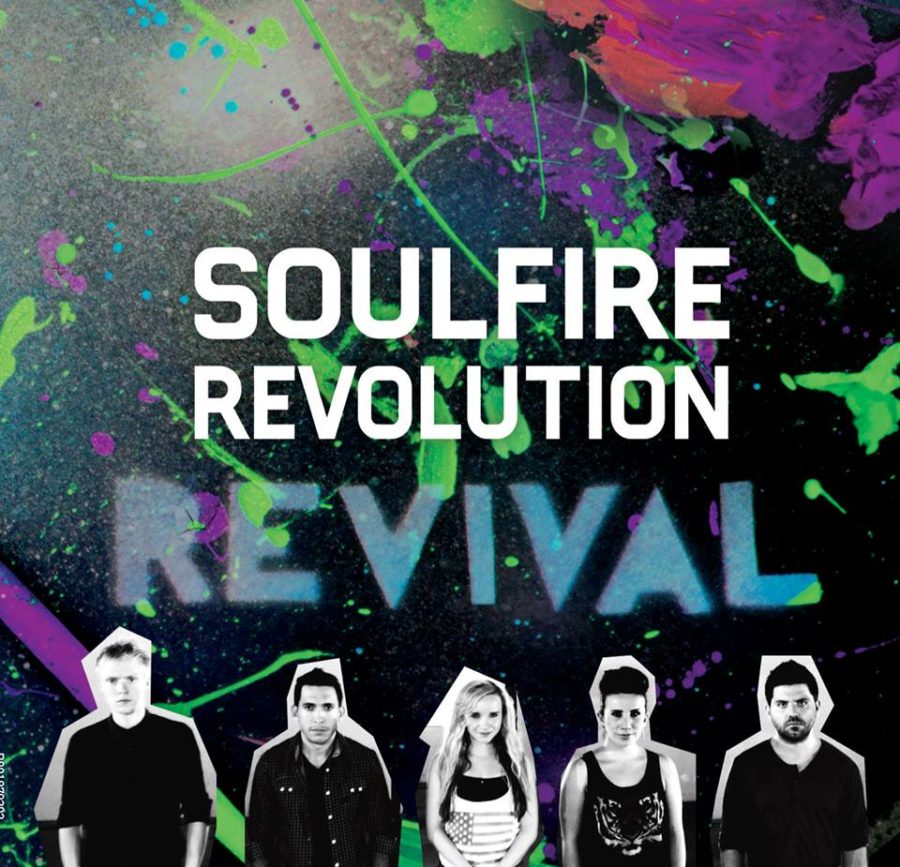 Artist: Soulfire Revolution
Title: Revival
Label: Sparrow Records
Release Date: 8/13/13
Reviewer: Jonathan Andre
Tracklisting:
Revival (feat. Kim Walker-Smith)
Hallowed Be Your Name
What An Awesome God
Spirit Break Out (feat. TobyMac)
Glorious
Count the Stars (feat. Martin Smith)
Awaken My Heart
We Sing
So Much More
Place of Surrender
All Yours
Just One Drop
Worship movements seem to be the new trend these days. From Hillsong and Jesus Culture, to Passion, Bethel and the newly formed Vertical Church Band as well as Elevation Worship; there is no shortage of worship albums releasing each year. Enter in the most recent signing to Sparrow Records (the same home as artists like Matthew West, Sanctus Real, Mandisa and Newsboys); Colombian worship movement Soulfire Revolution. Described as a cross between Delirious?, Jesus Culture and Hillsong, we are invited to experience the intense worship moment across these 12 tracks on their debut album Revival, releasing 13th August. While many listeners could complain and be unsure and hesitant about whether they ought to invest in another new worship band/movement, we are reminded that each worship band serves its purpose, and Soulfire Revolution clearly lets listeners hear a glimpse of worship and how it is performed and delivered in a Colombian context. With numerous special guests on the album, from Kim Walker-Smith on 'Revival' to TobyMac on 'Spirit Break Out' and 'Martin Smith' singing a duet on 'Count the Stars'; this is a must purchase for any fan of Jesus Culture, Delirious?, or Hillsong; and while some of these songs on the album could've easily been passed off under a 'Hillsong'-esque umbrella; the album is solidly put together to be one of the standout and popular albums of the last few months. Already releasing a music video for their first radio single 'Revival' (in both English and Spanish), lead singer Lorena Castellanos shares her heart behind the album, and that '…our hearts are for God and to follow the Great Commission. We're all leaders in our church and we are constantly leading new people to follow Jesus. It's much more than music it's about guiding others to truly have an encounter with God…' With more than 200,000 members in their home church in Bogata, Colombia, Soulfire Revolution's debut album is bound to have an instant 200,000 fans (maybe even more, myself included) when August 13th comes around.
The first radio single from the album, 'Revival' is a call to worship and a moment of declaration as lead singer Lorena Castellanos brings to live a powerful song that's about lifting up Jesus and asking the Lord to reign down His Spirit amongst us. With electric guitars, powerful vocals and a music video of the song both in English and Spanish, Soulfire Revolution's popularity amongst the CCM industry is bound to increase after this song, particularly with the presence of Kim Walker-Smith in the bridges of 'Revival', and the great reception she has been given throughout listeners in America and around the world who have embraced Jesus Culture, of whom she is a distinct part of. Full of intense energy and a wide array of colours and camera angles in the music video, the one drawback is no Kim Walker Smith whatsoever in the video- nevertheless, it was a great song, and great navigation in camera angle so as to make sure viewers don't notice her physical absence in the 4 minute power ballad. With the theme of the song reminding us to sit and watch for the Lord to send down revival, and for us to be ready for it when it does come down, my mind casts back to the Toronto blessing in the mid 1990s, and how when the Holy Spirit fell, it didn't care about semantics and what people were doing- things in the spirit were manifesting in people and things just happened. It is in that expectant nature that we ought to live in, knowing that at any time, Christ could fall down and our lives will never be the same.
A great duet with Kim, the theme of expecting the Lord and waiting on His presence is further explored in another duet on the album, 'Spirit Break Out' (featuring TobyMac rapping in the song). Presenting the melody with a South American musical flavour, the ethereal vocals present a song that's more reflective than the Worship Central upbeat counterpart. Standing at a shorter length of 4:25, while the song is a good concept and the verses and choruses and delivered in a decent manner, the rap seemingly feels out of place. Not that Toby is not a great rapper, it just seems like the rap was pasted on as an afterthought, rather than being recorded and played through with a feeling of both Soulfire Revolution and TobyMac being united in passion and enthusiasm. Listening to a snippet of the Spanish version of the song (also featuring TobyMac), my suspicions were confirmed when Toby started singing in English just after the Spanish section of the chorus (not even an attempt by Toby to sing in Spanish…or they could've gotten someone else in to rap Toby's section in Spanish). Despite this obvious blunder, the song is still great, even if the execution of Soulfire Revolution's version leaves a bit to be desired when listeners hear it. Almost 2 minutes shorter than Worship Central's vibrant version; 'Spirit Break Out' ought to have an explosive anthemic presence. Nevertheless, 'Spirit Break Out' is the only blip on the album, otherwise promoting and unveiling songs full of emotion, passion, worship and praise as the Colombian band deliver what's going to be one of the most talked about worship albums in 2013 so far. Well done Soulfire Revolution for the bold decision making processes that show us both 'Revival' and 'Spirit Break Out' in both the English and Spanish language!
Also collaborating with Martin Smith on 'Count the Stars' (not to be confused with the song from rock-worship band Everfound), Soulfire Revolution give us a song that's destined to become an anthem in months to come throughout many churches around the world. With ex-Delirious? lead singer Martin Smith lending his voice to the already great song that starts off with a light electric guitar riff, we hear someone who's emulating Tim Hughes's vocals declare out that God was there even when know one else was- there in the void when creation occurred, and will forever be there long after the world ends. With the song exploring and delving into themes like God reigning above everything, being sovereign over all, as well as reminding listeners of God's great power and awesomeness that He could in fact create the universe from just words spoken; we hear the pianos, guitars, strings and the percussion rise up and provide to us a stirring anthem, as if to show us that even creation cries out to Him. The poignant chorus of how '…can I give You anything but everything, the universe is at Your feet to watch You count the stars…' is something that places things all in perspective, that the God who created the universe longs to be personable with His creation. A song that's also going to propel Martin to new heights as well as Soulfire Revolution, this is my favourite collaboration on the album.
Throughout the rest of the album, Soulfire Revolution deliver great reflective melodies contrasted with several upbeat tracks that are destined to find their way into churches around the world hopefully by the end of 2013. Sounding a little like Ben Cantelon and Matt Hammitt, guitarist and lead vocalist Richard Harding provides some of the most heartfelt and poignant melodies on the album, from 'What an Awesome God', an electric guitar driven song providing us with hope and comfort that God is '…good, Lord, all day long, Your mercy goes on and goes on, here's to the Saviour, all my heart, You are faithful, mighty and strong and we sing hallelujah, Lord what a great and awesome God You are…', to 'Glorious' (not to be confused with other worship melodies titled 'Glorious' from Chris Tomlin and Paul Baloche), a synth and keyboard driven melody that allows Richard to unveil his honest words of how '…You called my name and You've overcome the grave, You have brought me out of the darkness…' Stanzas like this ought to cause a great sense of excitement and joy, which is exactly the case in 'Glorious'. Full of enthusiastic passion and glorious hope, 'Glorious' will hopefully be the 3rd radio single from the album (with the 2nd most likely- and hopefully- being 'Count the Stars').
'Hallowed By Thy Name' is another track sung by Richard, this time the theme of the song comes straight from the Lord's Prayer, and delivered with a synth and percussion prominent background. A modern upbeat adaption of one of the most famous and most quoted passages of the Bible by Christians (and possibly non-Christians alike), Soulfire Revolution have once again put forward and relevant and hard-hitting song that'll hopefully appeal to listeners of the younger generation and introduce them towards Biblical truths and encouraging words for their lives. Also providing us with 'So Much More', a heartfelt reflective and lyrically moving prayer of sorts as we are able to reflect upon how '…Jesus, how I love to sing…You're my everything and so much more…', and 'Place of Surrender', again another reflective melody full of light electric guitar and the message of how all we can bring towards the place of surrender (the cross) is ourselves and everything we have in response to God's sacrifice; Richard's vocal efforts across the majority of Soulfire Revolution's album ought to be commended for such honesty and poignancy. With great songs for the church, this Sparrow Records band is certain to brighten up and rejuvenate the artist roster with some upbeat and energy-charged songs that are destined to become fan favourites amongst churches and homes in weeks and months to come!
Overall: From both 'We Sing' and 'All Yours', two dance inspired melodies co-led by both Richard and Lorena and both imparting to us themes of how we can't keep quiet about God's love for us ('We Sing') and that we can never be separated from Christ and therefore we declare that we are fully surrendered to Christ and His will for our lives ('All Yours'); to the Lorena led final track 'Just One Drop', a prayerful song that reminds us that '…just one drop of Your blood, took away sin and gave sight, just one drop of Your blood, brought me healing, brought me life…'; Soulfire Revolution's debut album is certainly one to take notice of as this Colombian worship movement continues to make its mark over in their hometown, while also providing the rest of the world a snapshot into their movement and songs they have been recording throughout 2013. Also on the label home of other prominent artists like Matthew West, Mandisa, Sanctus Real and Josh Wilson; Lorena, Richard and the rest of this South American worship movement ought to be congratulated for such a bold and worshipful album, and while many of these songs could easily be lost in the sea of new worship songs created year after year for the church, Soulfire's dedication and determination to create songs that shake the earth and draw people to the Lord is evident throughout each of these twelve tracks. A certain purchase if you enjoy worship songs from other worship movements like Jesus Culture, Elevation Worship, Bethel or Passion; we are reminded in a holistic sense that '…Lord You are the king of my heart, may Your glory shine on me, and You gave me all from the start, I fall at Your feet…' ('Awaken My Heart'). Well done guys for such a riveting and compelling worship experience!
RIYL: Passion, Bethel Live, Elevation Worship, Jesus Culture
Buy the Album: iTunes/Amazon mp3