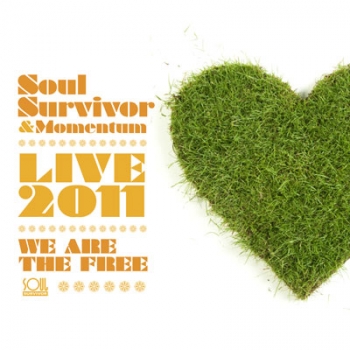 Artist: Soul Survivor
Title: We are the Free
Label: Kingsway Music
Release Date: 11/15/11
Reviewer: Jonathan Andre
Tracklisting:
Once in Darkness (Beth Croft)
We are the Free (Matt Redman)
One Things Remains (Tom Field)
For Us (Beth Croft)
You Never Give Up (Beth Croft)
Always Yours (Jamie Rodwell)
Here For You (Tom Field)
Arms of Grace (Beth Croft)
Chains are Broken (Tom Field)
Your Love Reaches (Jamie Rodwell)
God is Coming (Tim Hughes)
Like an Avalanche (Beth Croft)
Spirit Break Out (Tim Hughes)
At Your Name (Tom Field)
Blessed (You are Holy) (Tim Hughes)
Soul Survivor's music ministry in the heart of London, England has been at the forefront of focused student ministry for a number of years, starting with Tim Hughes back in the early 2000s, and though having a revolving door of worship leaders moving through over the years, its heartbeat and motivation is still the same as always, to encourage and empower the youth of England and in extension the world, through their services, festivals, charities and music. Now releasing their 2011 annual album We Are the Free last November with worship leaders Beth Croft, Tom Field and Jamie Rodwell and guest vocalists Matt Redman and Tim Hughes; this 15 song setlist features some covers and favourite melodies, some new songs and plenty of intense passion as people come together from around England to attend these annual Soul Survivor festivals. Though not as popular right now as other worship events like Parachute Festival, Jesus Culture or Passion Conferences; Soul Survivor's impact and place within student worship is equally as profound as these other seemingly more popular worship events; with plenty of students in the U.K. touched by the worship presented by these leaders. Featuring popular songs like 'One Thing Remains', 'At Your Name', 'Here For You' and 'We are the Free', this is a must-purchase for those who love Soul Survivor, as well as those who enjoy British worship!
One of the founders of Soul Survivor festivals, worship leader Tim Hughes currently ministers in Worship Central, however, he does appear on this album to sing 2 songs, with another one of his songs covered on We are the Free. 'God is Coming' is one of my favourite songs on his latest studio album, Love Shine Through, and translated in a live setting makes this song even more special. With a looping percussion and keyboard riff as the song starts in an eerie fashion, this hauntingly refreshing melody of how Christ is coming to embrace His creation, to restore, redeem and set everything new, Tim cries out that '…here You come to light up the darkness, forever glorious, yes our God is the God who saves…', giving us a reminder that God is ready to save us from the things that has held us down, saving us from our sinful qualities like pride, greed, anger and bitterness. 'Spirit Break Out' is another Tim Hughes track that plays more like a spontaneous melody, full of life, vitality and honest poetry as Tim lets his heart sing the words '…spirit break out, break our walls down…'. A lyric that all Christians need to sing as we long for Jesus to capture every part of our lives, it may be difficult to open up, sometimes even to God. Yet as I listen, this song has an amazing ability to draw listeners in, and as this song continues to touch hearts around the globe, many will open up to Christ and let their walls down. 'At Your Name', written by Tim and worship artist Phil Wickham, is also on We are the Free, yet sung by worship leader Tom Field. Sung with an intensity and passion equivalent to Phil Wickham, the musicality of the live track is very similar to Tim's studio effort, and the casual listener could assume that the studio instrumental section was overlayed on this track to give the song more of a polished feel. Nevertheless, the song is still powerful, and is one of my favourite worship songs of 2011. Well done Tom for a great cover of this heartfelt song about lifting up the name of God!
'We are the Free', title track of this Soul Survivor record and one of my all-time favourite songs on Matt Redman's latest live album, 10,000 Reasons; is an energetic song with lots of intense passion and crowd participation as Matt leaps into a declaration stating that '…we are the free, the freedom generation, singing Your glory, You are the One who put this world in motion, Yours is the glory…' Full of life and drum pounding that is destined to allow the listener to just jump up and dance, this dynamic melody is a must to be played in Sunday morning services! 'One Thing Remains', just as powerful, emotional and freeing as the upbeat 'We are the Free'; also allows listeners to reflect upon the words sung through a reflective keyboard driven song about how '…in death, in life, I'm confident and covered by the power of Your great love, my debt is paid, there's nothing that can separate this heart from Your great love…' What a powerful melody that's sung- as we understand God's true love for His creation, we come to realise that even if everything else fails us, God's love still remains. Originally recorded by Chris Quilala from the youth movement Jesus Culture, Tom has sung this song full of life and enthusiasm to create one of my favourite songs on this album!
Along with famous worship covers written by many of today's contemporary worship artists, Soul Survivor have always placed in original worship melodies in and amongst each year's solid album line-ups, with once again We are the Free giving listeners new music from the Soul Survivor team worship leaders Beth Croft, Tom Field and Jamie Rodwell. From the opening declaratory anthem 'Once in Darkness' that speaks about we ought to leave '…the grave behind, He rose in glorious light, His name is Jesus, He is the Saviour…' amidst the guitars and strong powerful vocals from Beth, the dynamic and vibrant 'Always Yours' filled with intense enthusiasm as Jamie Rodwell cries out the simple chorus that '…I am always Yours, Jesus, You are always mine…' to the acoustically driven 'Chains are Broken', a heartfelt melody of acknowledging our freedom in Christ, proclaiming that '…Hallelujah, chains are broken…You are all I need…' through the string instrumental undertones; each of the Soul Survivor worship leaders have been able to showcase some of my favourite melodies from any Soul Survivor record! 'Here For You', originally on Passion: Here For You and again on Matt Redman's album 10,000 Reasons; is again on this Soul Survivor record, proving the song's popularity in churches today, and is certainly one of my recent favourites from Matt Redman and Chris Tomlin. 'Arms of Grace' starts with an electric guitar introduction reminiscent of Indian music, with Beth Croft leading once again in this song about surrendering to the unending grace showered over us by our loving Father. To sing the words '…I'm running into Your arms of grace, with no reason to hide away…' can seem daunting, but we ought to know that we're already seen as children of God by our Father in heaven, clean as we are transformed into the godly men and women that we ought to be! However, one of my favourite songs on the album is Hillsong cover 'Like an Avalanche'. Sung again by Beth, this song about how we are swept away by God's beauty and awe can be seemingly simple-themed, yet the melody is enriched with so many layers as we immerse ourselves in '…grace like an avalanche, nothing compares to this love…', making this cover version more enjoyable than the original song on Hillsong's Aftermath. Well done Soul Survivor for a great collection of both covers and originals!
Overall: Soul Survivor's 2011 album is a great seller in the U.K. and the worship movement is also gaining momentum in the U.S. too. Although not necessarily that spontaneous like Jesus Culture and somewhat similar to Hillsong more than anything else, this British worship movement is able to place together a collection of favourite worship covers from around the world along with original melodies full of hope and promise as listeners engage and fall deeper in love with our God. Full of vibrancy and heartfelt hope, listeners may sometimes say that it is the covers or the special appearances of Matt Redman and Tim Hughes that hold the album up. Regardless, this is an album that showcases all of the talent that Beth, Tom and Jamie have, and hopefully, all these three artists can make their own successful music careers (if that's what they're called to do!). Another great album release from a worship movement that has no intention of slowing down, well done Soul Survivor for such a solid album. Can't wait for Soul Survivor 2012: Kingdom Come!
RIYL: Tim Hughes, Vicky Beeching, Nikki Fletcher, Matt Redman
Buy the Album: iTunes/Amazon mp3