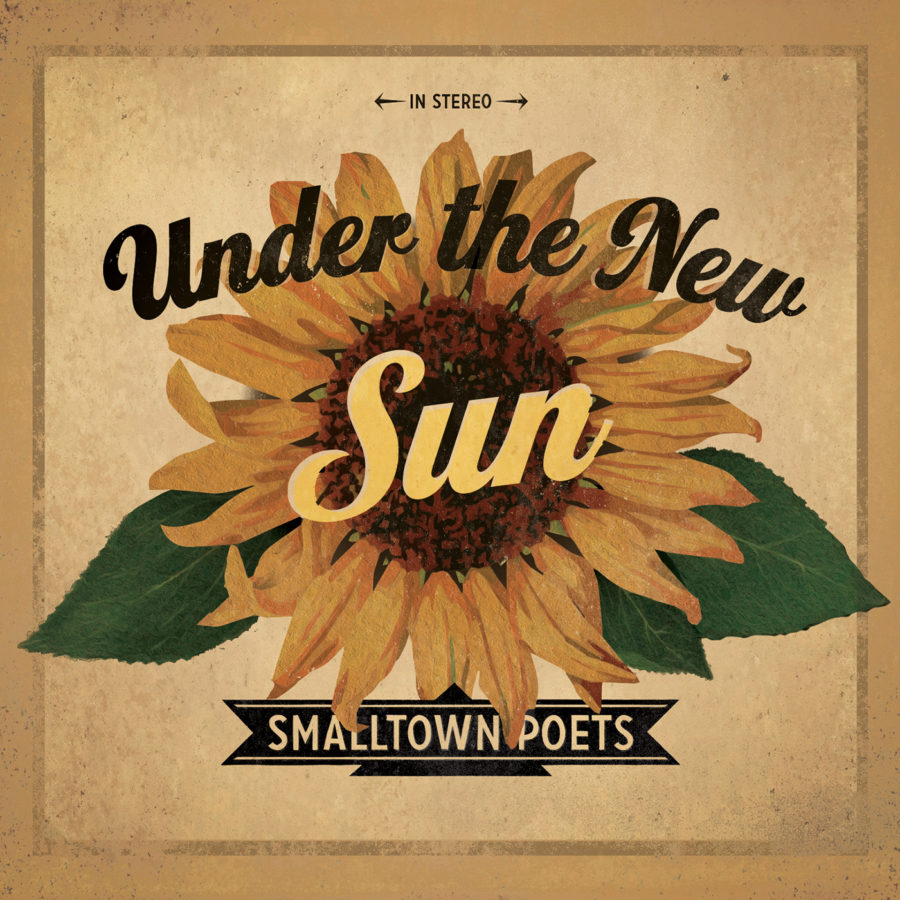 Artist: Smalltown Poets
Title: Under the New Sun
Label: Friendly City Records
Release Date: 10/16/12
Reviewer: Josh Hamm
Tracklisting:
Under the New Sun
Turn Around
Charlie Brown's Lament
Grace is a Song
Jesus, I Come
The Ballad of Time and Eternity
I'll Fly Away
There've been a lot of come backs in Christian music recently. The O.C. Supertones just released a new album after a long hiatus, Capital Lights did the same, Charlie Peacock released one of his best albums this year, and long standing artists such as The Choir and The Violet Burning have released great albums in the past few years(plus The Waiting have one in the works). Amidst all that, Smalltown Poets have slipped by relatively unnoticed, because they just released a new EP, their first music besides a Christmas album since 2004. If you don't know them, they emerged on the Christian music scene in 1996, releasing a total of three albums and garnering seven Dove and two Grammy nominations. So don't worry, they've got credentials.
Their old sound can only be described as 90's pop rock. While they haven't drastically changed their sound, they have matured, and musically Under the New Sun is much more subtle in its use of melody and it's greatness doesn't bash you over the head, but sneaks up behind you quietly. The lyricism is still their strongest point, which should be expected from a band with "poets" in the name. They don't go for overly elaborate imagery or flowery metaphors though, they have very simple, straightforward lyrics laced with novel turns of phrase and deeper meaning.
It starts off very strong, opening with the gorgeous instrumental "Under the New Sun." Something about the simple piano gets me every time I listen to it. "Turn Around" is very similar to their old sound, holding a muted energy that feels like it could break out anytime, yet it always stays controlled. I love the first verse:" I'm shy like a rollercoaster/Switch back, take you for a ride/High-handed and we got your picture/Downhill, cautionary smile." It's a catchy song with interesting lyrics and a fantastic bridge. Next up comes "Charlie Brown's Lament," which leaves me undecided. I love the comic strip inspired lyrics, with lots of little reference gems, such as "And if the doctor is in/I'll state my case again." It's also got a deeper message of identity in Christ, and what that really means. But musically, I couldn't get into it. While it's very tight and well done, the contrast between an upbeat rhythm and downbeat chords jarred for me personally, though I know this song is the highlight of the album for many others, I couldn't truly get excited for it until the bridge.
The best song after "Turn Around" is "Grace Is A Song." Featuring their most straightforward yet beautiful lyrics, and terrific subtle piano and slight effects on the guitars, and a great melody, it works on every level. Then comes "The Ballad of Time and Eternity." It's forgettable musically, but has what should be a great underlying poem about two lovers, Time and Eternity. It does have some great lyrical moments, such as "She was Eternity and he would fall behind/Slowly and silently, she was losing Time," and "That day Eternity made a date with Time/And she could almost see the reason and the rhyme." But on the whole, the song falls flat as it doesn't quite capture your interest unless you're reading the lyrics while you listen.
Two of the songs I haven't mentioned yet are covers of hymns. This has really become commonplace, which can be awesome or awful depending on the song choices. They chose the lyrically poignant "Jesus I Come," and the very catchy and fun "I'll Fly Away." Both are great choices. They cover "Jesus I Come" with a very minimalist approach, letting lyrics such as "Out of earth's sorrows, into Thy balm/ Out of life's storms and into Thy calm/Out of distress to jubilant psalm," speak for themselves without overdoing it musically. For some odd reason, whenever I hear "I'll Fly Away" I think of a scene from Elmer Gantry, the singing of "I'm On My Way," mostly because of how I imagine the energy and atmosphere from the song, but Smalltown Poets decided to go with a much less energetic version, which showcases their vocals, but is a letdown to the potential of the song.
Overall: This album was a welcome surprise from a veteran band. It's a great release that may not be their best work, but it stands up there. Under the New Sun is a refreshing sound in today's market and proves that pop music doesn't have to be unoriginal. I hope that Smalltown Poets aren't going anywhere soon, because if this EP is any indication, they have a lot more to share with us.
RIYL: The Waiting, Jars of Clay, Caedmon's Call, Audio Adrenaline, Downhere,