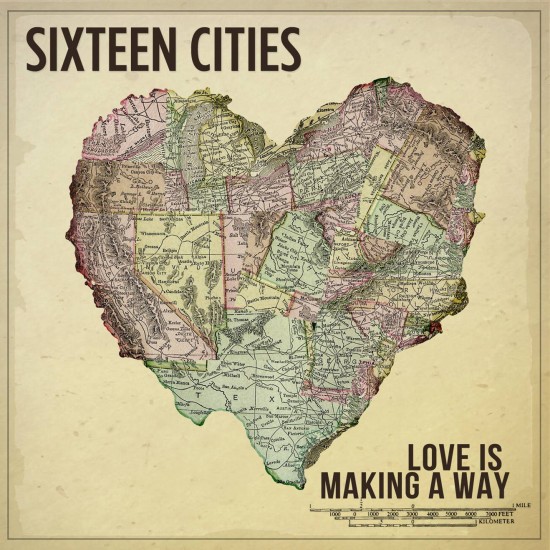 Artist: Sixteen Cities
Title: Love Is Making A Way
Label: Centricity Records
Release Date: 2/28/12
Reviewer: Jonathan Andre
Tracklisting:
Sound of Love
Love is Making a Way
Glorious
Still Here With Me
All Around the World
Mercy (Fall On Me)
What It Must Be Like
Walk on Water
I Need You
Consume Me
Sixteen Cities, hailing from Portland, Oregon; have released their sophomore album, Love is Making a Way, after their highly successful self-titled debut in 2010, and their worship covers EP, Your Love Is…; in 2011. With many famous radio hits like 'Sing Along', 'Pray You Through' and 'Just Wanna Dance'; this band have broke through the barrier of just 'being another pop-rock sound', forging their own identity through the songs they sing and the lives that they touch, impacting the radio airwaves with #1 hits and songs that resonate with the listener, showing them realisations and revelations, confronting and comforting, bringing hope and assurance. As I listen through this album titled, Love is Making a Way, I was able to immerse myself into the title track and many others, understanding that it is my love for Christ that continues to mould and shape my life, who I interact with, and how I react to circumstances that have stood or are standing in my path.
'Love is Making a Way' is one of my favourite songs of the past few months, and stands tall with other songs like Kari Jobe's 'We Are', Christy Nockels' 'Sing Along' and Jimmy Needham's 'If I Ever Needed Grace'. As the song starts with 'woah' moments across the drums, Josiah Warneking, lead singer; shows his vulnerability as he sings out '…The sun is rising, a new light's shining, the darkness is fading away…' and we discover that light always overpowers the dark. An autobiographical story of Josiah; and how he was able to let the Lord through all the walls he built up during his parents divorce, this song is just as redemptive. God is always there in the trouble times, working at our hearts, putting the pieces back together that have crashed to the ground. A true CCM song at heart, this is not to be overlooked as a song just made for radio, but rather a song that has the power to touch someone's life. Well done Sixteen Cities for a song that speaks of God's unconditional love for us, showing that '…love is making a way, breaking my chains, healing what was broken…'
'I Need You', 'Mercy (Fall On Me)', 'Walk on Water' and 'Glorious' are all potential radio singles, incorporating similar musical styles to fit the mould of a 'ccm radio single'. Josiah sings with a passionate vulnerability, and through the poignant lyrical content, I am certain that these songs would increase Sixteen Cities' popularity within the CCM market. The synth and strings at the beginning of 'Glorious' gives a certain eerie mystical feeling about the song. As the lyrics start, '…I remember when the light came rushing in and my life with you began, it was all so different…' I am reminded that a life with God is so much different, that nothing else can compare. 'Glorious' asserts its own identity and is one of my favourites by that particular name, standing tall with same-title songs by Newsboys and Paul Baloche. A song about trust and placing everything in the Lord's hands, this should be their second single from the album. 'I Need You' is a simple melody about intentionally slowing down so that we don't get caught up in the everyday business of just getting through life, forgetting to hear what the Lord is trying to say. The piano-driven song is simple but revealing, and as we listen and identify with Josiah, '…this life can be distracting and I end up just reacting til I break down…' we realise that we always need Christ by our side if we are to live the life full of distractions all around us. 'Walk on Water' is taken straight from when Peter was walking to Jesus on the water. With the acoustic guitar and percussion, this song holds a special place in the hearts of people yearning to run closer to God. A simple song about 'getting out the boat' to follow where Jesus leads, this potential single is one of the album highlights. 'Mercy (Fall On Me)' is a worship song about allowing the Lord to come pour mercies over us. As Josiah sings with his heart on his sleeve, yearning for the Lord to '…fall on me, brand new mercies, mercies fallin'…' we fall along with him, before the Lord in adoration because of his unending grace and mercy He freely gives to His children.
Both 'Still Here With Me' and 'Sound of Love' serve their purpose as the rockier dance pop tracks, providing musical dance moments as well as having a rich lyrical messages throughout. 'Still Here With Me' is a short 3 minute tune, and at some times can be a cliché message with proclaiming that God is still with us always even when we don't see it, sometimes it's the cliché messages that can be overlooked, because of the label placed on them. Nevertheless, the message still rings true that God is with us always, that '…I'm sure that I'm not alone…though the world tries to tell me so…in this valley I'm goin' through, even when it's hard to see, You're still here with me…' 'Sound of Love', the first song from the album, starts with a bang with 'woah' gang vocals and vocal distortion. With powerful percussion and guitars, Josiah proclaims that this love that we have cannot be held within us when we know and understand what the Lord did for us to be reconnected back to Him. The love inside us is desperate to come out, like '…a fire that we cannot confine, it's in the beat that keeps your heart alive and when you hear it, you will never be the same…' This is a definite first-song-worthy track, and as I listen to this dance rock track, I am compelled of the message Sixteen Cities want to convey from the start, that God's love inside of us is for everyone to grasp and understand. What a good first song to the album.
'Consume Me' is the last song on Love is Making a Way, and is one of the most lyrically revealing. Co-written with Jason Ingram and only having a piano and acoustic guitar, Josiah sings the words '…consume me Lord, every single thought, consume me Lord, cause You are all I've got…' we are met with vulnerability and realisation, that only the Lord can satisfy our every need. A fitting last song of reflection, hope, and realisation, this is a prayer to God, showing us our hearts and we proclaim that He is the One that we want to fill our thoughts with, that no one else can take the place of Him in our lives.
Overall: Sixteen Cities' Love is Making a Way is a step up from their debut, in all facets. With musical moments that will make your heart swell with pride, knowing that you're loved by the King; but also moments of contemplation, understanding the places in your heart that the Lord is pointing you to look at, even if you're too afraid to. A solid and poignant sophomore album that holds its own on a release date that was dominated by acclaim for 'For King and Country' and 'Kutless', this is an album that would please many ccm fans and critics alike, with it's vast musical styles and heartfelt lyrical content. Well done, Sixteen Cities.
RIYL: mikeschair, Rush of Fools, Leeland, Tim Hughes
Buy the Album: iTunes/Amazon mp3