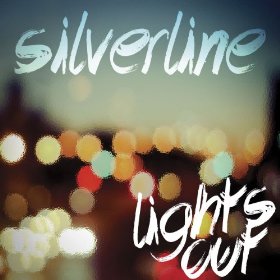 Artist: Sliverline
Album: Lights Out
Label: Dream Records
Release Date: 04/09/13
Reviewer: Lee Brown
Tracklisting:
Hold On
Lights Out
Never Looking Back
With the Angels
Vicious
Found In You
Be Still
War
Something Better
Too Far Gone
For many bands in the music world today, there are more reasons to lament and sing about sorrow-filled topics than there is reason to hope. From the faltering economy to the falling of the record labels to simple insights into our broken world, some bands have nothing to share right now other than doom and gloom. If there were one album on the horizon that goes the complete opposite direction, it would have to be Silverline's Lights Out. In the sea of modern rock music's hour of desperation, Silverline is set to offer up an album that is upbeat and positive from start to finish.
In fact, if there was one common theme I had to point to in reviewing this album, resilient hope would certainly be it. While that is certainly not an uncommon theme in the "Christian" variety of rock, few bands offer up more unabashed hope through an overly positive outlook than what Silverline brings to the table. With an album that is certain to see several songs become staples on K-Love and Air1, Lights Out is sure to be a stand out album this year.
More important even than this album's musical acumen, Silverline brings an experience that uplifts without ignoring the pains of this world. With Lights Out, you'll come for the addictive and memorable guitar licks with slightly pop-infused catchiness, but you'll stay for the message that sits behind it. In our broken world where many find difficultly seeing hope on the horizon, this album is a beacon and inspiration to "Be Still," "Never (Look) Back" and "Hold On." It is a battle cry to take the high ground while finding rest in God's arms. This is an album many people need in their lives right now as it serves as a reminder against a sea of disenchanting voices that there is a reason to hope for something greater.
For those unfamiliar with Silverline's past hits the band brings a healthy mix of energy and devotion set against a style of music that is equal parts radio-friendly rock and pop. In describing the band's sound on Lights Out, our site owner Brandon Jones stated; "It reminds me of the best qualities in bands like Saosin, 30 Seconds to Mars, Anberlin, and Mae." I find this statement pretty spot on.
"Hold On" starts the album off with a rather infectious guitar riff that spills into Ryan's higher toned rock vocals. In almost every respect, "Hold On" works as an opening song that betrays what is yet to come on the rest of the album. From the immediately hopeful lyrics to the fantastic musicianship and on through to the inherent catchiness of the song, this was a wise choice to jump the listener in to the experience to come. As the band explains the message of the song, " It doesn't matter if we feel like sometimes we just push through. This song is about standing together as Christians to get something done." The message is about overcoming our doubts and moving with Christ to take the high ground and reclaim what was already His.
"Hold On" is a likely candidate for radio dominance. Though it is certainly more upbeat and aggressive, it does still clearly fit the bill for radio rock and I can't imagine the song not topping Christian charts when it becomes a single. In the meantime, it is "Lights Out," the title track from the album, that has been given the most promotional attention up to now. Fans could grab the single several weeks back and the below lyric video was released to give the world a taste of what Silverline is offering up.
"Lights Out" also begins with an infectious guitar driven piece that is not too dissimilar to "Hold On." Thematically, the song continues the battle begun on the initial track. The lyrics, "I've never been one for fighting. More like running and hiding. Fear had taken over me, but the gloves are coming off this time," reinforce the imagery of the previous song and continues to point the listener in the direction of getting up and taking action. Those wishing to get a sample of the album before purchasing would do well to check out the lyric video to this song (below), as it serves as a nice representation of the whole.
"Never Looking Back" begins by mixing in some piano work that hints at the hymn-infused ballads to come, but ramps up quickly into another raucous chorus. The message of this song is plainly inferred from the song's title. It's about examining our fears and failures in light of the love that "makes us come alive." When examined together with the first two songs, the first "movement" of this album is an auditory anti-depressant given in clinical strength doses. Though the first three tracks are similar in form and function, they never feel too similar so as to become redundant.
"With the Angels" moves into the other great theme of Lights Out, which is outright worship. "With the angels I'm singing, holy holy, Lord God almighty." The imagery, taken from Revelation 4, informs the somberly aggressive rock hymn and shapes it into a worship experience that would be perfectly at home on any modern worship compilation. As such, "With the Angels" becomes a mix of Crowder-style worship mixed with Silverline's signature sound.
The album's second movement begins with "Vicious." Tonally, "Vicious" feels different from the first three tracks. More than any other track, this song focuses on the problem with hints of the solution (rather than the other way around). In terms of balancing, this actually helps the album feel even more visceral and real. While the "problems of the human experience" are a theme woven throughout the album, this track is the only one to dwell on it. Still, there is the redemptive message woven in that we must be careful what we say as we have the power of life and death to destroy with our words.
"Found in You" retains a more somber tone and is musically slower in pace than the first movement of the album, but returns to that positive and uplifting tone. The message of this track is that we are able to start "cutting ties with who I am… all that I thought I'd lost, I've found in You." This somber reflection and quiet confidence in spite of fear and one's past is carried into "Be Still." Taken from the oft-quoted Psalm 46, "Be Still" shows God's perspective on our worries and echoes His command to "Be still and know that I am God. Be still and know that I've got the world in My hands." Both "Found in You" and "Be Still" are worthy contenders for heavy radio play. Though they are not as fast paced as other songs on the album, they are profound in execution and thoroughly uplifting.
"War," my favorite track on the album, builds out of the somber pace of its predecessors and slowly builds back into more aggressive moments. The focus of the track is to "find the courage (in this darkness) to overcome this fight… we can make it out alive." Placing "War" after "Be Still" brings a subtly ironic harmony to the two tracks. At face value, the messages seem contradictory. The words of Psalm 46, when interpreted in context, are really "stop warring and know that I am God." To follow up with "War," then, provides an exegetical treatise in which the band acknowledges the reality of a world at war and the God who fights for us. Taken together, they form a solid message of allowing God to fight for us, but knowing that this does not mean sitting on our hands.
The conclusion of the album begins with "Something Better," which plays out like a shout of praise. "When I'm letting go, You're still holding on… to pull me out into something better." In this, it is a companion to "With the Angels." Where "With the Angels" provides a true anthem of worship, "Something Better" moves from worship into praise. If you don't quite get the distinction, worship is pouring reverence out to God simply for Who He is, while praise is a response to God for what He has done.
The album officially concludes with "Too Far Gone." "Too Far Gone" utilizes the piano and powerful drum work to create a somber tale of a girl who feels beaten by the world and its pains, but turns and cries out to God for salvation. The beginning strains of the chorus remind me more than a little of Switchfoot's "Only Hope." However, as it cascades into a distintive cry of "I hear you say, You're never too far gone," Sliverline's distinct touch overtakes any allusions to another band's work. As a closing track, "Too Far Gone" does a great job of using this tale of a broken girl to sum up the thrust of the album. We are in a world at war, haunted by our pasts and the pains of this world, but we must hold on to hope and look to the horizon where our hope is coming down the hill to fight for us.
Overall: Silverline proves that they are a band to watch out for with Lights Out. Though some will find it overly radio friendly or feel that some of the tracks are too tonally similar, this album will be a wake up call that proves that Silverline is ready to become a more mainstream name in the Christian rock world. Lights Out is a hope-filled look at how the problems of this world melt before a holy loving God who fights on our behalf. With an infectious quality resounding throughout, Lights Out is likely to produce at least three or four singles that will certainly prove their worth on both the radio and on the charts.
RIYL: Saosin, 30 Seconds to Mars, Anberlin, and Mae