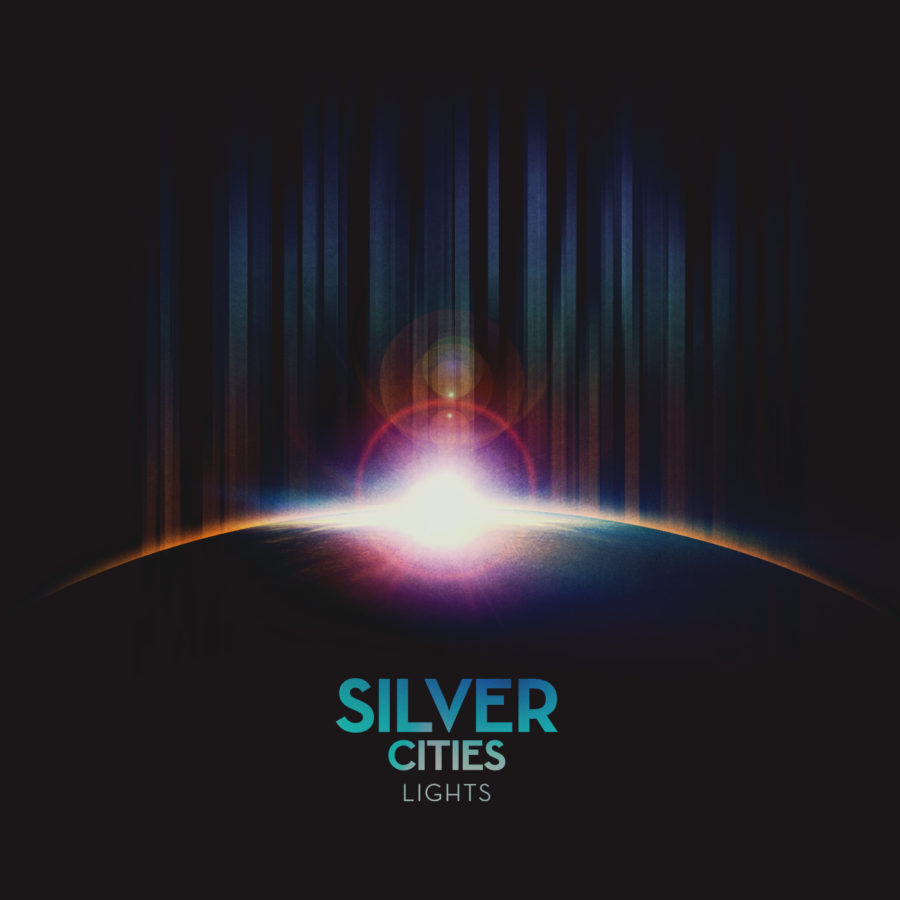 Artist: Silver Cities
Title: Lights
Label: independent
Release Date: 12/20/13
Reviewer: Jonathan Andre
Tracklisting:
Hold On
Lights
Castles
Just As You Are
What You Waiting For
Unbroken
Fragile Heart
It's Over
See the Stars
Young Forever
Singing competitions in all its formats (X Factor, The Voice, Idol and ___ Got Talent) are a big driver of current pop chart success and a great catapult for many who long to be within the music industry. From artists like Guy Sebastian, Dami Im, and Jessica Mauboy, to Carrie Underwood, Mandisa, One Direction and Kelly Clarkson; there have been many artists who have utilised competition singing shows to their advantage to deliver to listeners around the world melodies and songs that have become personal anthems to those who listen over the years. Enter in another Australian band who have had their humble beginnings from a talent show. Lead singer of Silver Cities, Hayley Jensen was fourth in the 2004 season of Australian Idol. Fast-forward 9 years, and a solo career later, Hayley has teamed up with friends Peter Wright and Sam Young to form Silver Cities, with the band specialising in delivering heartfelt pop melodies with an electronic edge, full of heartfelt messages of encouragement and hope. With the music's message reminding me of something Hillsong Young and Free would say (without the overt Christian references), their heavily electronic music is sure to pique the interest of listeners who love the EDM scene, or enjoy Christian artists like Press Play, LZ7, Capital Kings, Warr Acres or Royal Tailor, all of whom have released well recorded albums in 2013. While Silver Cities isn't necessarily famous or even known, their passion to create music art that tugs at the soul is evident throughout each of these 10 songs. From topics like beauty, identity, hope, comfort, self-worth, living life to the full and dealing with relationships and the situations they bring with them; this Australian trio band have certainly something to say, both now and into the future. Having their song 'Lights' chart the Rock Across Australia and Hot 25 numerous times in 2013, Hayley Jensen and the rest of the band have delivered their all to unveil possibly one of the most ingenious electronic pop albums of 2013!
'Lights' is the first radio single by Hayley and the rest of Silver Cities, and since I heard the melody in early 2013, it has become one of my favourite pop/dance melodies with a positive message, and a song that has been able to crossover and impact both the mainstream and Christian industries (at least in Australia) throughout 2013. The heart of the song is one of hope and pressing on, and as Hayley starts off the powerful electronic keyboard and electric guitar drive melody with the heartfelt lyrics of how it's '…been a while since you've smiled, I can see that, all the pain, you can't hide it, like a flood, all the tears have stolen your light, your light…', we are reminded that we ourselves can sometimes feel like there's been something stolen from us, and that even if we want to move forward into hope and happiness, condemnation, hurt, pain and regret seem to be holding us back and not moving us into our full potential in life. With powerful vocals from Hayley, and the meaning of lights as the song's title and how light dispels darkness and fear; the second track and quite possibly my favourite song from Lights, certainly has a great power, through subtly motivational messages, and equally powerful God-breathed identity affirmative lyric lines, to bring listeners into a moment of freedom as they dance along to the chorus, themselves being reminded to raise their '…hands up to the sky, see the light, set your heart on fire, let yourself go, let them know this is your time…' A song that's equally about proving doubters wrong and rising above adversity, as well as letting God transform us and move us from the darkness into the light, we are called to be the light to those who need it- our family, friends and often even those people we don't like. A song that stands out, Silver Cities's first song recorded as this band name (Silver Cities used to be called Seasons a few years back) is one to remember for weeks and months to come. Well done to Hayley and the rest of the band for crafting such an honest and thought provoking melody, and one of my favourite indie songs for the last half of 2013!
The second single from the album, 'What You Waiting For' speaks about the topic of stepping out of the shadows, showing others the real 'us' even if we're scared, as well as standing by and making stands, decisions and ultimately following into the unknown. The heavy electronic musical nature of the song (as with all the songs on Lights) is something to be used to, especially if you haven't necessarily been exposed to that music electronic music at once (aside from the debut album from Capital Kings), but regardless of the music, the message is still as heartfelt and something that is needed by us to hear. The phrase 'what you waiting for' in the chorus is a great call for us to delve deep within ourselves to see if there is indeed anything that seems to be holding us back from the choices we make. Normally people who have to think about things before they make decisions are either very considerate about their options, or they're scared about something. Hayley and the rest of Silver Cities are able, with this song, to bring us a moment where we ourselves either confront our own fears with the help of God, or we also declare alongside them and hopefully be a beacon of hope to others who need it as well. With electronic keyboards 'See the Stars' opens with some great vocals from Hayley and continues with its message of love and acceptance, with my mind immediately being reminded of the parable of the lost son. As the verses of 'See the Stars' show us a persona running from his problems and away from the people they have loved, it is the chorus where Hayley declares for the persona to look up and see the stars, that stands out for me. We all know that God Himself made the stars and as Hayley goes on to assure the persona to '…look up and see the stars…see how they shine for you…', I am able to be amazed at such imagery and poignancy. As much as the stars shine for God and glorify Him, God also uses creation, and especially the stars, for us to look up at and gain perspective from, and them shining certainly God's way of telling us of the amount of care and concern and love He placed in making the star and its ability to shine, and that the same love He gave the star, the love He has for us is infinitely more. Emotion, hope, encouragement and motivation are all encapsulated in 'See the Stars', and while the song isn't necessarily the most upbeat or even musically unique, the song still is one of my favourites.
Starting the album with 'Hold On', the energetic electric guitar driven rock anthem is something for us to sink our thoughts into as Hayley longs for us to '…hold on to this love, hold onto the feeling, hold on til your heart stops beating…' And while we never really know what or who she is talking about when she declares that statement, I myself envisage us to hold onto God during the hard times (or, if you want to be seeker sensitive, holding onto the love given by friends and family). Regardless of who she is singing to, the notion of us never being alone during the hard times is something we all need to hear time and time again, with this album starter hopefully doing its bit for us to be comforted during the moments when we need the voice of reason, the friend that stays by us no matter what, or even God (even if we don't know we need Him). As I have noticed that this album is ambiguous in its subject matter, Silver Cities and their goals at creating uplifting and inspirational music that can influence and impact both the Christian and mainstream genre is something that a few artists can do, and do well. Some are called to the CCM and worship industry and that's great, but to write songs that seemingly appeal to listeners of both music industries- that takes courage and a real talent. Silver Cities, in all of their songs, show this type of talent and skill, starting from 'Hold On', all the way til 'Young Forever'. And while 'Young Forever' can seem like a party song at first listen, the song provides to us a deeper meaning when we strip back the electronic music. The theme of us being young forever and living our lives with that mentality is something us Christians should readily adopt- because we know that this life is not the end, and that we'll be with God when our time on Earth is up, we shouldn't live like this life is all there is, because it isn't. Living with freedom is something all of us should embrace, and the first words of Hayley proclaiming that '…we are running free, living out our dreams…' is a great way to set the scene of the melody. Reflecting upon the chorus and how we are '…young forever…no one can stop us…we will live forever…no one can hold us down…', it is when we are in Christ that we can live fully, and no one can stop us, knowing that whatever happens in this life, we will be with Christ in the end.
'Castles' is possibly the most mainstream song on the album (and that's not necessarily a bad thing) as Hayley brings forth the themes of determination, perseverance, living your dreams and being able to inspire and motivate others to do so as well are things that are certainly universal, and spread across race, culture, religion and age. As 'Castles' offer us some hope to keep on pursuing building our own castles to the sky, I can't help but be wary, that we're not just building our own castles to make ourselves great, but rather we are doing what we're doing for the kingdom of God. With light electric guitars and a strong electronic beat, 'Castles' nevertheless encourages us to '…run free, and live the light, inside you shine, look now, it's all around, you'll find that life is waiting for you, don't stop, the time is now…' Silver Cities delves into identity and beauty in 'Just the Way You Are' in a similar way to Britt Nicole's 'Gold', as we are reminded that '…you're worth more than all the diamonds, more than all the silver, you shine like a star, hey, don't you know that you are perfect, you're a shining moment just as you are…'. While the song is slightly ambiguous as to who you find your worth in, considering that this album as a whole ministers to the mainstream, 'Just the Way You Are' nevertheless gives us things to think about as we listen to this high-energy remix/electronic song that's certain to be played in many of their live shows this year.
With two relationship songs in 'Fragile Heart' and 'It's Over' within the song lineup, Hayley and the rest of Silver Cities delve into the topics of hurt from past relationships ('Fragile Heart') and the forgiveness that comes out of the circumstances, as well as a warning to young people (girls especially), to guard their own hearts and not be in abusive relationships ('It's Over'). These songs aren't necessarily for the listeners who love it when life is only going great- these songs discuss topics that are hard, difficult, and show what life really is- a battle. Listening to these songs does give me the appreciation of my own relationships with my family and friends, as well as the awareness that not many people are as fortunate as me, either physically, emotionally and mentally. With these two songs hopefully being a catalyst for inward change in those who hear it, Silver Cities's ability to deliver heartfelt songs that speak to the heart of listeners and the everyday challenges is something that will continue to lead this album into popularity in 2014 and beyond!
Overall: Australians in both Christian and mainstream music have always been some of the most unique, different and enjoyable artists, compared the norm of American artists that we hear. From Stan Walker, Paul Colman, Rebecca St. James, Peter Furler, Hillsong and Johnny Farnham, to Guy Sebastian, Jessica Mauboy, Dami Im, Newsboys, Planetshakers and Alabaster Box; Australians have been able to give us great music. Add Silver Cities to this category of great Australian musicians, who are able to minister to listeners of both Christian and mainstream music. This debut album from Silver Cities and its popularity right now in the music industry is long overdue for Hayley, who finished third in Season 2 of Australian Idol (in 2004). Now 9 years later, Hayley, Sam and Pete have delivered to us 10 songs that make us think about life, relationships, and if we're living it right (and hopefully what to do if we're not). And while God's name is never spoken, I'm sure God is able to use this album to minister to whoever He wants. From declaring that we are indeed young forever because of what we believe, to speaking about rising above circumstances and holding onto love to get us through, this is an album to listen to if you love inspirational pop, and heartfelt music with a positive message. One of the most unique pop/electronic albums of 2013, well done Hayley and Silver Cities for such a compelling and powerful album!
RIYL: Newsboys, Alabaster Box, Hillsong, Paul Colman, Stan Walker
Buy the Album: iTunes/Amazon mp3