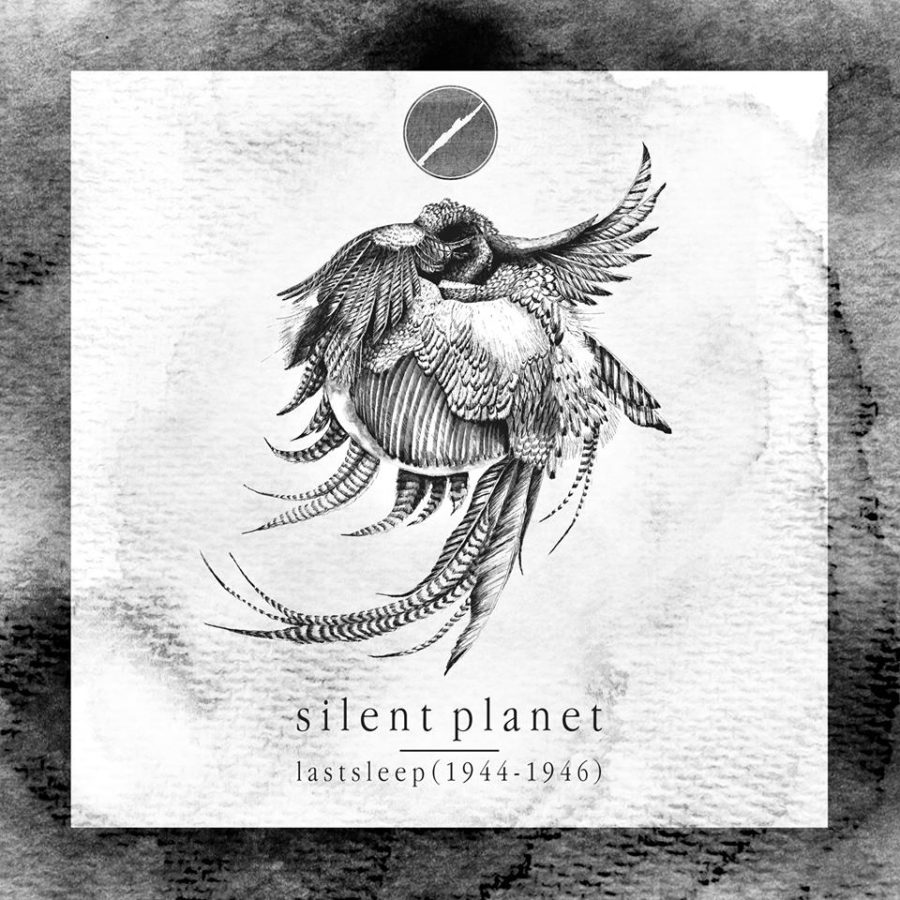 Band: Silent Planet
Album: Lastsleep (1944-1946)
Label: Unsigned
Release: 1.2.14
Reviewer: Brody B
Tracklisting:
Tiny Hands (Au Revoir)

From Tides
Darkstrand (Hibakusha)
To Caves
Wasteland (Vechnost)
Like most other folks, I first discovered Silent Planet in the Summer of 2013 as the tour package for Scream the Prayer was released. I was familiar with every band, save for Silent Planet. The name alone intrigued me seeing as it references the novel, "Out of the Silent Planet" by C.S. Lewis.
Needless to say, I was interested in what this band, under such an interesting and spectacular moniker, would bring to the table. I found my way to the group's bandcamp page where I was able to take my first listen to this mysterious band that had eluded me all these years.
What I heard once I downloaded the band's debut ep, "Come Wind, Come Weather" blew me away. I listened to the album on repeat my whole eight hour shift at work. The brand of progressive metalcore Silent Planet brought to the table was familiar, yet all it's own. It was technical, yet not so much headbanging was unachievable. Heavy and yet, conversely melodic. The music and lyrics had passion and meaning. I could tell before I ever laid eyes on the words frontman, Garrett Russell had penned.
I simply could not get enough. The next day I texted friends and loved ones who I knew were fanatics of the genre, or would at least appreciate the masterful purpose of the lyrics, about this young band. Many of them shared the same enthusiasm about Silent Planet; loving their music and their purpose.
So needless to say, since this past summer, I have found myself spinning "Come Wind, Come Weather" countless times as I waited for new music. The band released several music videos for new songs, each of which I have watched more frequently than most other videos. These songs were great! Everything I had loved about the debut was present, yet more refined.
Now my impatience for a full length has been put at bay as my appetite has been quenched by "Lastsleep (1944-1946)", a collection of five new (Some more so than others) songs. Tiny Hands, Darkstrand, and Wasteland serve as tracks that weave and intricate story, each telling the tale of a hero not commonly put into the spotlight. From Tides and To Caves are instrumental tracks that allow the listener time to both ponder the stories they have just listened to and catch their breath from the emotional onslaught of each tale.
Tiny Hands (Au Revoir) was the first "new" track the band premiered over the past year. Beginning with lightly plucked, reverb soaked guitars, the song starts out calm enough before reaching a crescendo of swelling strings. Garrett Russell soon joins the fray as he infuses his unique vocals (Think mewithoutYou meets Phinehas) to weave the story of Marguerite Rouffanche, a French woman who, among other women and children, were locked inside a small church by Nazi soldiers. Madame Rouffanche ended up being the sole survivor to the event though she was shot five times as she attempted to save the children.
This may seem like a harsh story to tell, but the band shared their thoughts on the matter when they spoke with HM magazine saying, "We believe that the Gospel is more than a text with a scriptural canon. It is an active story of resistance against the violence of imperial powers for the Life of this world. Because of this, our historical protagonists are the small, marginalized names that one won't find enshrined on great monuments or caste into statues, but instead echo throughout the upside-down Kingdom comprised of what Jesus called "the least of these." It is our goal to edify you, Reader, with stories that remind us our our mothers, daughters, and sisters whose stories remind us of the paradox of losing our lives to find life."
After the slow and brooding post-rock instrumental, From Tides, Silent Planet kicks into Darkstrand (Hibakusha). This being the second video the band released this year, I was quite familiar with this tune. Starting with an eerie tapped guitar section, things break into bedlam as the whole band joins. From the ever fluctuating drum beats to the numerous guitar sweeps, and even still to the gloomy undercurrents of the keyboards, every fan of metalcore should find something to love on Darkstrand. And if things were not intense enough on the track, Phinehas frontman Sean McCulloch joins the foray just in time for the grand finale.
The story Darkstrand tells is equally as heartbreaking and thought provoking as Tiny Hands. Set in Japan, the story unfolds as a mother and child are ripped apart as the bombing of Hiroshima ensues. The two are separated by a layer of rubble and are forced to face the events alone. The band wants to encourage listeners to put themselves in other's shoes so that we can sympathize with people that our culture has seemed to put on the back burner.
The last instrumental, To Caves is a bit more of a soothing and calming track than it's counterpart, From Tides. However, the quiet does not last long as album closer, Wasteland (Vechnost) comes roaring into fruition. While the band has yet to release a lyrical explanation of the song, it musically finds the band firing on all cylinders. The use of three guitars is apparent due to the always full sound brought to the table. The underlying atmosphere also adds a bit of a spooky element to the verses. I, of Helix's frontman, Nate Mead, lends his more death metal oriented vocals to the song as well.
The only thing that really seemed to bump my enjoyment of the album down a bit was the inclusion of the instrumental tracks. While the tunes were good songs in and of themselves, I felt that with only a limited amount of songs to fill the ep, having nearly half as instrumentals was a tad discouraging. With that being said, I believe that with a full length amount of tracks, these two instrumentals will be great "role playing" songs that will fill the gaps between stories thick with emotion.
Overall: "Lastsleep (1944-1946)" is a brilliant, incredibly well written album from a band that aspires to do more than simply play music. Silent Planet are sure to take the industry by storm with their unapologetic lyrics, in your face music, and unique delivery that culminate into a fresh and exciting blend of heavy music.
RIYL: Oh, Sleeper | Dayseeker | Confide (Shout the Truth era)