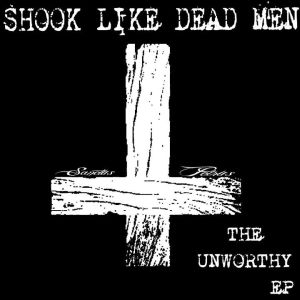 Band: Shook Like Dead Men
Album: Unworthy EP
Label: None
Release Date: 4/20/12
Reviewer: Brody B
Die-Agra
The Lone Wolfe
The Man Upstairs
Ms. Iscariot II
The Politician. The Lawyer. The Priest.
Shelby the Conqueror
Warren Peace
You remember the first time your mom caught you listening to a band with screaming? I'll never forget the time when my dear mother stumbled upon me blasting Burning Bridges by Haste the Day in my early teen years. The look on her face was one of sheer terror, like I may as well have been hanging out with the devil himself. At that time I thought Haste the Day was about as brutal as it could get. However, I soon found out that heavy bands were pushing the envelope and not settling for merely just scaring concerned mothers, but also metal heads themselves. Just when I thought I had the whole heavy music scene figured out, bands like The Chariot, Norma Jean, and Dillinger Escape Plan became known to me and quite frankly I did not like them one bit. I felt like I was the over cautious mother in this situation as all I heard was noise and screeching, surely not music of any sort.
Over the years, to my pleasure, the whole chaotic hardcore genre has become a pleasure of mine with The Chariot sitting in among my top ten favorite bands. I can understand the complexity and craftsmanship of this riotous genre and no longer see it as just noise. With that being said, I was happy to check out a band in this genre I had never heard of in Shook Like Dead Men. Unworthy ep is an unrelenting tornado of chaotic hardcore that stomps on your throat and refuses to let up until the end.
Starting off with "Die-agra", Shook Like Dead Men come out strong with guns rapidly blazing. The song begins full blast with no slow build up or fading in, rather deciding to punch the listener in the jaw with every member of the band participating in furious riffing and rampaging drums. "Die-agra" also features one of the most noteworthy breakdowns I have heard in a while at about the 1:50 mark. Without wasting any time, "Lone Wolfe" enters the picture with a tight little drum beat into full fledged battering with howls of, "I am the chief, I worship me! ". The pinnacle of the song is towards the back end when vocalist Zach Barney passionately spills his guts as he howls in front of eerie guitar riffs. "Shelby the Conqueror" is possibly the most technical offering Shook Like Dead Men bring to the table. With a distinguishable lead guitar throughout most of the song, it really adds some personality, especially in the opening of the song where it is especially mathy.  Also the fake out ending is a nice way to leave off. "Warren Peace" is my favorite track on Unworthy ep. While the first half is on the slow and brooding side, the song breaks out into disorder after a rarity in this genre: A clean guitar chord. "Warren Peace" also features some cool sampling of a man talking over top of the chaos, making this a more memorable track.
Overall: Although Unworthy is high octane all the way, I found myself zoning out in the middle half of the record. I did not feel that "The Man Upstairs", "Ms. Iscariot II",  or "The Politician. The Lawyer. The Priest." had the same personality as the other songs did causing somewhat of a dry spell. While I am positive this would not really be a problem in a live setting, sitting and reviewing the music is a whole different story. There was really nothing for me to grab a hold of and remember these three tracks by.
With all that being said Unworthy ep form Shook Like Dead Men is a great little surprise of an album in the chaotic hardcore genre. While they may just be a local band at this point in their careers, with a little more ingenuity and originality, Shook Like Dead Men could be a big name in the genre, touring the globe and scaring mothers all over.
RIYL: The Chariot, Norma Jean, Dillinger Escape Plan