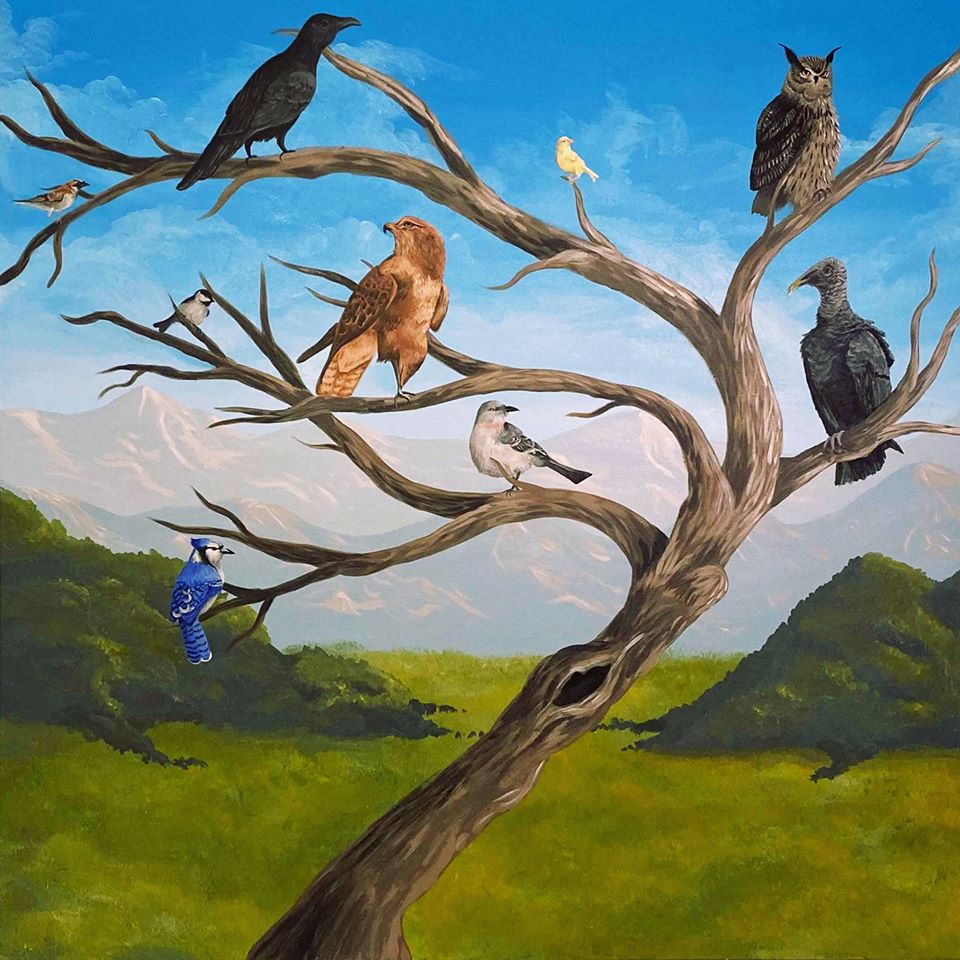 Nestled in the south hills of Pittsburgh sits the home of Second to Safety, an unassuming group of punk rockers with a penchant for philosophy and a sound that blends elements of math rock, pop punk, and dreamy lofi.
Second to Safety's sound has continued to adapt and change over the years, but their roots can be traced back to Geneva College in the mid-2010s when principle members Zack Bowman and Sean Dekonty, both vocalists and guitarists, met and bonded over a shared love for music and the deeper things in life.
Esther is simply one fruit of this season. Morning Approaches, the band's debut album, was noisy, rambunctious, unrestrained. However, Esther is more focused,  self-aware, and intentional. The album exist in three acts, each consisting of three songs. The album's title, as well as lyrical themes, are tied to Geneva College professor Esther Lightcap Meek's writings. And yes, she knows about the album (and endorses it).
The album opens with the sound of birds chirping – it's something that's tied into the artwork and is also present at the end, ultimately creating a cyclical listening experience. It seems appropriate for a song called "Signs of Life" – that is, until you get to the chorus. "There are no signs of life here," the band notes. The track oscillates between fear and forced hopefulness, and that's reflected in the music as well. Most of the song is upbeat and pretty catchy, but there's a pseudo-breakdown with a bit of screaming that comes in from left field to help reinforce some of the intensity of the lyrics. The world is in disrepair and no one wants to face it. The result is a cognitive dissonance that resounds in "Then I guess I need to be the one to act."
"Draw the Blinds" was the first single off the album, released last fall. Musically, it's not too distant from the sound found on the band's Fine EP (2018). A technical, heavy intro bleeds into a stripped-back first verse peppered with tight drums. The chorus is high-energy, mixing whirlwind guitars, a tight rhythm section, and the distressed refrain, "You spend your whole life on the couch." Much like its predecessor, it acknowledges the passivity of life and the duplicitous nature of people regarding their beliefs and stances on issues. It's certainly one of the more aggressive tracks, but fans of skate punk and post-hardcore will feel at home.
Things take an interesting turn on "Monachopsis", a track whose backbone frankly doesn't feel far from "lofi beats to study to". It's fairly barren with minimalist drums and jazzy guitar. Once again, the lyrics are centered on brokenness and the inability to escape a fallen world. "Everything around me falls apart." A spoken word segue leads into a full-band end that is quite certainly the heaviest moment on the whole album. In fact, it's the sort of thing you'd expect from The Chariot.
Act II takes a turn from some of the heavier elements, opting more for an indie rock sound. It's this part of the album that is arguably packed with the catchiest bits of the albums. "August 2004" is a Motherfolk-esque track that, while still bearing its teeth at times, is bound to be an instant favorite. "Alone" is another track that plays off the lofi sound, this time with a piano as the lead instrument, but it toys with xylophone and ethereal vocal harmonies for a result that almost has a Sparrow Sleeps vibe. "To Be Beautiful" is the flagship single and certainly holds its spot as one of the tightest, catchiest songs on the album.
"Esther" opens with a tight, staccato guitar harmony that solidifies it as one of the most compelling guitar lines on the album. In fact, this track thrives off intricacy. Falsetto and vocal harmonies are sprinkled in which add an extra layer of depth to already-strong parts. The gang vocal feels more like a choir than a group of people shouting. It's a dynamic track that has no trouble passing between crescendos and quieter parts.
"I am Ralph Waldo Emerson, Descending from Moksha" is the most experimental track track by far. The instrumentation is an alien-like bed of electronic sounds, feedback, and indiscernible noise. This is paired with an a capella vocal part the is paired with layers of harmony at its close. It's the third track so far that deviates from the band's more conventional rock formula, and while it does fit thematically, it arguably is one of the weaker points to the album.
Of course, to argue the band is cutting corners is null and void when it comes to the closing track, "Copperhead". This behemoth is over 12 minutes long, and it more than makes up for the brevity of some of these other tracks. In fact, it feels like something that could have potentially been broken up into multiple songs given the band's penchant for seamlessly blending one song into another. Nonetheless, it works as one solid piece that naturally covers a LOT of ground. Expansive instrumental parts are juxtaposed against sections that manage to cover the entire spectrum of the band's sound.  The lyrics speak to taking flight, again calling back to the bird imagery that we see on the album art. It's also a thematic contrast to the first act and the feelings of being defeated and stuck without hope. One of the last segments of the track is a reprise of "Signs of Life", swapping in new lyrics to augment this hopefulness. Then, just as the album began, birds chirp as the music fades out.
Esther is the sort of album that's worth waiting for, and I say this as someone who has heard it for the first time months ago. There's so much to unpack on each track, but at its core, it's an album that is intuitively good, even if it's hard to articulate why. It's thoughtful, it has a cohesive narrative and recurring motifs, it's relevant, and it isn't afraid to take risks. While I can't help but question some of the choices on the album, I still respect them and have enough sensibility to see how they align with the greater picture of the album's story. Esther is much more than a passable rock record; instead, it's bound to be a highlight release of the year with its mix of technicality, pop sensibility, lofi experimentation, and high production. Hopefully, this is the release that skyrockets Second to Safety into the public eye.
Esther will be available on 2/28.