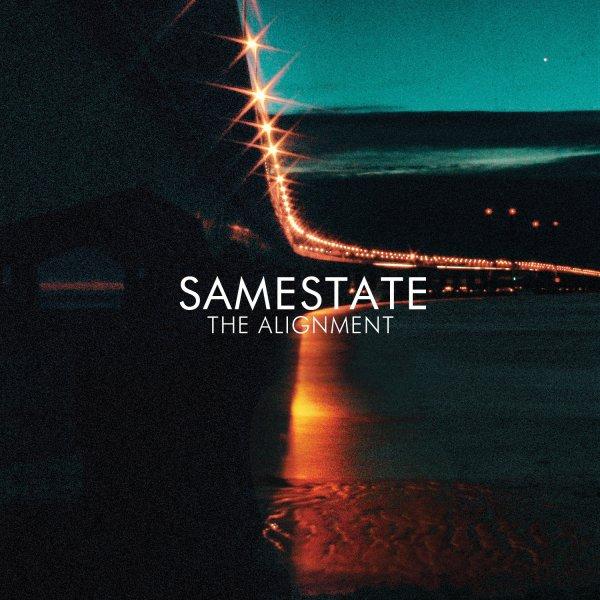 Artist: Samestate
Title: The Alignment
Label: Sparrow Records
Release Date: 2/28/12
Reviewer: Jonathan Andre
Tracklisting:
Realign
Sons and Daughters
Hurricane
Shadows
King
Upside Down
Love Remembers
Wake Me Up
Hearts Like Fire
Symphonies
With their lead singer, Dalton Diehl, sounding a little like Bear Rineheart from needtobreathe and Aaron Morgan from Seabird, Samestate have launched their career in upbeat fashion with their release of their debut EP in 2011. With instant radio hits 'Hurricane' and 'Shadows', Samestate have incorporated their honesty in every track, speaking into the lives of the many people that listen to this band that have made a name for themselves in a time where numerous new bands and artists are releasing their debut albums, from For King and Country, Moriah Peters and Lindsay McCaul to Travis Ryan and Adam Cappa. Produced by Paul Moak, who also produced for artists like Leeland, Matt Maher and Abandon; this band from Kansas have created 10 tracks of meditation and reflection, directing listeners to submerse themselves in a 40 minute journey as they come to understand the love that God has for each of His children, that we ought to '…come broken, come desperate and alone, feel the healin' finally savin' your soul…' ('King').
'Hurricane' (both the radio single and the music video that premiered on Air1 Radio), released last year to much critical and listener acclaim, with the radio-friendly song presenting themes of surrendering to God's will during times of the hurricane, being transformed in every aspect of your life as God shows us that '…all we did was nothing but a love still came and is bringing in good news…' 'Hurricane' is a happy song of reassurance, bringing hope to the hopeless of situations. As Dalton sings along with the soaring drums and percussion, we sing along with him, knowing that in very situation in our lives, God is in control, that the hurricane that is coming will not break the love that God has for us. This has also reminded me of needtobreathe's song 'Hurricane', with a similar theme too. We are living within a spiritual battle and as Bear Rineheart points out, '…it's like a hurricane is coming our way…' This song, as well as Samestate's first single, has reassured me that God is in the midst of all the calamity and catastrophes, that even if everything crumbles down, we still know that '…love is coming back for you…'
'Shadows' is the second single from the album, and speaks honestly about how the Lord is continually showing us signs back to Him, that the shadows that hide us from Christ will fall when we come together to worship a God '…who's big enough to save us…' Typical single material with dynamic drums and a mesmerising piano hook; and Dalton placing on his 'Aaron-Gillespie-meets-Bear-Rineheart' hat; 'Shadows' has led me to look into my own life and see if there are things that are preventing me fully from engaging with God, whether my distractions are higher in priority than spending time with Jesus. As Dalton explains on his YouTube video, '…there are so many things out there in the world that can blur our vision; there's so many things that can take us away from that good path the Lord wants for our life…' 'Shadows' is redemptive; we can just turn around and God will lift His hand out to save us. What an amazing song for the second single.
'Love Remembers' and 'King' are both standouts on The Alignment, both viable to be radio singles at one point during their career before the first single from their second album releases. 'King' was on a compilation album, Now Hear This released during 2011, and so I was able to listen to this song during the time when the EP was released. What I listened to was a song full of heart and honesty, passionate emotion full of hope, that I almost wanted it to be the second single after 'Hurricane'. Starting with a bass line that creates a simple melodic tune, Dalton sings out '…there's a person in the mirror and he don't even look the same, and it's only you, only you to blame…' As I reflect upon the lyrics of one of the most personal songs to date by this band, I am captivated by its heartfelt emotion tagged to each line, a song sung to the people in all of us that feel ashamed by whatever we have done or will do. God is redeeming His children back to Him. This song proves that well, with Dalton reminding us all that '…if you're hopeless and love is stolen and your heart is dying to sing, tonight you're heard by the King…' 'Love Remembers' provides a country feel to a song about hope in God in the hopeless of situations. As Dalton proclaims over the electric guitars and banjo, '…cause tears don't last forever, you ain't always gonna lose, so if you're frozen like December, the summer's coming soon, love remembers you…' I am certain of this truth, that God never forgets us when we're in the pit, stretching out His hand to pick us up. What an awesome reminder that God loves us unconditionally, forgetting our sin and making us whole through the death and resurrection of Christ.
Thematically, Samestate's The Alignment portrays the notion of God's unending love for His creation and man's struggle to comprehend the kind of love the King of Kings has for us. From wondering how the world is what it is and struggling between the connection to how things should be ('Upside Down'), acknowledging that we are the sons and daughters of the Most High King, that we can make a difference in the world that we live in ('Sons and Daughters') and urging God to open our eyes, to wake us up to the injustice around us so that we can move to make a difference in the lives of those who need it ('Wake Me Up'); it is the second last song, 'Heart's Like Fire' that sums up what the motivation is behind The Alignment. With percussion and drums that would make someone sway to the music, Dalton sings with his heart on his sleeve, asserting '…let your light shine tonight, all you children see the stars in the sky, love burns brighter, feel it inside, hearts like fire…' This is a declaration for God to shine His love in the places that need it. It is also a call on all of us to be the salt and light that Jesus described back in Matthew 5:13-16; that when we love our neighbours, friends and the people we meet with abandon; they can't help but to wonder about our source of joy and happiness. As God's love flows from us to them, they will see something different about us. As we live like Christ, we are guaranteed to change lives. What an amazing song to encourage us about evangelism.
Overall: Samestate's debut record incorporates a little imagery and symbolism, hope and passionate song-writing, motivation to love our creator and our fellow mankind, but also to understand the full love of Christ with His creation. These ten songs are heartfelt, providing an avenue of reflection and reminders of Christ in a world where little reminders are certainly needed. On a similar vein to either Switchfoot, Aaron Gillespie or Needtobreathe; The Alignment certainly stands tall along with Crave, I Choose Jesus and The Rescue (For King and Country, Moriah Peters, and Adam Cappa respectively) as one of the most compelling debut projects of 2012!
RIYL: Switchfoot, needtobreathe, Aaron Gillespie, Seabird
Buy the Album: iTunes/Amazon mp3