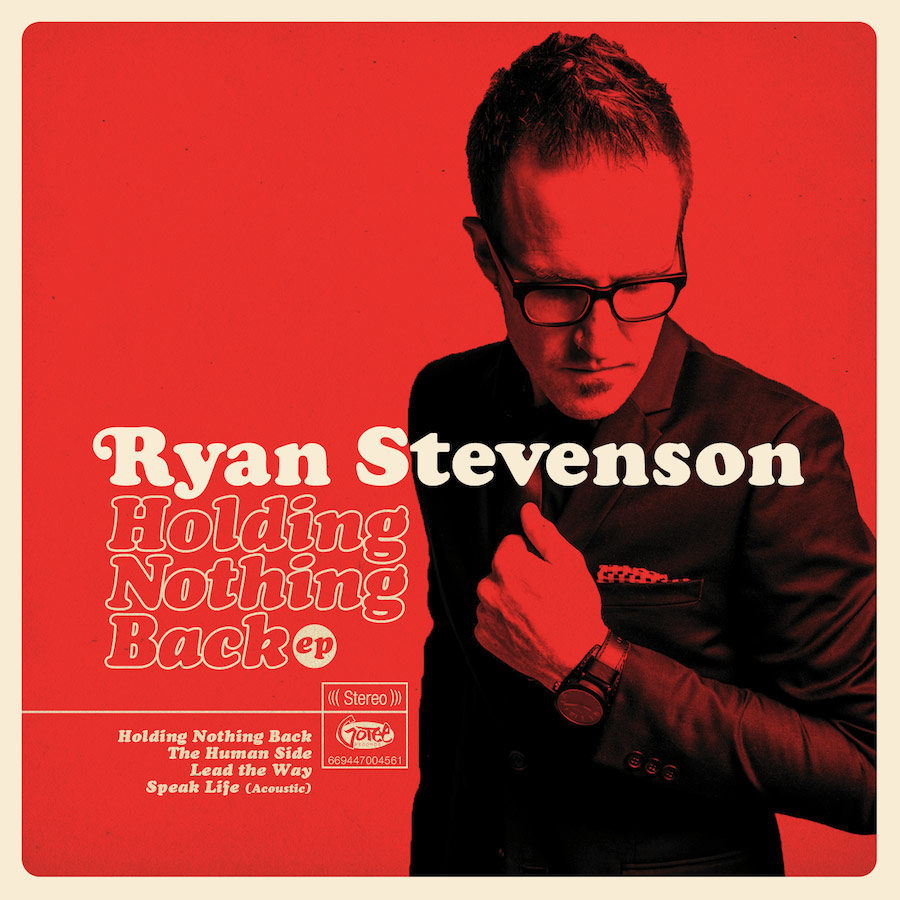 Artist: Ryan Stevenson
Title: Holding Nothing Back EP
Label: Gotee Records
Release Date: 9/10/13
Reviewer: Jonathan Andre
Tracklisting:
Holding Nothing Back
The Human Side
Lead the Way
Speak Life (Acoustic)
Founded in 1994 by TobyMac, Todd Collins and Joey Elwood, Gotee Records was one of the most pioneer and prominent record labels back in the day during the 1990s and the 2000s. Artists like John Reuben, Aiyesha Woods, Abandon Kansas, B. Reith, Grits, Jennifer Knapp, Jeff Deyo, Out of Eden, Relient K, The Katinas and Sonicflood have all been affiliated with the label at some point or another during the label's history, and while currently, Ryan Stevenson is the fourth member on Gotee (with the other three current artists signed on the album being Capital Kings, Jamie Grace and Finding Favour). With House of Heroes and Stephanie Smith parting ways with the label not too long ago; there is always a glimmer of hope that the label doesn't fold into liquidation, while also still being a label that introduces and promotes artists on the fringe and that may or may not be as popular as the main artists on Sparrow, Inpop, Word Label Group or Provident. But the truth is, artists come and go, and even record labels to as well. Nevertheless, while the label is still running, TobyMac once again advocates and signs Ryan Stevenson to Gotee (after being on BEC Recordings for a while). Releasing is 1st album on the label (and 3rd overall), Ryan's 4 tracks full of acoustic pop goodness is something for listeners to enjoy if you love contemporary pop a la Brandon Heath or Josh Wilson. With an acoustic recording of 'Speak Life', a track he co-wrote with TobyMac and on TobyMac's Eye on It, as well as the first radio single 'Holding Nothing Back'; Ryan's EP is a great gift if you just want to be introduced to him without hearing much of his previous music before. With acoustic moments and tracks full of looping percussion beats, we are introduced to an artist who's powerful lyrics and acoustic flair is something that fits the vision of Gotee Records, as well as what the CCM industry currently needs, both now and into the future if it were to become more popular amongst its fans and critics alike.
'Holding Nothing Back' is the first radio single from Ryan, and while musically the song doesn't necessarily break new ground (just some light electric guitars and a steady drum beat), the lyrics on this track is quite thought-provoking, and something to gives us encouragement and hope while also providing us with a message where all we can do moving forward is just a call to action. As Ryan poignantly declares to Jesus that '…I don't want anything coming in between, Jesus, I'll do what I gotta do, I'm holding nothing back, back from You…', we are reminded that it is in our human nature that we hold things back from allowing others to see right through, even at times God. While we may still love God and pursue Him continuously, it is still in our hearts to conceal certain things about ourselves, and thereby, holding things back when we do come to God in the first place. With the song very radio friendly and being played in radio outlets like K-Love, Holding Nothing Back, both the song and the EP in general, Ryan unveils the truth behind the song in heartfelt words, of how it '…is one of the most personal, vulnerable songs I have written, birthed during a season of desperation. I remember praying, 'God, whatever it takes for You to break through in my life'-and His answer came through fiery circumstances… I hope the song encourages listeners to embrace the fact that they don't have to hold anything back from God, that they can be real and honest before the Lord…' While I must admit, at first glance this song is nothing much more than a CCM melody written for radio (and I'm sure many people are fed up with the CCM industry- I know I am when it comes to Dove Award nominees and selections on the annual WOW Hits albums); yet as we dig in deeper, this song could serve as a catalyst for change in people's lives. One of my favourite songs that I've heard over the last couple of months or so, Ryan is a perfect fit for Gotee, urging us to get real with ourselves, stand up and declare that '…behind this curtain there is a heart that's hurting, it's been taking a beating, it's starting to fall apart…'
Throughout the rest of the album, Ryan explores other musical genres that would be a bit different to the listener who listens to radio friendly material. 'Lead the Way' is an upbeat, acoustically driven, light percussion track with a hint of dance influence as Ryan calls on Christ to lead the way in every single moment of his life. The second verse line of how '…some days takes all of my energy, to keep believing and hope it's You I'm hearing, some days my worries pile up a mile high, mountains of doubt with no way around it…but You are with me every step of the way…' is a moment that we can all testify to and feel like we're a part of the population that have days where it's hard to keep going. Yet this song still has a positive spin, with Ryan emphasising that no matter what happens and where God leads, he will always follow. Requiring a sense of trust on our own part to follow Christ wherever He leads, this song is a great example for us as we live our days between the seen and unseen, the known and the unknown. 'The Human Side' is a great poetic description of what humans face on a daily basis, and if anything, is the strongest song on the album lyrically. Full of heart, acoustics, passion, emotion, strong drum beats, and a heartfelt chorus that declares out that '…I don't have the words to say, You're the only hope, I have to change, Your love keeps showing me You understand the human side of me…'; this track is an eye-opener to listeners struggling as to whether God understands us humans, while also providing us with a moment of thankfulness, that Jesus does in fact know us better than ourselves, and therefore is our first and foremost help in all kinds of trouble. Ending the album with an acoustic version of TobyMac's current radio single, 'Speak Life' is when we stop bringing people down, but instead, lift them up and encourage them the way Jesus did. Thematically similar to Hawk Nelson's 'Words' and the whole concept and verse behind the band Building 429 (Ephesians 4:29 where Paul declares that every word that comes out of our mouths is to be spoken with the intention of building people up); Ryan's version of a song that's already a standout on Eye on It is perhaps even better than the original version, and also a favourite of mine on an EP of 4 tracks.
Overall: Ryan's debut EP on Gotee Records is a treat to listen to if you love contemporary CCM music with an acoustic element thrown into the mix. While Gotee Records are rebuilding after an out-flux of all these artists, it is fair to say that this new crop of artists (Capital Kings, Jamie Grace, Finding Favour and now Ryan Stevenson) is a very solid artist lineup on the label. With a bright future ahead of him, Ryan's music is certain to uplift and inspire anyone who hears it. From 'Speak Life' to the title track, Ryan's passion in his voice and emotion through all the vulnerable yet equally necessary lyrics is a great asset throughout these 4 songs. Well done Ryan for such an enjoyable and uplifting EP, with enough in it for listeners to be eagerly anticipating the full length album releasing this year or next year.
RIYL: Peter Furler, Paul Colman, TobyMac, Finding Favour
Buy the Album: iTunes/Amazon mp3