Album Review :
Pomegranates & Caleb Groh - In Your Face, Thieves / Chestnut Attic
By Jeremiah Holdsworth in Reviews | Comments closed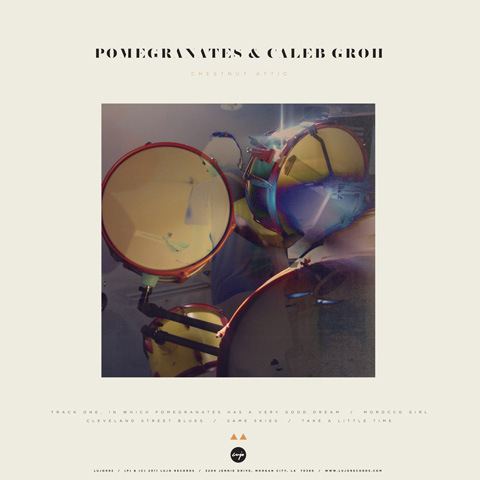 Artist:  Pomegranates & Caleb Groh
Title:  In Your Face, Thieves / Chestnut Attic
Label:  Lujo Records
Release Date: 8/16/2011
Reviewer:  Jeremiah Holdsworth
Tracklisting:
1.  Softness
2.  Catatonic Crow
3.  Yeah
4.  Jesus
5.  Western Skies
6.  Track One, In Which Pomegranates Has A Really Good Dream
7.  Morocco Girl
8.  Cleveland Street Blues
9.  Same Skies
10.  Take A Little Time
I still remember when Cool Hand Luke's album "The Sleeping House" was released through Lujo Records.  I decided to check out some of the other bands that were on their label, one of those would be Pomegranates.  They had just released their debut album "Everything Is Alive" and I fell in love with their unique style of Indie, Pop-Rock, and Shoegaze.  It reminded me of some other bands that I loved including Stars, and Stereophonics.  It has stood the test of time as one of my all time favorite albums.  For some reason though I never picked up their second album and I really didn't know they had a third album out until a couple of months ago.  One day I was listening to Everything Is Alive again and I decided that I needed to go back and get their previous releases.
A few weeks ago I was surprised to see on Pomegranates Facebook page that they released a new album on original label, Lujo Records.  The album was kept secret for whatever reason and was all of a sudden released to major digital outlets and on 12 inch vinyl.  The band originally was suppose to come out with an EP record on 7 inch vinyl through Lujo, but blossomed into an LP.  What makes this LP unique is the fact that it is actually made up of two EPs.  The first five tracks is all new original material from the EP titled, "In Your Face, Theives".  The last five tracks make up the EP, "Chestnut Attic".  It was released for a very short time and then was no longer available.  It has been remixed and remastered for this release.  The releases were recorded with Caleb Groh who leans vocals to some of the tracks as well as the production.  This is the rawest, lo-fi, Pomegrantes album to date, with very few overdubs.
"Softness" kicks off this album with light percussion and dreamy lyrics about his significant other.  There's some country/folkish guitar playing toward the end of a well done song. "Catatonic Crow" continues the light percussion with Caleb trading off vocals with Pomegranates lead vocalist, Joey Cook.  This song highlights indie pop euphoria at its best with multiple layers of varying sounds and a little hand clapping.  Do yourself a favor and download this one song if you don't buy the whole album.  "Yeah" is next and Yeah is the only word sung in the entire song.  It's not overused so it makes the song almost feel like an instrumental.  Americana is at the forefront with engaging guitar melodies, harmonica playing, and off and on hand clapping throughout.  It's a fun song to bob your head to.  "Jesus" is a very mellow song with repeated lyrics, Jesus all I want is you, except for one verse that says, Nothing else will do, Jesus only you.  The song is simple yet honest which makes it beautiful.  "Western Skies" rounds out the first EP with warm poetic lyrics about seeking freedom.
"Track One, In Which Pomegranates Has A Really Good Dream" starts off the second EP.  It's an instrumental with various synths and guitar strumming, but never reaches a climax.  Everytime I listen to it, I think of how great of a song it could have been, but it just falls on deaf ears.  Just a boring listen that makes you want to go to sleep.  Maybe that's how they came up with the song title, except the good should be changed to bad.  "Morocco Girl" cleans the wax that was just built up in the ears with catchy melodies and finely added background vocals in this indie/folk number.  "Cleveland Street Blues" gives you a hint at what type of song it is.  It's very bluesy with added americana flare.  "Same Skies" and "Take A Little Time" round out this album and they come off the same way as Track One, In Which Pomegranates Has A Really Good Dream.  The execution just isn't there, boring in nature, and they end the album on a sour note.
Overall:  The first EP In Your Face, Thieves is one of the best that I've ever heard.  The second EP Chestnut Attic is one of the most underwhelming I've ever heard.  It's not a total dud though with Morocco Girl and Cleveland Street Blues being enjoyable songs.  This LP will be more than plenty to hold me over until I get some of Pomegranates back catalog.  Do yourself a favor and get the vinyl version of this if you have a turntable.  Nothing goes better with lo-fi production then pops, crackles, and hisses.