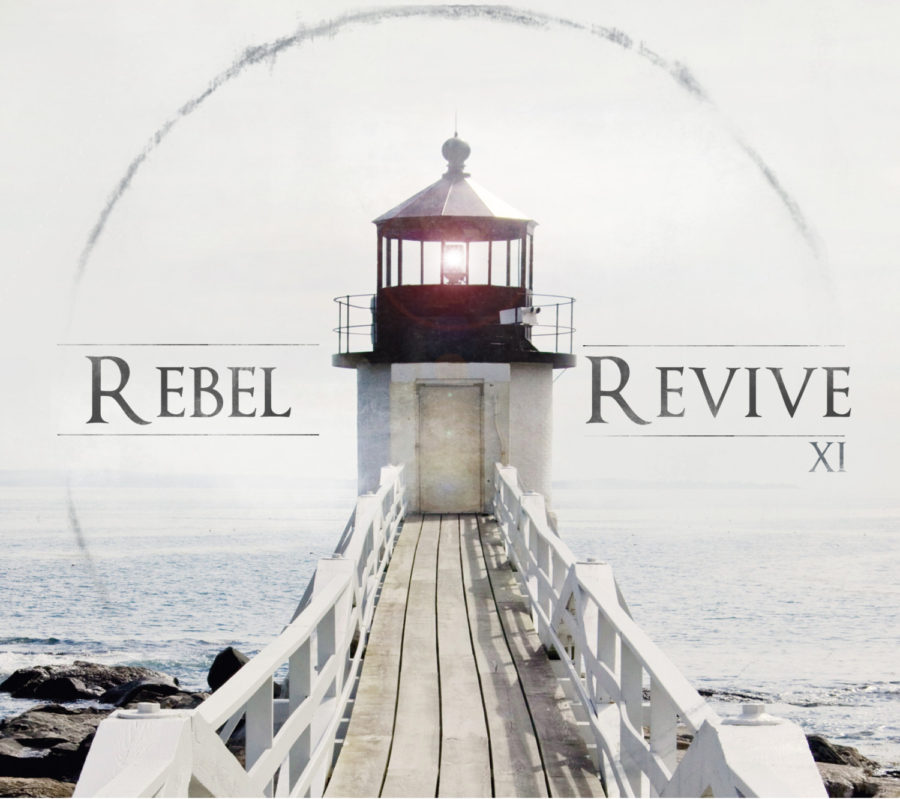 Artist: Rebel Revive
Title: XI (Eleven)
Label: Independent
Release Date: 6/11/13
Reviewer: Ian Zandi
Tracklisting:
The Voices
Skeletons
Better Days
Like You Mean It
Nameless Faceless
Stars
Ah, Orange County. Though the name implies that you could find an abundance of luscious oranges here, you can't. Instead, I believe that it is named Orange County due to the heavy amounts of constant construction that is taking place. A different kind of construction also takes place in the O.C., the construction of music. Along the waves of Huntington Beach, Californians have experienced the revived waves of punk rock and the ska movement. Hailing from this great county that is musically fruitful, I present to you Rebel Revive.
Possessing the trifecta talent of being a singer, songwriter, and musician, Matthew Lindblad has conjured up a full-fledged band to release their debut record XI (Eleven). Though it clocks in around 20 minutes long, they are guaranteed to impress you with a sound that is becoming harder to find. Here is the skimmy on Zepplin-like titled record XI (Eleven).
"The Voices" is an anthem with a rhythm that will have you jumping up and down whether you are at a concert, listening to this song in your car, or quietly wearing headphones while waiting in line at the dreaded DMV. This could be a hit with youth groups across the nation shouting the echoing "We are (we are)/We are the voices".  It is like POD's "Youth of the Nation" but in a bit more of a gimmicky way. Despite that, this track is still irresistible.
"Skeletons" is probably my favorite track on XI (Eleven). It is very punky and even features a string section track (is Punky a word? It is now.). Found on the 2nd verse, the strings add a layer on top everything else and create a filled sound. Growling vocals are also introduced here that benefits the song but doesn't cause it to go into screamo territory.
The Mae-like "Better Days" is a nostalgic track that reminisces on the better days that are now behind us. The lyrics remind me of a new movie I recently watched, "The World's End". "This old town feels so familiar/The ghosts of us still roam these streets/We were the kings & queens of it all/Forever we'll be."
This song progresses on to the next two tracks "Like You Mean It" and the heavier "Nameless Faceless". While they are 2 songs that I am not personally fond of, they still expand on the band's repertoire. "Like You Mean It" seeks for an authentic relationship that will remain and "Nameless Faceless" seems to be about getting lost by going with the flow of everyone else.
"Stars" is a worshipful closer that end the album much like the Devin Shelton album that I recently reviewed. Using comparisons to outer space, this gives the listener a feeling that we are so small compared to One that is so far beyond our reach.
"Fall through the stars.
Everything in its place.
That's where you are.
That's where I see your face.
Fall through the stars.
I'm losing gravity.
You are so much greater than we'll ever know."
Overall: It is truly harder to find alt-rock bands such as Rebel Revive. Even many veterans of this genre have turned to perform music that is One Direction-esque pop. That is where the money is at right now. However, if Rebel Revive wants to stick with their name, they should continue embracing the path that they are set on. For being a debut album, Matthew and co. are off to an excellent start. As sweet as an orange, only time will tell how much better Rebel Revive can get from here.
RIYL: The Wedding, Mae, The Fold, Ivoryline, The Almost, Oranges