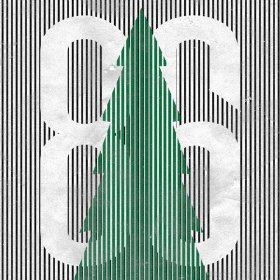 Artist: Project 86
Album: The Midnight Clear Single
Label:  Team Black Recordings (Independent)
Release Date: November 20, 2012
Reviewer: Lee Brown
Tracklisting:
It Came Upon a Midnight Clear
Christmastime is Here
Back in 2008, something happened that I never thought conceivable. Project 86, the hard rockers best known for inspired lyrics set to heavy sounds produced… a Christmas album. And it was a thing of beauty. But this wasn't just any Christmas album, it was definitively a P86 album. In place of cheerful bells, the boys utilized charging guitars, industrial synth, and Andrew's signature brooding vocals. In place of "Here comes Santa Claus," we were given darker toned ballad centered around breaking through the noise and problems the holiday often brings with it.  Best of all, we were given "Misfit Toys," a song that so beautifully captures the salvation message Christmas ultimately leads to, but through the imagery of broken toys in need of repair.
Four years later, P86 is giving us another dose of holiday jams. Well, sort of. After all, The Midnight Clear Single is… a single. Actually, it's two tracks. As such, there's only a little bit to talk about. First of all, both tracks feel like an extension of the band's first Christmas album. Both have the same elements mentioned above, and are, tonally, cut from the same cloth. As amazing as This Time of Year – EP was, that's certainly a great thing.
Except, these two tracks aren't the same. Musically they fit, but unlike the last foray, these are plainly… Christmas songs. They aren't original P86 jams. They're classic holiday songs redone by P86. And they're both pretty solid. There's not really much more to say than that.
Overall:  Project 86 returns with a pair of holiday tracks that are cut from the same cloth as their first holiday album. Both tracks are great renditions of holiday classics done by the most amazing band in the history of music.* However, they are not darkly uplifting originals like several tracks were not P86's last Christmastime album.
Reviewer's note: I don't give numerical scores to singles, maxi-singles, or etc. Trust me, it's good. And it's just $2, so you can't go wrong.
RIYL: X Christmas, Happy Christmas (Tooth and Nail), Christmas Music, Manheim Steamroller (if Schwab fronted the band), Project 86, Christmas.
* Blindside and P86 are tied in my book. Both FANTASTIC songwriters and amazing ability to continually evolve into something even more amazing.