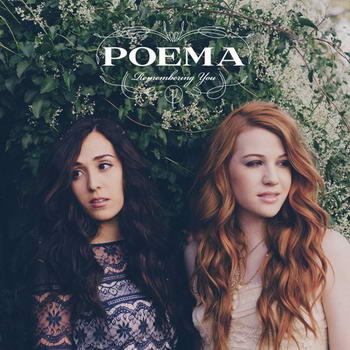 Artist: Poema (iTunes) (Spotify)
Title: Remembering You
Label: Tooth and Nail
Release Date: 9/11/12
Reviewer: Carter Fraser
Tracklisting:
Clean Getaway
Wonder
Fallin'
Hesitate
Apricots
Play With Fire
Footprints
Your Song
My Turn to Go
Would You
Love of My Life
I'm still fairly confused as to why Tooth and Nail signed Poema. This isn't a reflection of the duo's talent—they've crafted a fine album here—but why did Tooth and Nail feel the need to sign an acoustic pop group? They've always had a diverse lineup, but this is a step further than before. Sisters Elle and Shealeen Puckett's songs can be easily compared to those of, say, Sixpence None the Richer or Taylor Swift. Their songs are generally about—that's right you guessed it—love, in various forms and intensities. So has Tooth and Nail really dipped into tween pop? No, not at all, thank goodness. But I'm still scratching my head a bit.
These girls are barely through their teens, but one likely wouldn't be able to tell so from their music. There's no flair for the dramatic to be found, no childishness, no cheap appeals to an easy audience, just straightforward, genuine acoustic pop. The subject matter flirts around with different angles on love, with a few exceptions. There's a subtle flair in the hooks that draws the listener in, but no huge choruses screaming "hit single." So basically, Remembering You is everything one might expect from Poema's first full length. Which, unfortunately, is also it's biggest downfall; Remembering You is predictable, and almost too comfortable. There aren't really any weak points, there aren't really any high points, and there's generally very little variation between songs whatsoever. That said, each song is a slightly above average acoustic pop song, so it's hard to complain. But since there's no obvious weakness to Poema, it's hard to say just how they could improve. At the same time, they're so young that it feels almost wrong to judge their futures at all. There's just no telling.
The best moments on Remembering You are those that stray from the path the furthest. Opener "Clean Getaway" is a surprisingly mature song for writers of their ages, a painfully broken song about divorce. The decision to open the album with lyrics as exposing as "standing in the hallway, I hear the echo of your footsteps / blue eyes and your last name are the only things that you left / are we still a family, did you ever love me, were you ever happy?" is an extremely successful one, and ultimately creates perhaps the album's best song. Remembering You slows down as it goes, culminating in songs like the gorgeous folksy worship ballad "Your Song" and the extended penultimate track "Would You." "Would You" showcases all of the different sides of Poema simultaneously, managing to be both lyrically naïve, yet genuinely heartfelt and moving. Despite all of Poema's expected twists, one can't argue that they are being cookie cutter; this quite simply seems to be the manner in which they are most comfortable expressing themselves, and in that they consistently succeed.
Overall: Poema might be too effeminate to appeal to Tooth and Nail's typical fans, but that's not likely who they're marketing themselves towards. Fans of soft pop would be advised to give Remembering You a try because, at a minimum, it's authentically meaningful and easy on the ears.
RIYL: Sixpence None the Richer, Taylor Swift, Eisley, Addison Road