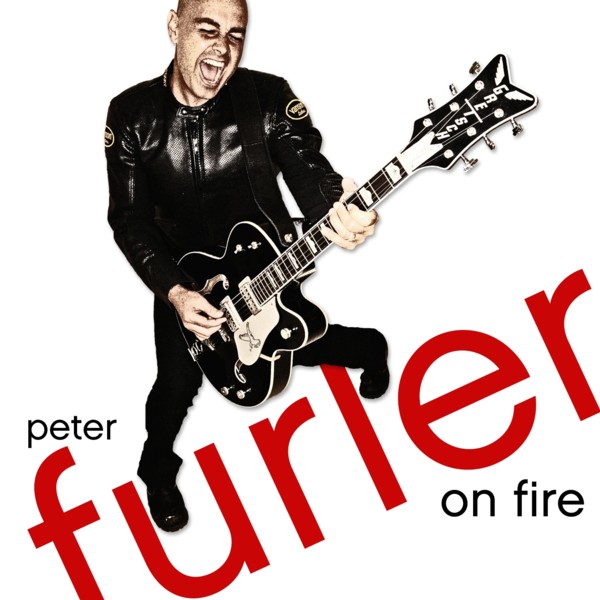 Artist: Peter Furler
Title: On Fire
Label: Sparrow Records
Release Date: June 21, 2011
Reviewed by: Cimarron Hatch
Buy The Album Here
Tracklisting:
1. I'm Alive
2. Reach
3. Glory To The King
4. Never Ending Love Song
5. Matter of Faith
6. All In Your Head
7. Closer (Featuring Steve Taylor)
8. Faster and Louder
9. Psalm 23
10. Hold On
11. Greater Is He (Featuring Phil Joel And Bill Furler)
Peter Furler, former Newsboys frontman, is back after his two year hiatus from music with his first solo album. This album is a collection of songs that express Furler's devotion and adoration to God, aptly titled On Fire. Furler returns to making music after his departure from the Newsboys in 2009 when he wanted to take time off from constant touring and recording. After his exit from the band, he sold many of his belongings and moved to the Gulf of Florida with intentions to reflect on his life and to play music purely for his own enjoyment.
Furler was a founding member of the Newsboys, which were started in 1987, and was originally the band's drummer. He became the lead singer after the departure of John James in 1997. In 1999, Furler, along with fellow Australians Dale Bray and Wes Campbell, founded Inpop Records, a Christian record label representing successful recording artists such as Superchick and Everyday Sunday. In 2009, Peter Furler left his spot as lead singer of the Newsboys and was replaced by former DC Talk member Michael Tait.
On Fire starts off with an enjoyable song called "I'm Alive," penned by Furler with legendary Christian Rocker Steve Taylor. The song is one of those catchy tunes with a great beat to dance to. I was not exactly expecting a dance tune from Peter Furler, but it works well to start out the album on an upbeat note. The lyrics are a bit clichéd but the song showcases Furler's incredible vocal talent terrifically. "I'm Alive" is followed by the album's first radio single, "Reach." This is an uplifting song about God reaching down and choosing each of us as his own, written by Me In Motion's Seth Mosley. This song is typical of one from the former Newsboys frontman with its vocal runs and upbeat melody.
The album continues with mostly more dance-pop tunes until arriving at what, in my opinion, is the stand-out song of the album, "Matter of Faith," a song describing what Heaven will be like when Jesus returns to earth for his people. The song reminds me of the usual pre-Michael Tait Newsboys sound with a great guitar intro and melodic licks throughout the song. "Matter of Faith" is the first song of the album to display instrumental quality from Furler, rather than just vocal. Unfortunately, the album goes back to its dance-pop style after this song with the tune "All in Your Head," which has a great message about giving in to God's calling to surrender to him instead of just living life for yourself. I really liked the lyrics that paint the picture of someone putting off their true faith and running from God. And you wait / another verse, another song / a sinking sense you've got it wrong / you stumble and you stall.
Peter Furler's longtime writing partner, Steve Taylor, joins him for vocals on the song "Closer." The chorus of this song sounds a lot like Anberlin's "Closer" from their album Dark is the Way, Light is a Place. It also felt like a throwback to the Newsboys' 1999 single "Love Liberty Disco," and would be a good song for beatboxing and breakdancing.
The final notable track on the album is "Psalm 23," programmed by Christian DJ Andy Hunter. I do not feel that this is a good song for Peter Furler because it is autotuned and does not showcase his vocals or instrumentation at all, though it has a good message straight from Psalm 23 in the Bible.
On Fire was written, produced, and recorded with accompaniment of a stellar cast of other musicians, and even family members of Peter Furler. His wife, Summer, sang background vocals and played keyboard on the album. Also, a message by his father, Bill Furler, a pastor in their homeland of Australia, was used on the final track of the album, "Greater is He." This song also features vocals by Furler's fellow former Newsboy Phil Joel. Wes Willis and Kevin Huguley, lead singer and guitarist, respectively, of Rush of Fools wrote the track "Never Ending Love Song" along with Furler and veteran songwriter Jason Ingram. All of the tracks on the album were produced by Peter Furler and Seth Mosley of Me In Motion, both of whom also played all the instruments.
Overall: Peter Furler has come back strong with an enjoyable and accomplished album after stepping down as lead singer of the Newsboys. However, I would have liked to have heard more of the same rock sound as the song "Matter of Faith" and less of the dance and electronic-pop sound on the rest of the album. Even though some of the lyrics on the album are commonly used in contemporary Christian music, that does not diminish the fact that they have wonderful messages of God's eternal love and Peter Furler's depiction of being "on fire" for God. In Furler's words, This is why we rock and roll! This is definitely an album worth checking out, regardless of whether you were a Newsboys fan or not.