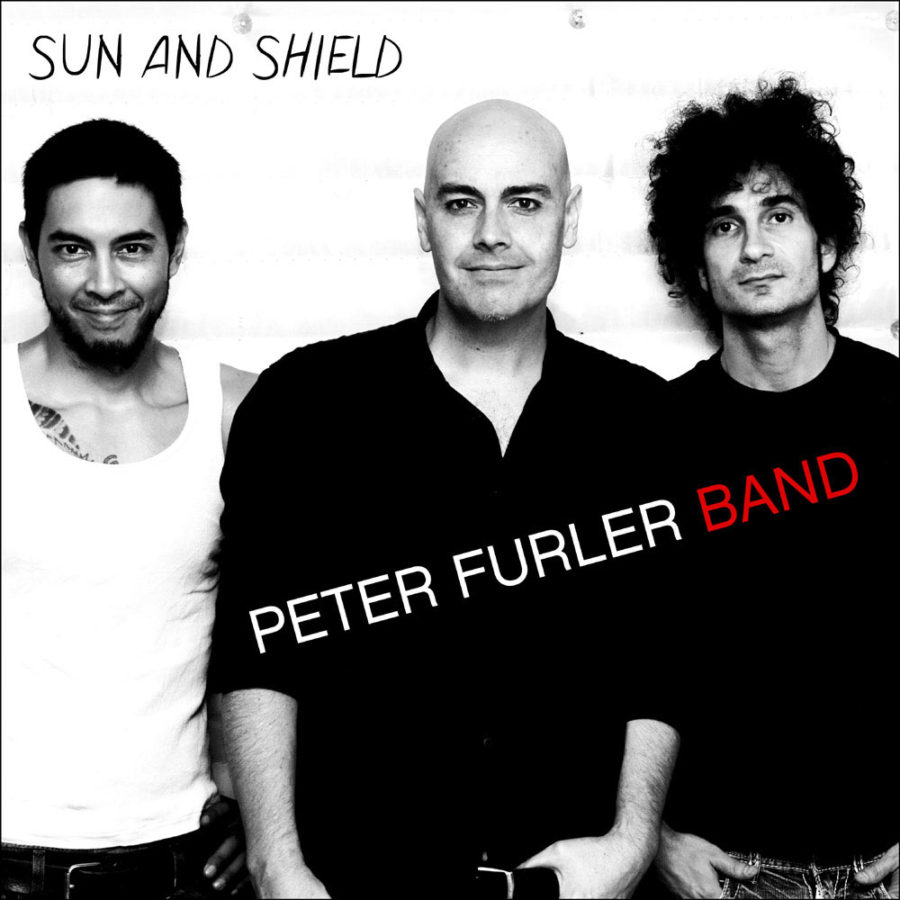 Artist: Peter Furler Band
Title: Sun and Shield
Label: New Day/Platinum Pop
Release Date: 3/11/14
Reviewer: Jonathan Andre
Tracklisting:
Sun and Shield
So High
Dare I Say
Shame
Yeshua
The Overcomer
It's Alright (For Lazarus)
Right Wrong Girl
The High Road
We Won't Forget
Peter Furler. Everyone loves him. The ex-lead singer of the Newsboys, one of Christian music's most popular bands ever to be in existence, Peter left the Newsboys in 2009. With reasons of possible burnout as the reason to walk away from the band, many die-hard Newsboys fans (and fans of Peter himself) thought that the band would be done. Nevertheless, Michael Tait, now lead singer of the band for around 5-6 years now, has solidified himself as the new lead singer and face of the band, and together the quartet have released 3 successful studio albums in God's Not Dead, Born Again and Restart under the vocals of Michael. Peter on the other hand, decided to take some time off and move to Florida. There, he started to just enjoy life, and out of a season of resting and contemplating, songs began to flow, and On Fire started to bloom into fruition. With songs like 'Glory to the King', 'Reach', 'I'm Alive' and 'Matter of Faith'; Peter Furler was back, and his 2011 album was met with much acclaim from lovers of his music with the Newsboys. Fans of the older style acoustic pop/rock Newsboys started to listen to Peter again, and with continual fan adulation, Peter found himself entering another phase of life- as a solo artist. With the style and sound hardly changing since when he was lead singer of the Newsboys, Peter's songs have been able, at least in my own life, to minister to us and remind us to the fact that God is always near, reaching for us to delve deeper in relationship with Him. Another 3 years later, and this time releasing the album, not on Sparrow Records, but independently (and now the lead singer of the Peter Furler Band, with Dave Ghazarian on guitars and Jeff Irizarry on drums), Peter has reteamed with long-time producer Steve Taylor (who last produced the Newsboys's worship album Adoration), '…combining an ambitious collection of new songs with a more muscular, band-driven sound that harkens back to the glory days of Take Me To Your Leader…' With much of the album reminding me of the acoustic sounds of Thrive and Take Me To Your Leader, the rock of Step Up to the Microphone and the acoustic worshipful nature of albums like Devotion and Adoration; this South Australian still has something to say. One of my own anticipated albums of 2014 so far, Sun and Shield has not disappointed, making this 10 track music offering one of my favourites of March 2014, and possibly one of my all-time favourite albums of the year so far, and certain to fit somewhere within the top 20 albums list when 2014 comes to an end!
'Sun and Shield', the title track and first single from the album, is a powerful bass guitar driven close-to-three-minute melody that gives us just as much heart as it does power and emotion, as Peter invites us all to declare alongside Him that Christ is our sun and our shield. With a bass line introduction that's very similar to the acoustic guitar riff that starts off Meredith Andrews's 'New Song We Sing', Peter, Dave and Jeff set off to paint us this picture of us being in communion with God, with both the sun and the Son there to protect us during our time of need. Emotive and vulnerable, Peter gives us a stirring and confronting scenario, that '…if the sun can blind you and if a shield means war, and if you give up before you get up, what were you praying for?…' We have to very careful and know for sure of what we're willing to do, give up or align ourselves with when we declare that Christ is our Sun, our Protector, our Shield and Saviour. Because once we say this statement, there will be hardship, there will be things around us that can certainly blind us as we trek through this life with temptations left, right and centre. War is also a certain possibility as we understand that during our lives, both God and the devil will tug at our hearts, calling for our attention. This song is a call for us to stand up and truly mean what we say when we powerfully assert that Christ is our shield and sun, and that if we say that He can be relied upon, we must believe that He can. A riveting bridge full of powerful repetition as Dave and Peter provide gang vocals, this is a great opening song for Peter Furler and his new band. An anthem for anyone who longs to continually be reminded of knowing that as we '… lift up our eyes, turn to the sun, this is where our help's coming from, in the heights or the battle, our sun, our shield…', the Peter Furler Band have started this album nicely with possibly one of my favourite songs from 2014 so far!
Starting with electronic keyboards and a strong bass line, 'So High' is a song about us attaining earthly treasures and the truth we need to continuously believe each day that Christ has made us high and seated with Him, so much so that we don't have to elevate ourselves with status, prestige, and other worldly passions that we can constantly fill ourselves with on a daily basis. With a drum loop that's catchy and would hopefully bring in even the most uninterested of listeners of Peter and his music, we are reminded of how '…it's not a job we're made to do, it's a ladder that we're clinging to, it's all pie in the sky, so high, so high…repeat until we die…' Revealing and sometimes uncomfortable, Peter gives us something to think about- and whether what we're doing in our jobs, relationships and free time is motivated by our love for them, or by the fact that we want to climb a ladder (whether it's corporate or social) as we start to strive to make ourselves feel more important, good enough and the like. A call for us to constantly believe that Christ has lifted our spirits high so we don't have to, Peter, Dave and Jeff have delivered to us a great track 2, and one of the seemingly (and maybe even odd) few upbeat tracks on the album. 'Dare I Say', beginning with hand claps and an electric guitar riff, is by far the most interesting track on Sun and Shield, with Peter singing to the devil himself, about him getting '…a few things wrong, dare I say, you've been playing your hand too strong, dare I say…you got some nerve to hang out here…', while giving us listeners hopeful ammunition so that when we know the devil wants to strike (or even when we don't), we can rest assured that he won't get to us. A song that's just as confronting as 'So High', 'Dare I Say' is a song that encourages us to stand up for what we believe, and when opposition comes, we can declare that '…you best be on your way, you're standing in my life…', knowing that when we call on the authority of Jesus to help us rid the devil from ours, we can rest assured that Christ will always come through.
Only standing at 3 minutes exactly, 'Shame' is possibly one of the most revealing, emotional and confronting tracks as Peter talks about the topical subject of shame, and how it can distort a person's worldview and personal view when it clouds their judgement, and seep into their thoughts about themselves and others. Shame, as discussed in this song, is one thing that still remains, condemning us when we know in our heads (but maybe not our hearts that much) that Christ has ridden the shame from us that we can still sometimes feel from time to time. As Peter reveals a straight forward by-the-book description of what shame and what it will do to us if we let it reign in our lives, this acoustic guitar driven song is one of the most honest song I've heard since 'A Little More Time to Love' by Steven Curtis Chapman from The Glorious Infolding in 2013. With light acoustic guitar picks, Peter, by singing the song to 'shame', as if it was a real person, gives us some thought and resolve for us to delve deep inside ourselves and ask the Lord to help us rid the shame in us that wants to cling on and eat at us, the way the devil would want it to be. 'Yeshua', featuring Peter's father in law, Mylon Le Fevre, is a much more uplifting and worshipful song than 'Shame', and is sort-of a sequel to the 4th track on the album- that if we feel the shame building up inside of us, we can cry upon the name of Yeshua, and be reminded that as we worship our Father, the shame and everything else that is building up in our lives will pale in comparison to the overwhelming love and hope we will feel from the worship we will give to our Father. With just a simple acoustic guitar plucking and a reverbing vocal, Peter and his father in law take turns to declare out the poignant words of how we '…worship You, in spirit and truth, for all You've done and all You do, we worship You with gratitude, for all You've done and all You do…' and give us a reason for ourselves to proclaim this truth in a moment of tranquillity. While this worship song isn't as upbeat as songs by artists like Chris Tomlin or Matt Redman, Peter's use of minimal instruments really works in the favour of the song, with the acoustical nature giving us impetus to just relax as the lyrics and their meaning are enhanced. With Peter also delivering another acoustic worship melody in the album ender 'We Won't Forget', we are reminded to not forget the things we have experienced, and the moments of thankfulness that we can lift to heaven '…with a morning song that will make us strong…' as we remember what Christ has done for the price to be paid for us spending eternity with Him. While not necessarily the most engaging song musically (because frankly, listeners respond better to songs that have a myriad of musical instruments), the song nevertheless paints a strong picture of us surrendering to God, declaring that we won't forget everything He has done for us, even in the moment when it seems like we don't know what we're doing or even still, we don't know what God is doing Himself.
With an electric guitar riff that brings listeners into 'The Overcomer' (and also reminds us of the introduction to Me in Motion's 'The God I Know'), Peter and his band give us 3 minutes and 18 seconds of reasons to declare that Christ is the overcomer, as we are reminded through this groovy song that '…take heart don't be afraid, this world's gonna be reborn, sundown's come and we're getting warm, here between heaven and the perfect storm, You are the overcomer…' With Phil Joel's trademark NZ-style backing vocals giving us further reason for us to miss the former members of Newsboys (maybe add in Paul Colman on guitars in the next album, and invite John James to sing on a few tracks, and then you'd get the alternate Newsboys 2.0); 'The Overcomer' is a reminder that Christ is who He says He is- overcoming every obstacle in our lives for us to travel back to Him. From providing a heartfelt melody 'It's Alright (For Lazarus)', a song sung from Christ's point of view, which gives us a recount of what happened to Lazarus on the day he was resurrected; to an acoustically driven 'The High Road', a moment where we realise that in some instances in life, we need to take the high road, a road designed for us to travel, knowing that what we do and try to accomplish is right, but not easy for us to follow or commit to in a world where conformity and the norm are circumstances that are held in much higher regard than standing out from the crowd; Peter, Dave and Jeff have continued to infuse their acoustic pop into this album as they speak about an array of topics- from worship to heartfelt moments where we divulge the deepest darkest parts of ourselves, to the emotion that comes with declaring that Christ has overcome everything difficult in this life.
Overall: Peter Furler, while not part of the Newsboys anymore, still conjures up many thoughts about the Newsboys, even all those years later. As much as I love what the Newsboys are turning into now, a rock worship band, I still miss Peter, and frankly, this new album of his is a great cure for someone who misses the trademark sound of this South Australian. While a unique diversion from his previous album On Fire, Sun And Shield provides us with sounds of what 3 piece acoustic pop/rock would sound like, and the result is ten tracks that speak about love, hope, life, God, emotion, encouragement and songs to declare out with fervent praise as Peter, Dave and Jeff solidly debut an album that's destined to be a standout amongst CCM/pop/indie rock fans alike. A certain to be purchased if you love the old Newsboys, the new Newsboys, Paul Colman or even artists like Audio Adrenaline or Superchick, Peter gives us 10 great reminders of how Christ is our Sun and our Shield, forever praising Him as Yeshua and reminding ourselves daily that He is the Overcomer and taker of our Shame. Let us not forget of what He has done with these ten songs that are certain standouts in March 2014, and possibly some of my favourite independently produced songs since The Sonflowerz's Love Walked In. Well done Peter, Jeff and Dave for such heartfelt songs and some of this year's best!
RIYL: Paul Colman, Audio Adrenaline, Newsboys (old), Newsboys (new), Superchick
Buy the Album: iTunes/Amazon mp3