Album Review :
Overcome - No Reserves. No Retreats. No Regrets.
By Chris Bach in Reviews | Comments closed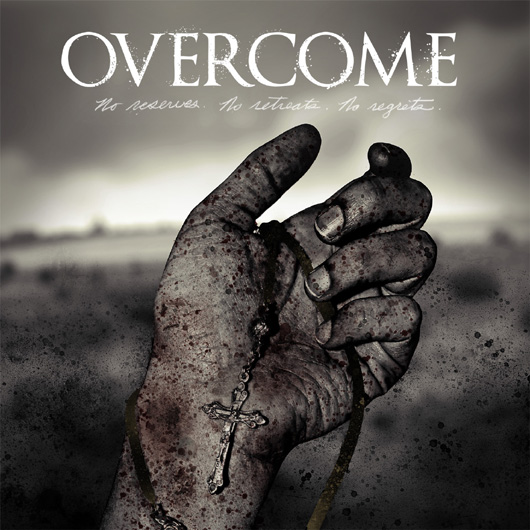 Artist: Overcome
Title: No Reserves. No Retreats. No Regrets.
Label: Facedown Records
Release Date: 1/8/13
Reviewer: Chris Bach
Tracklisting:
Verum
Spirit and Flesh
Travail
Indwelling
No Reserves. No Retreats. No Regrets.
Animate the Lifeless
Depredation of the Cherished
In today's heavy music scene, there are the fad bands. So many bands today are compromising their heavy cred with emo and dubstep elements, long after these trendy genres passed away.
In today's heavy music scene, there also exists the brave. The brave are the artists thrive off of experimentation. For those artists, pushing the artistic envelope is what keeps them interested, and what keeps them getting new fans.
Perhaps the most legendary performers in heavy music are the wise. The wise are artists who stay on message, who don't feel the need to add whiny vocals, who have no use for keyboards, who aren't trying to reinvent the wheel. If you are doing something right and it's connecting, it's best not to over-think the writing process of each new album. If you listened to Overcome's The Great Campaign of Sabotage, and you decide to listen to No Retreats. No Reserves. No Regrets., you get exactly what you'd expect.
"Spirit and Flesh" has the tempo changes of Reborn-era Living Sacrifice (and it has the thunder and riffs of "Clemency" off of The Great Campaign of Sabotage), and some BLUNT and CONFRONTATIONAL lyrics:
"How shall we who died to sin
Continue to live in its stench?
How can we whose bodies live
Still embrace this rotting flesh?
Buried with Him into death
And resurrected into His life
Now that we have been set free
Sin no longer will command.
I will not be mastered by persuasions of this world,
I will not be mastered by inclinations of the flesh,
I will not be mastered by these things that will drag me down,
I will not be mastered by these things that emerge from Hell.
Food for the stomach, and stomach for the food
Yet our God of power will destroy them both."
"Travail" may be the most formulaic song on the album, but it is just SO HEAVY, with so many sing-a-longs (GROWL-a-longs?) that I can't skip it when I listen. The finale of the song has the fury but also rationality in its thrashy riffs and percussion. I never felt like this album crosses into garage metal territory.
The drums feel very basic on this album, with some double bass thrown in. The bare-bones approach suits the album well, allowing the lead vocals and gang vocals to be at the center. 3:18 into "Indwelling" is a bit of metal riffing, and the song switches up, gets faster, piles on the thumping bass and drums. It's pretty much early 80's speed metal.
The title track feels very retro, but very pummeling and fast. Think Dodgin' Bullets, Jesus Wept, Unashamed. The vocals remind me a LOT of the Dodgin' Bullets song "Earn Your Respect". It's my fave on the album, slightly ahead of the majestic "Verum", which gallops rowdily and with many headbanging moments. "Depredation of the Cherished" is about the serious topic of sex trafficking.
Overall: The production is snappier and clearer than on Great Campaign, and the songs feel a little more energetic. "4"'s and "5"'s get handed out with regularity by many. Therefore, to give you an idea of how I rank this, I'd put it ahead of every Facedown album released last year except xLooking Forwardx's Down With The Ship. That doesn't mean I didn't like any other Facedown/Strike First releases, just that xLooking Forwardx's EP was about a 4.7, this is about a 4.45, all the others were not quite as good. I listen to dozens of albums from most genres every year, and usually only rate about 6 albums a year at 4.0 or above. This EP makes me wish Overcome were playing nearby.
RIYL: Fast hardcore, Jesus Wept