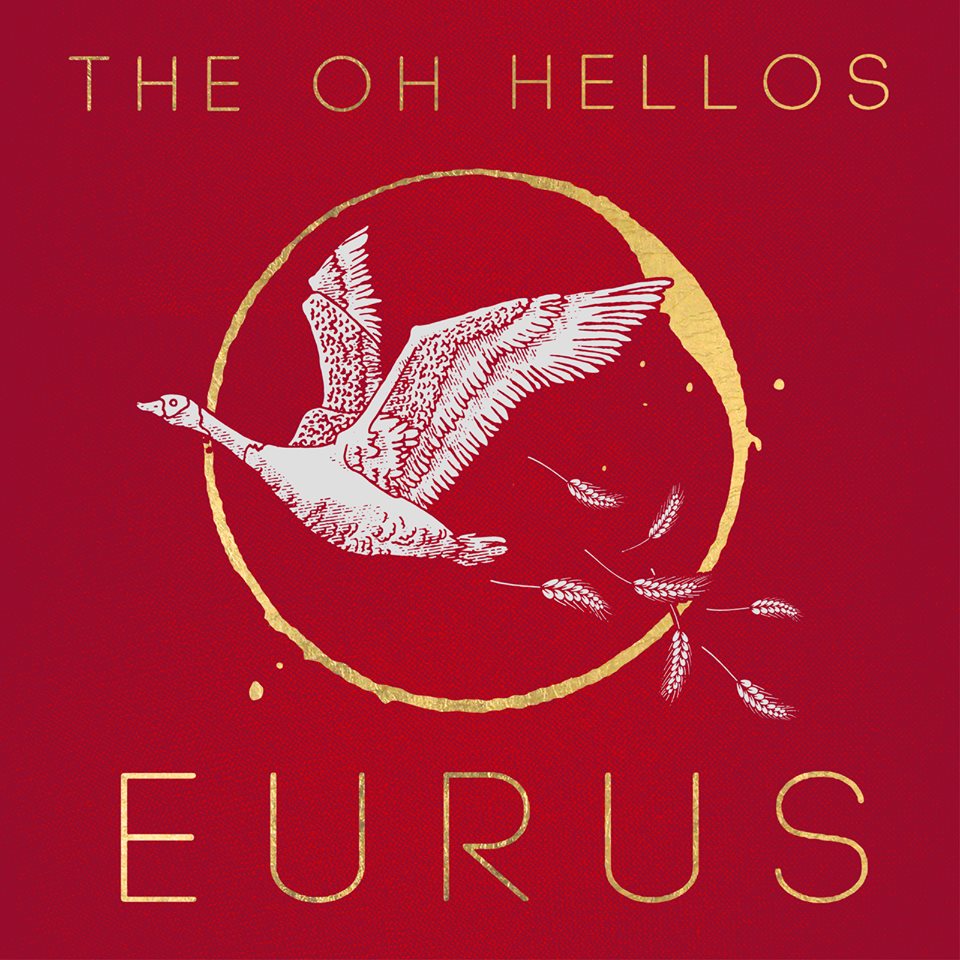 Although "Notos" is hardly a few months old, The Oh Hellos have already released a follow-up, "Eurus", which is the second of an alleged four-EP series. The artwork does a good job of summarizing what to expect here – to some degree, there are similarities to "Notos" (both EPs share a couple transitional tracks that seamless tie other songs together), there is also a somewhat different mood here that warrants this as a separate work (though you can buy vinyl with both EPs on it).
I can only suppose that "Eurus" is the autumn to the summer found on "Notos". Grow saw grains of wheat as its primary image, and the EP's cover seems to showcase a migrating bird. It's not glaring, but the music does feel earthier than its predecessor as well. Much of this is due to rhythmic patterns and a stronger focus on strings and banjo. Again, these elements were certainly present on "Notos" but their manifestation here is much more prominent. The mood is festive and bright all the same, further lending toward an autumnal mood.
"Eurus" does have a bit of a weaker start of the two EPs. O Sleeper isn't a bad track by any measure, but it's a bit more barren. It's followed immediately by one of the aforementioned interludes, Dry Branches, which feels a bit too early (the first interlude on "Notos" followed two full songs, including one of the singles).
Apart from that, "Eurus" continues on with full steam: Grow showcases Maggie Heath's voice over vibrant, earthy instrumentation, while her brother Tyler takes lead on the title track, a personal favorite on the EP. Hieroglyphs is another high-energy track that showcases some of the strongest drumming on the EP. Gang vocals, paired with a chunky bass tone, definitely result in a fuller, even heavier, sound. Passerine closes the EP. Maggie's vocals overlay this percussion-driven track. There's no epic close, but there's a consistent energy right up until the end.
Ultimately, "Eurus" is a strong EP that diverges slightly from "Notos". The duo continues to showcases excellent vocal performances coupled with poetic lyrics. Percussion is central to the mood on the EP and borrows influence from chamber pop and progressive rock. Strings and folk instruments are certainly the highlight here, through this certainly isn't a bluegrass EP by any stretch. Despite a slow start, "Eurus" displays a celebratory energy throughout its seven tracks. I'm not quite as fond of it as I am of "Notos", but The Oh Hellos have certainly solidified my position as a fan on this release and I'm excited for the next few releases in this series.