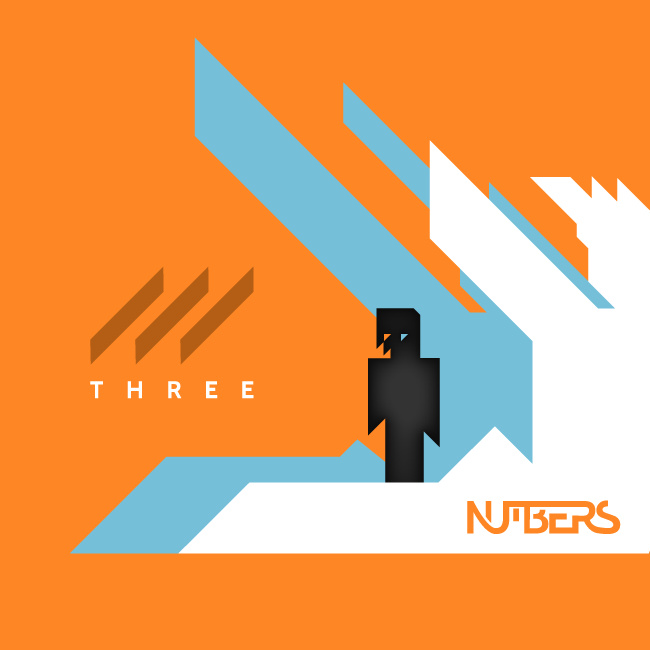 Artist: Numbers
Title: Three
Label: Independent
Release Date: 3/25/2014
Reviewer: Ty DeLong
Tracklisting:
Shortly Broken
Empty Eyes
Legal Lee Speaking
Fight or Flight
It's Chilly Out
Undertow
Truth Bender
Sicken
Recreate
Swanky Sauce
Frames
Ghost In the Room (Prelude)
Ghost In the Room
The best way I can describe Three by Numbers is "interesting," and I mean that in the most complimentary way possible. The music truly is intriguing, both because of the quality and because of the unexpected elements that are combined to produce it. Often such precision instrumentation is paired with discordant scales and blast beats, not pop-worthy vocals and major key synths. The occasional pace-changing section even hinges on a jazzy feel. And what caught my ear most (as one almost completely detached from pop music) were synth tones which sound like they would be at home in the latest dance track. Somehow, the blend works.
The album itself also breaks the mold, as it weighs in at almost exactly one hour. The most interesting move is the eleven-minute opus, "Undertow," stuck directly in the middle. (I did a double-take when I saw its duration mixed in among fairly standard numbers.) Add that to the list of ways that Numbers defies expectation and categorization. In substance, the thirteen tracks don't vary incredibly, as they use many of the same elements to build upon. Nearly all feature chugging guitars matched with double-bass beats, staccato shredding, melodic electronics, and some short breaks to transition between passages. There is the occasional solo, which fits well, but may not wow metal aficionados. In this regard, the album does blend together a bit sonically, despite the unique twists employed.
Still, there were a number of eyebrow-raising moments for me, personally. An abrupt break to silence midway through "Truth Bender" is shattered when the unbelievably quick and precision scream of Kyle breaks in, hitting with the instrumentation exactly. The beginning of "Swanky Sauce" sees the bass match a fast, walking guitar riff exactly. The straight-up jazz break in "Ghost In the Room" is also fascinating. There are others, of course, but in an album full of blazing fast riffs, surgical drums, and flawless harmonies, it's hard to single out specific moments. I nearly went the entire review without mentioning that the performance and production quality on Three are second to none. I had completely forgotten that this is a young, unsigned band, which I think speaks volumes to their future in music.
Lyrically, the album didn't connect with me on the deepest level, but reading along to the words on Bandcamp, an interesting theme began to emerge. On my first pass, I gathered that the songs were mostly directed at others with whom the singer was at conflict, and also internal struggle. But the middle of the album in particular seems to reveal a deep struggle against darkness within. My favorite lyrics came from the cultural commentary in "Recreate." "We serve the heirs of gratuitous behavior / In a land bloated and boozed / I'm afraid that it's too late to save us / The end of this digital era will be too soon." Otherwise, some tracks seem to speak of broken relationships (though not in the pining, emo sense), or obstacles to be overcome. The cryptic lines and titles didn't give too much insight to me, but hopefully others can find deeper meaning and connect with the songs on a personal level. This was the only area where I found the album less than top-notch, though of course lyrical assessment is highly subjective.
Overall: Numbers carve out a niche for themselves with Three. The album smashes together technical metal riffs, copious electronic elements, touches of jazz, and strong vocals of both the clean and screamed variety. Numbers is a great band for fans of fast, technical instrumentation who don't appreciate the darker tone that often accompanies metal, but who don't mind screaming vocals. No matter who you are, Numbers is a band to keep your eye on in the years to come.
RIYL:  Between the Buried and Me, The Devil Wears Prada
Three is available on Bandcamp, iTunes, Amazon, and Google Play